Students study abroad in Kazakhstan, experience new culture, personal growth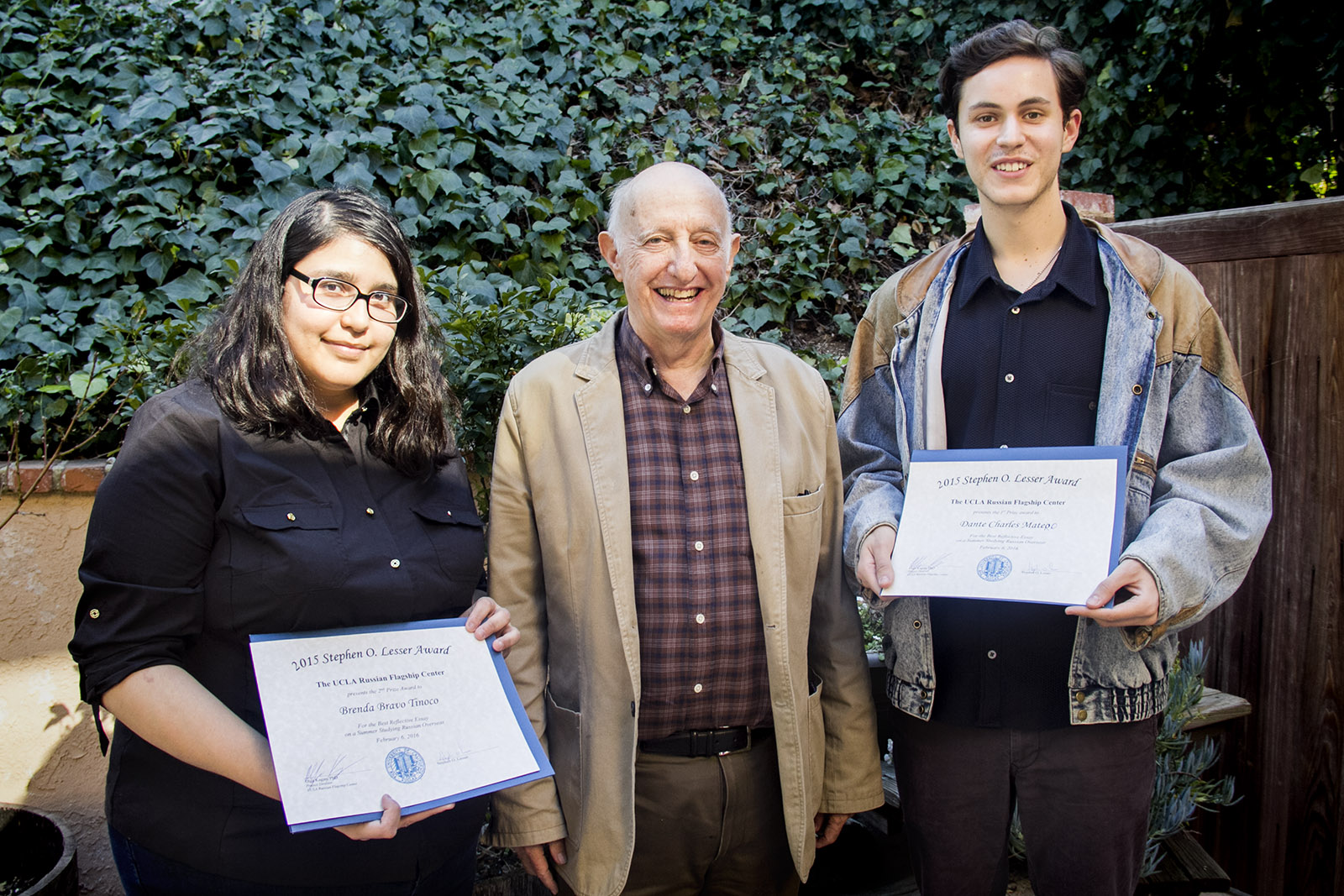 Students Brenda Tinoco-Bravo and Dante Matero stand at either side of Stephen Lesser, the beneficiary for the UCLA Russian Flagship Stephen Lesser Award. The scholarship was awarded Saturday for outstanding personal reflection essays written during the department's summer Kazakhstan study abroad program. (Zinnia Moreno/Daily Bruin)
The original version of this article incorrectly stated that the National Flagship Program is only offered to graduate students.
A clerk at the Green Bazaar in Almaty, Kazakhstan asked Brenda Tinoco-Bravo what the weather was like in Los Angeles. Tinoco-Bravo quickly replied "80 degrees" in her intermediate Russian and watched the clerk's eyebrows go up.
The Celsius scale was one of the unexpected differences Tinoco-Bravo noticed during her two-month Russian Flagship Program study abroad in Kazakhstan.
The federally-funded National Flagship Program is meant to graduate students with a knowledge of languages that are important for the US in terms of business, international relations and national security, said Olga Kagan, a UCLA professor and the director of the Center for World Languages and the Russian Flagship Program. This year, five students traveled to Kazakhstan.
On Saturday, fourth-year Russian language and literature student Tinoco-Bravo and fourth-year world arts and culture and Russian language and literature student Dante Matero received the Stephen Lesser Award certificates for writing reflective essays at the end of their study abroad in Kazakhstan. Matero won first place and $300 while Tinoco-Bravo won $100 for second place. The essays, meant to be creative tangible evidence of their experiences, focused on the students' immersion in Kazakh culture.
Matero's essay "From Kazakhstan, With Love" combines excerpts from his personal journal, original poetry and photos. The centerpiece of his essay is the poem "Dash Cam."
He wrote, "And now I feel it, too / the invisible weight / of being immersed / body and foot / in this pulse, this / foreign mixture."
Matero said it's tied to the feeling of being overwhelmed and ultra-immersed in a new culture and learning new points of view about history and politics, while trying to understand himself in their context.
"People capture everything in life, their eyes are working like dash cameras," Matero said. "So much passes through them, but people often don't focus on important moments."
In Kazakhstan, Matero said, everything was happening too fast. He took Russian classes and went to soccer games and excursions to local museums. He was overwhelmed, Matero said, but while writing the poem, he looked back at the key moments and realized that they helped him adapt to the unknown environment.
In his essay, Matero described a cultural difference he had a hard time understanding: the complicated relationships between the locals and air conditioners.
"Kazakh people don't really use AC as widely as they do in U.S. I couldn't sleep at night sometimes; it was so hot," Metero said. "I asked my host mother how can she not have an AC, and she responded, 'Oh, they are so bad for you! Having air blowing in your face, you will get a cold.'"
Matero said his coping with cultural shock made its way into his essay, like eating melted ice cream because, according to his host mother, cold ice cream might cause a sore throat.
For Tinoco-Bravo, who traveled across the ocean for the first time, the transition wasn't exactly smooth, she said. Communication struggles and homesickness were reflected in her essay, but she overcame the obstacles by opening up to people around her.
In the middle of Tinoco-Bravo's stay, her host mom, Farida, lost her uncle. This incident made Tinoco-Bravo forget her shyness and share life troubles she didn't know she had in common with Farida.
In her essay, Tinoco-Bravo, an aspiring surgeon, wrote about her father who has type 2 diabetes and had his entire foot amputated. She described how caring for him her whole life resonated with her host mom's situation – Farida's old mother cannot feed herself. Helping her host mother prepare fresh food and accompanying her to an old woman's house reminded Tinoco-Bravo of home, where her sick father was eagerly waiting for her return, making Tinoco-Bravo's stay easier.
The beginning of her essay depicts her fear of being labeled as just another foreigner in Kazakhstan and uncertainty of succeeding, Tinoco-Bravo said, but at the conclusion, these fears are replaced with motivation and courage.
Susan Kresin, a UCLA lecturer and a coordinator for the Russian Flagship Program, said the department encouraged students to write the optional essay so they could reflect on how the study abroad affected their development as human beings.
Kresin said Matero and Tinoco-Bravo wonderfully and creatively portrayed the valuable lessons they learned from Russian and Kazakh culture.
"What I learned from studying in Kazakhstan and writing my essay was risk-taking," Matero said. "Kazakhstan was definitely not first on my list of places where I wanted to go, but being open to that experience taught me that unexpected things can be really, really great."