LA Cookie Con and Sweets Show features international treats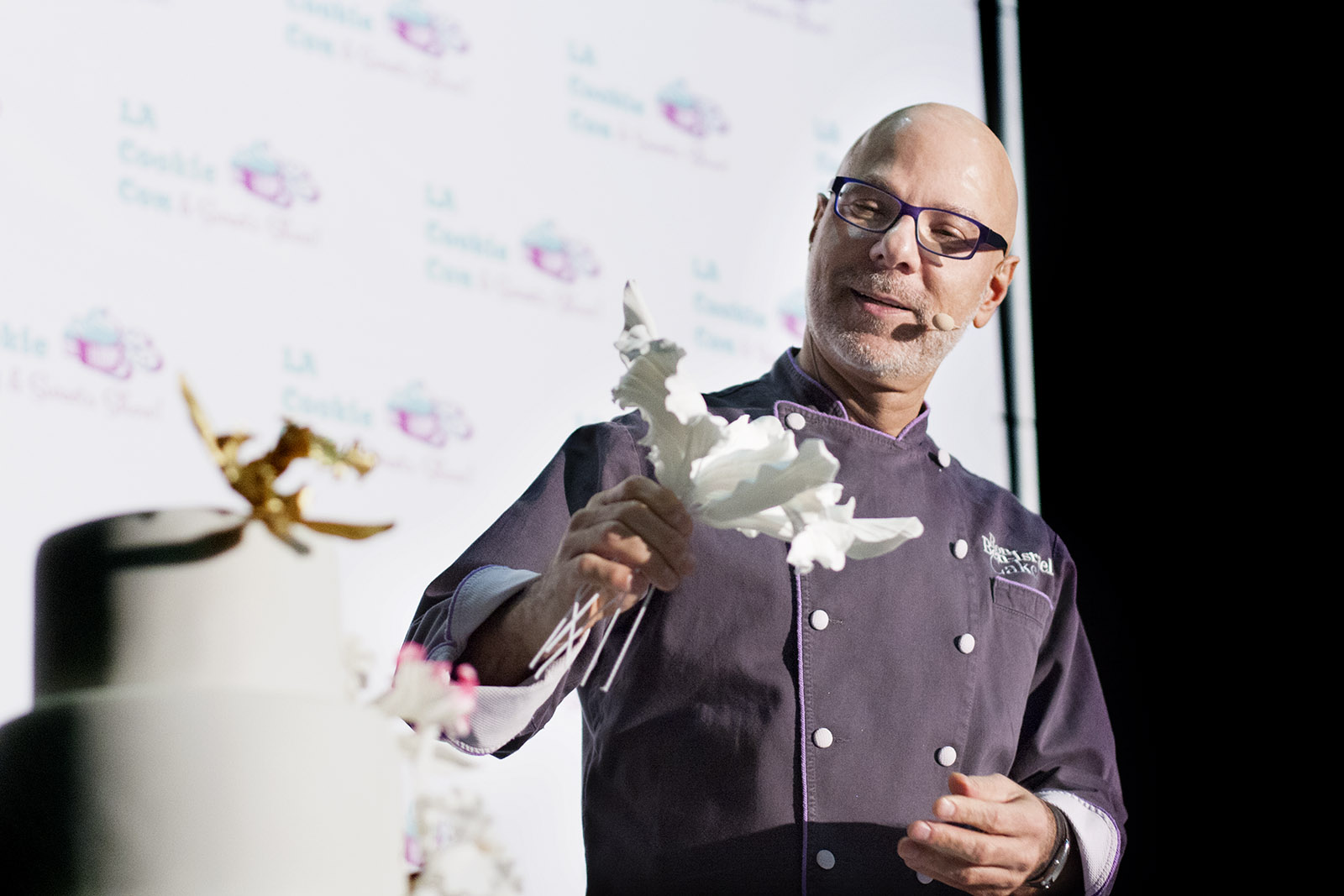 Food Network frequenter Ron Ben-Israel conducted a sugar flower demonstration on the main stage at the 2nd Annual LA Cookie Con and Sweet Show. (Kathy Chen/Daily Bruin)
After world famous chef Ron Ben-Israel concluded his sugar flower demonstration, fans in the audience rushed towards the stage, frantically stretching out their arms to snap selfies. Ben-Israel, a Food Network judge, was something of a celebrity at the West Coast's largest baking and pastry convention.

Ben-Israel headlined the 2nd Annual LA Cookie Con and Sweets Show on Saturday at the LA Convention Center. The convention featured dessert competitions, baking workshops and sweet exhibitors that offered the hundreds of attending foodies samples of pastries, chocolate, cookies and ice cream. Many of the exhibitors were Southern California locals, but some vendors stood out with their international treats.
Partners Michael Leb and Nancy Hytone Leb of Choctál swept visitors away on a flavor tour of the world with their vanilla and chocolate ice creams. Choctál uses single-origin ingredients, meaning each of the four vanilla and four chocolate flavors use only one variety of vanilla and cocoa beans from a specific world region.
"The ice creams all taste different based only on where the bean is grown," Michael Leb said.
The vanilla tour included Papua New Guinea Vanilla, which had a hint of cherry, and the Mexican Vanilla, which resembled horchata with its kick of cinnamon. Its counterpart chocolate tour included the fudgier Ghana Chocolate and Costa Rican Chocolate, which included swirls of coffee and caramel flavors in every bite.
On the other side of the convention, visitors of Crème Caramel LA sampled creamy custards that were an adaptation of Kristine de la Cruz's family's traditional Filipino leche flan.
De la Cruz met chef Sandy Hunter on Food Network's Spring Baking Championship, after which Hunter moved to Los Angeles from Chicago to join the Crème Caramel team.
"We lost the championship, but we won in friendship," De la Cruz said.
The lavender-colored ube dessert, a purple yam custard topped with brûléed graham cracker crumbs, and the specialty Year of the Monkey treat, a mandarin orange custard covered with rice ginger shortbread and a tangy raspberry glaze, made many tasters pause to snap a picture before diving into the smooth and colorful treats.
Similarly, Natas Pastries brought Portugal to the convention with the Nata, a light puff pastry filled with sweet crème brûlée custard. Chef and owner Fatima Marques said she opened up her bakery around ten years ago because Los Angeles was so lacking in Portuguese food.
"I wanted to create something that was traditional and very close to my heart, so I went back home to Portugal, studied how to make pastries, came back and opened a place," Marques said. "I wasn't in the food business before at all."
Also bringing cultural traditions to the show were Gourmet Brazil with its traditional brigadeiro chocolates, which resemble truffle balls, and the Papillon International Bakery that put a modern spin on the classic doughnut-like Armenian ponchik with fillings like Snickers and Nutella.
Bringing France into the mix, the New School of Cooking, an artisan culinary school, demonstrated how to make crêpes suzette. One chef swirled batter around the pan, letting it brown before cheerfully stating she would "sacrifice her fingers" as she flipped the hot thin pancake with her hands.
A second chef took over, splitting the crêpe into smaller pieces, drizzling grapefruit caramel sauce on top and finishing with small flakes of orange dust. The completed dish was light and buttery, with a tangy citrus burst.
While many exhibitors took attendees all over the world, the 2nd Annual World Dessert Table Championships brought visitors home as competitors created dessert buffets with a "Roaring Twenties" theme. Catering manager Rita DeBenedictis titled her table "We're Misbehavin'" to focus on prohibition and speakeasies.
The table featured a brick backdrop with silhouettes of flappers framing either side. She filled champagne glasses with tiny golden chocolate balls, paired glasses of bread pudding with a whiskey sauce and shaped cookies into old-fashioned cars.
DeBenedictis has been a caterer for 20 years, but she only recently got into dessert tables four years ago and found a passion for it.
"My husband is a singer and my best friend is a cake decorator, and I wanted one of those real talents that people can see," DeBenedictis said. "When we started doing the desserts it was like 'I can do this.' I just love the creativity."