Phi Kappa Psi reinstated after petition, house construction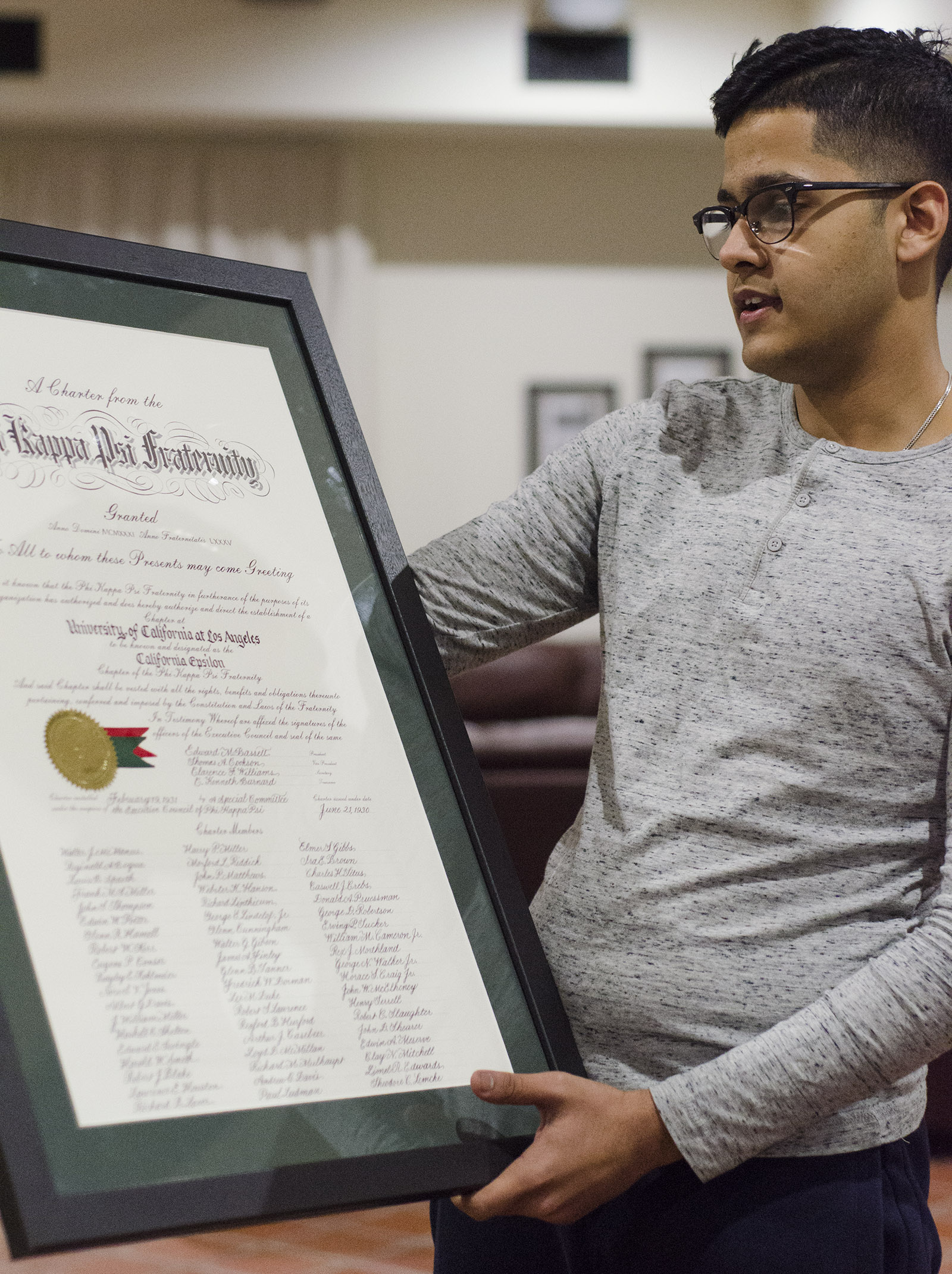 The Phi Kappa Psi national organization rechartered its UCLA chapter last Saturday, after the chapter's alumni and members built a new house and petitioned to be reinstated. (Alejandra Reyes/Daily Bruin senior staff)
The Phi Kappa Psi national organization rechartered its UCLA chapter last Saturday, after the chapter's alumni and members built a new house and petitioned to be reinstated.
Jeremy Tillman, a UCLA and Phi Kappa Psi alumnus, told the Daily Bruin in 2011 the national organization suspended the UCLA chapter in August 2011 for hosting unauthorized events and violating alcohol policies.
After a chapter is suspended, students who wish to reestablish the chapter can form a colony, an unofficial organization, that can petition to be rechartered by the national organization.
Adam Dunworth, membership development consultant at the Phi Kappa Psi national organization, said he worked closely with fraternity members over the last year as they created the colony petition, which requires paperwork such as letters of recommendation from UCLA administrators and campus organizations.
Dunworth added the members must meet campus GPA averages and complete 10 hours of community service, among other requirements, to be eligible for rechartering.
Kanav Saraf, chair of the chartering planning committee and fourth-year bioengineering student, said the fraternity's alumni decided in 2011 to build a new house and tear down the old one. He added members could not petition to recharter until the new house was built.
The national Phi Kappa Psi fraternity rechartered the UCLA chapter after a nine-month petition process. Saraf added UCLA's rechartering process was the shortest Phi Kappa Psi had ever administered.
Brandon Craig, a fourth-year communication studies student and fraternity member, said he was excited to join a fraternity that was not chartered at the time because he saw the potential to contribute creatively to the fraternity's new brotherhood.
"It's kind of the beauty of starting a new organization," Craig said. "Everything is … a mosaic of collective culture and people."
Saraf added the fraternity's main goal is to continue recruiting members of different interests and backgrounds.
"There is no one ideal fraternity person that everyone should strive to be," Saraf said. "We want our guys to establish their own identities."
Andrew Avila, president of Phi Kappa Psi and third-year human biology and society student, said he is excited to be president during the fraternity's first year back. He added he thinks the members can become a positive force to the community through volunteering and other outreach efforts.
"We're glad to be back, and we're looking forward to building a strong and healthy relationship with UCLA and the community," Avila said.