Student captures passion for portrait photography, helps fellow peers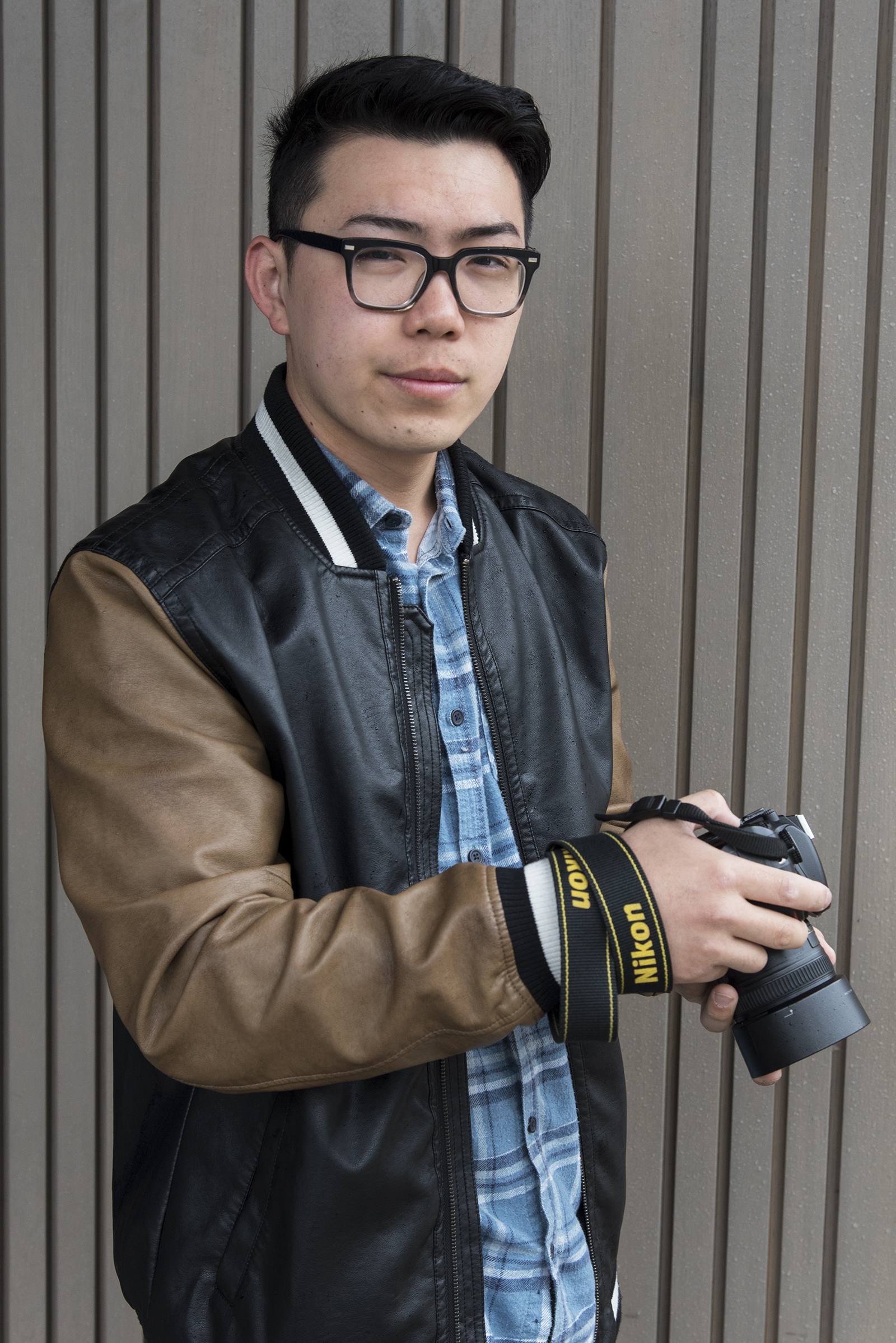 Andy Wong, a second-year political science student, takes complimentary LinkedIn photos for students and friends so he can gain photography experience and offer help in improving portfolios and networking prospects. (Mackenzie Possee/Daily Bruin)
Andy Wong sat across from his business fraternity mentor in the bustling Westwood ShopHouse last week, asking for career guidance over a steaming bowl of rice.
His mentor's advice was simple: Do something you're passionate about.
Second-year political science student Wong listened to this advice and decided to use his love of photography to help UCLA students by taking free professional photos around campus for their LinkedIn profiles. Since posting on the Facebook page "Free & For Sale" on Wednesday, over 60 students have signed up for a 10-minute session with Wong.
Wong said he and his mentor agreed some of the best things in life are free. Because taking these pictures does not take up much of his time, Wong offers his services without charge.
"If I'm doing you a favor and it's going to help you become a better person or do something more with your life, then I'm not going to charge," Wong said.
Wong bought his first camera as a sophomore in high school. He began taking photos of friends during school dances, slowly building his portfolio as he developed his skill set and explored his style, which he said uses minimal editing. As a junior, his friends began paying him for homecoming and prom pictures.
"I realized that there was such a business in it," Wong said. "Everyone wants nice pictures."
Although he charged for photographing his high school's events, Wong said he wasn't interested in the money and views free photo shoots as a way to gain experience.
Because he loves talking to and learning about people, Wong said he enjoys taking portraits.
"You can take a picture of a landscape, but it's always going to be there," Wong said. "But taking pictures of emotions, capturing that, capturing happiness, posing them — in a way you're helping them build their own confidence."
This year, Wong began taking composite photos for members of his business fraternity, Alpha Kappa Psi, to use during rush spring quarter. Debbie Chuang, a second-year political science student and member of Alpha Kappa Psi, said Wong's creativity combined with the architecture on campus made the photos look professional.
After his mentor Willy Huang, a UCLA alumnus and former member of Alpha Kappa Psi, encouraged Wong to pursue his passions, Wong offered to take free professional photos for students outside his fraternity.
Nelson Gee, a third-year business economics student, accepted Wong's offer after hearing about his photos through a floormate. He said he was drawn to Wong because he thought his photos were elegant and professional, and because they were free.
While students like Gee are happy to have free photos, Wong received several critical messages from other UCLA student photographers. They explained they felt conflicted by his decision to offer his work for free and felt he did not value his art.
Wong said he never thought taking free photos could give the impression photography is cheap. He said if he were to take a photo of a landscape, he wouldn't receive compensation and doesn't see a problem offering his services for free as long as customers are polite and courteous of his time.
Wong said taking these students' photos helps him build his portfolio, which brings him closer to his dream of pursuing travel photography full-time and capturing experiences in cities around the globe.
"Photography is like anything," Wong said. "It's an art; you can choose to do it for free, you can choose to share with people."