Album Review: 'Anti'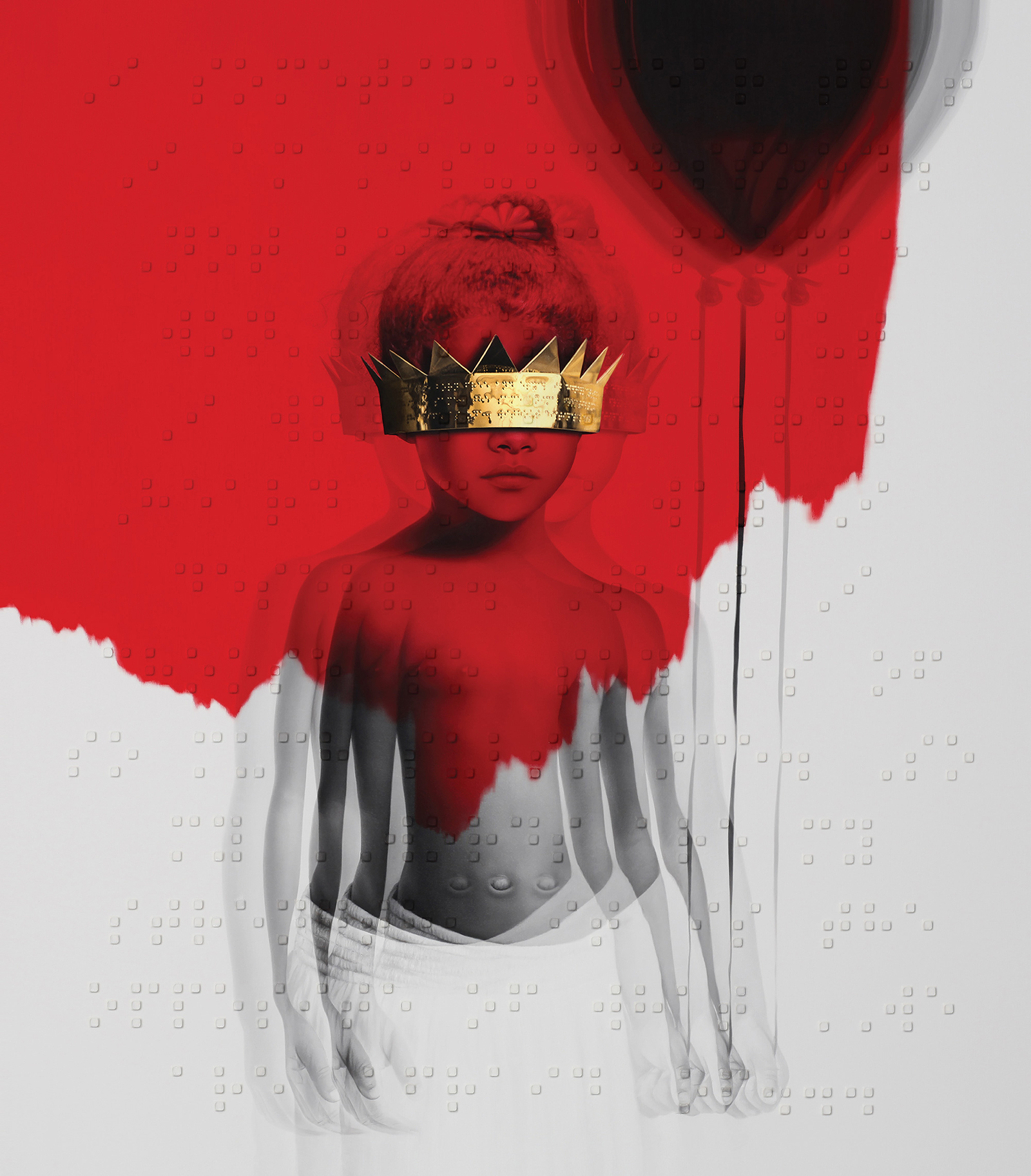 (Courtesy of Westbury Road Entertainment)
"ANTI" Rihanna Roc Nation
Rihanna, Jay Z's million-dollar pop product, turned trite demos into golden radio hits. The recipe required no lyrical profundity or vocal artistry. She hummed repetitive phrases like "umbrella, ella, ella, eh, eh, eh," sang over EDM-based melodies like Calvin Harris' "We Found Love," and profitable radio hits were born.
But after the release of "Unapologetic" in 2012, Rihanna devoted three years to the production of her next album, "Anti." It was clear she was shedding off Jay Z's "Good Girl Gone Bad" marketing package and reinventing herself. She delved into a noir artistic persona, indicated by collaborations with The Weeknd, PARTYNEXTDOOR and The-Dream, and promos of "Anti" featuring Rihanna in black leather with a golden crown on her head.
"Anti" is not just Rihanna's eighth album. It is Rihanna's first experimentation with her art – an enticing fusion of noir R&B, shoegaze and blues. Distorted synthetic sounds, soulful bass beats and electric guitar riffs lend "Anti" a darker sound.
The adoption of a wicked persona accompanies her transition to a darker R&B style. Exploring themes of intoxicated nirvana, rakish lust and unapologetic greed, Rihanna's sharp tongue delivers lines like "But baby, don't get it twisted" and "Didn't they tell you that I was a savage."
The reinvention of Rihanna's musical style, however, is not captured in the lead single of the album, "Work," a contemporary R&B song based on the typical Rihanna tactic of lyrical repetition. But unlike the "Oh na na, what's my name?" repetition that required an Advil follow-up, in "Work" Rihanna uses her fluid Bajan accent to mold all words to rhyme with "work," resulting in brilliant lyrical twists and plays.
Drake's awkward rap – "If you had a twin, I would still choose you" – however, fails to deliver the witty punchlines expected of him.
The rest of the album ventures into unexplored genres like blues, alternative R&B and even indie rock, evidenced by Rihanna's reinterpretation of Tame Impala's "New Person, Same Old Mistakes" as a nonchalant dream pop trip in "Same Ol' Mistakes."
Even though The Weeknd only contributed to "Woo," his influence on Rihanna is palpable throughout the album. Emulating Abel Tesfaye's melodic technique in "Earned It," Rihanna fuses lo-fi bass beats with raspy, prolonged vibratos in "Needed Me" to deliver pure sensuality.
Up until "Anti," Rihanna's vocal range was constrained to a few octaves, and often the artist would speak rather than sing. Yes, Rihanna's vocal range will never be like Adele's, but in "Anti" Rihanna explored a million and one ways to mold her voice into art.
In "Desperado," accented staccatos over stomping synthetic beats and slurred vocals, with each word melting into the next one, create a sonic fantasy in which Rihanna howls "But I don't wanna be alone" with assertiveness rather than desperation.
Rihanna's vocal brilliance is most evident in the latter part of "Anti," which features electronica-influenced blues like "Love on the Brain" and "Higher," along with melodious ballads like "Close to You."
"Love on the Brain," a fusion of blues with contemporary R&B, resembles Etta James' "Something's Got a Hold On Me." Rihanna hits the high octaves with enticing falsettos powered by raw growls, compelling every muscle to slowly groove in tune.
The blues-inspired tracks delve into themes of intoxication, heartache and love. The eerie allusion "It beats me black and blue" in "Love on the Brain" revisits Rihanna's past abusive relationship with Chris Brown, a recurrent motif in Rihanna's musical resume.
Even though the themes Rihanna explores in "Anti" are not novel, it's the first time she delves into lyrical profundity. Even sexualized songs like "Yeah, I Said It" are based on hard-hitting lines like "I want you to homicide it" and "Up against the wall, we don't need a title," which admiringly contrast the exhausting repetition of "He want that cake, cake, cake" in 2011's "Birthday Cake."
With "Anti," Rihanna expanded her lyrical, vocal, and stylistic repertoire and created an example of noir R&B genre worth the three-year anticipation. "Anti" could either be RiRi's artistic destination or an experimental pit stop in her career, but as long as she sticks to authentic work rather than trite pop tunes, I am willing to wait.
– Suzie Papantoni