Student filmmaker directs focus to relationships, self-reflection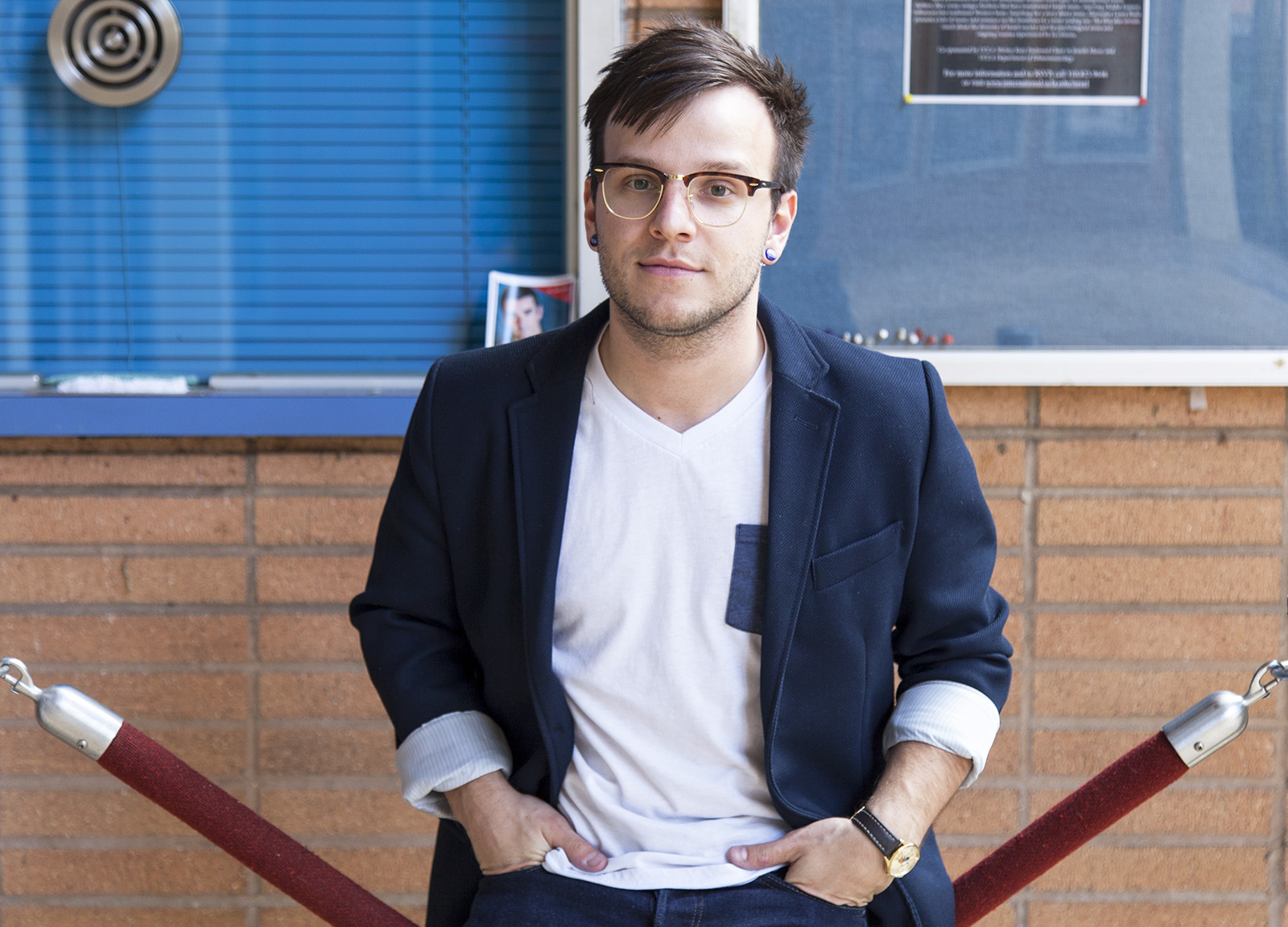 Fourth-year film student Clinton Brägger created the quirky romantic comedy "Gorilla-Mädchen," which is one of two films by UCLA students at the Student Filmmaker Awards (Tehya Faulk/Daily Bruin)
BY SUZIE PAPANTONI
A&E contributor
A reserved German exchange student in America, the peculiar land of stretchy pants and preservative-filled junk food, resorts to a full-body banana costume to charm his host's daughter, a nonchalant girl in a gorilla suit.
The quirky romantic comedy "Gorilla-Mädchen" is one of two films by UCLA students at the Student Filmmaker Awards, an annual film competition. The film made it to the third round Jan. 10.
The short film created by Clinton Brägger, a fourth-year film student, was produced in less than two days during the 48-Hour Film Project competition in 2014 and won the award for best film. Brägger said the film's success was unexpected after he entered the competition to occupy a lazy summer.
While at Moorpark College, Brägger said he and his friends would always hang out in Room 122 which they nicknamed "clubhouse." With the success of "Gorilla-Mädchen," Brägger said the group created the production company Clubhouse 122, through which they produce their collaborative projects.
Payton Messina, lead actress in "Gorilla-Mädchen" and Brägger's childhood friend, said the film was sentimental without being heavy.
"It shows that no matter where we are, no matter if we feel like fish out of water, there is a common thread binding us all together: the need to give and receive love," Messina said.
Brägger's initiation in the film industry came unexpectedly in his senior year of high school when his father was diagnosed with cancer. A film class he was taking at the time inspired him to morph his personal turmoil into a film project called "Happiness."
"Inspiration comes from the lowest points in life," Brägger said.
"Happiness," Brägger's first attempt at filmmaking, is a non-narrative documentary of people immersed in their own versions of happiness. The documentary is a series of black and white clips of mundane acts: two girls at the beach splashing water at each other, a man rewatching old family tapes, while synthetic sounds loom in the background.
Brägger said the thrilling satisfaction of completing his first project set him on the path to a film career.
Romance is a common thread in his films because it induces complex and intense emotions, ranging from transcending happiness to excessive jealousy, Brägger said.
Conner Bell, a fourth-year film student who has worked with Brägger on multiple projects, said Brägger's films articulate the quirky rather than glossy aspects of romance, like the awkward silences and trivial fights.
In an adrenaline-addicted Hollywood era, Brägger said he films the simple yet emotionally charged true stories that mold who people are.
The ideas for his films stem from everyday incidents, Brägger said. His short film "The Pleasure Is All Mine" is a recreation of his chance encounter with a homeless man.
Brägger was stuck at a red light two years ago when he noticed a weary homeless man standing on the sidewalk. He reached for his cup holder and offered him the only three dollars he could find, apologizing for how little it was. But the homeless man stared at him and assured Brägger he felt blessed to have spoken to a kind face.
As Brägger drove away, he said he reflected upon his relationships. He realized he had not been as generous to his loved ones as that stranger presumed him to be.
"Little moments like these occur all the time and shape who we are, but their memory fades away. This is why I need to document them," Brägger said.
The minimal aesthetics and the reflective quality of his films serve the simple, self-reflecting stories he tries to articulate, Messina said. Bell said there is an underlying sense of nostalgia in all of his films which he creates through the use of flashbacks and remnants of the past.
Brägger said he engages in a process of constantly recreating himself. He is now writing his most developed script yet for his senior thesis project. The story evolves around a guy and a girl, strangers to one another, who have coincidentally booked neighboring hotel rooms. They sleep together and decide to spend the night together talking about their significant others until morning.
Brägger said the idea is not to condone cheating, but to create a story about an act that shapes us and whose implications haunt us forever.
In the near future Brägger said he envisions writing a feature-length script of "Gorilla-Mädchen" that delves deeper into the intricate relationships of the characters.
"In this industry you need to be persistent with your vision," Brägger said. "If (your films) touch at least one person then it is worth it."