The impact of social media on museums, art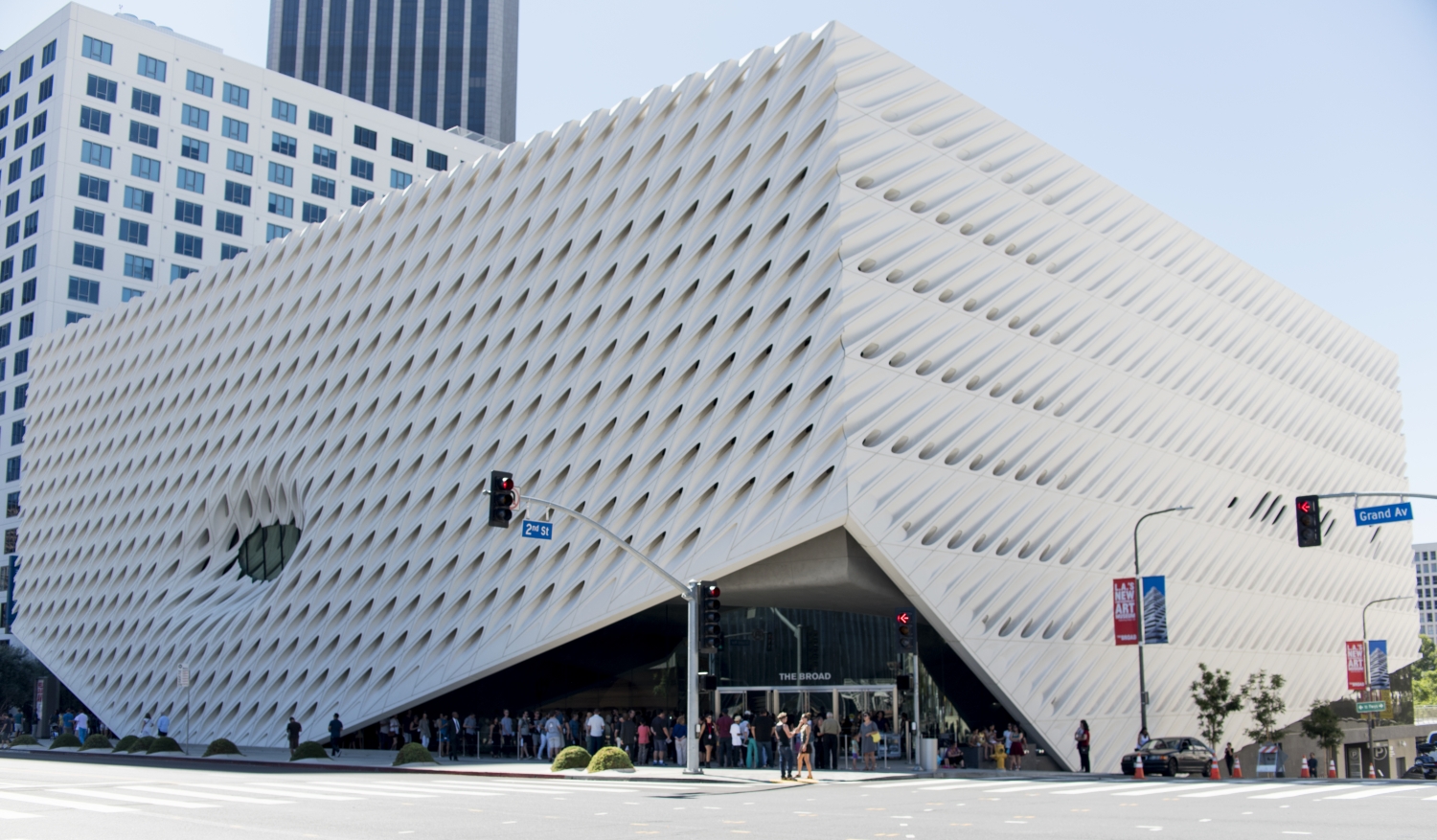 Free tickets to The Broad museum, Los Angeles' newest major art museum, are reserved through March. (Daniel Alcazar/Daily Bruin)
By
Daily Bruin Staff
Jan. 20, 2016 8:14 p.m.
We've all seen it before: people crowding Chris Burden's "Urban Lights" exhibit at the Los Angeles County Museum of Art to take photos peeking out from behind lamp posts, while others take selfies in the reflection of Yayoi Kusama's "Infinity Mirrored Room" at The Broad museum.
I'll even be the first to admit that I am guilty of taking photos at museums and flashing them on Instagram once in a while.
While it's questionable if millennials are sincerely appreciating the art in their Instagram photos, they are certainly drawing crowds, attention and revenue for museums. Social media has ignited a renewed interest toward museums and art, increasing attendance figures as a result. Interest in the "Rain Room" at LACMA exhibit has increased visitor attendance by more than 24 percent as compared to figures in past years for this period. The Broad museum, recently opened in downtown L.A., drew 177,264 visitors in the first 12 weeks. Although tickets are free, they are booked well into March.
It's clear that social media has made an impact on museums and the strict policies regarding photography have been changing.
Museums have adopted a variety of responses to a digital age existence. The Hammer Museum just down the street from UCLA recently created the #Spunday campaign to encourage visitors to post and tag photos of themselves spinning in Thomas Heatherwick's "Spun" chairs. LACMA's Snapchat account received a lot of Internet buzz for its witty captions.
On the other hand, the Rijksmuseum in Amsterdam has discouraged the use of photography and taking selfies in front of pieces to protect the art pieces, as well as to create an encounter with art rather than a "passive and superficial experience" driven by social media. To counter its discouragement of photos, the Rijksmuseum has encouraged visitors to draw the art that they see before them to explore their own creativity and test their artistic vision.
It's understandable that the use of technology will get people through the door and create more exposure for the artists. I just hope that I can stop seeing photos of people pretending to lift Michael Heizer's "Levitated Mass" sculpture at LACMA on my news feed.