Love | Hate: Obsession with critiquing red carpet fashion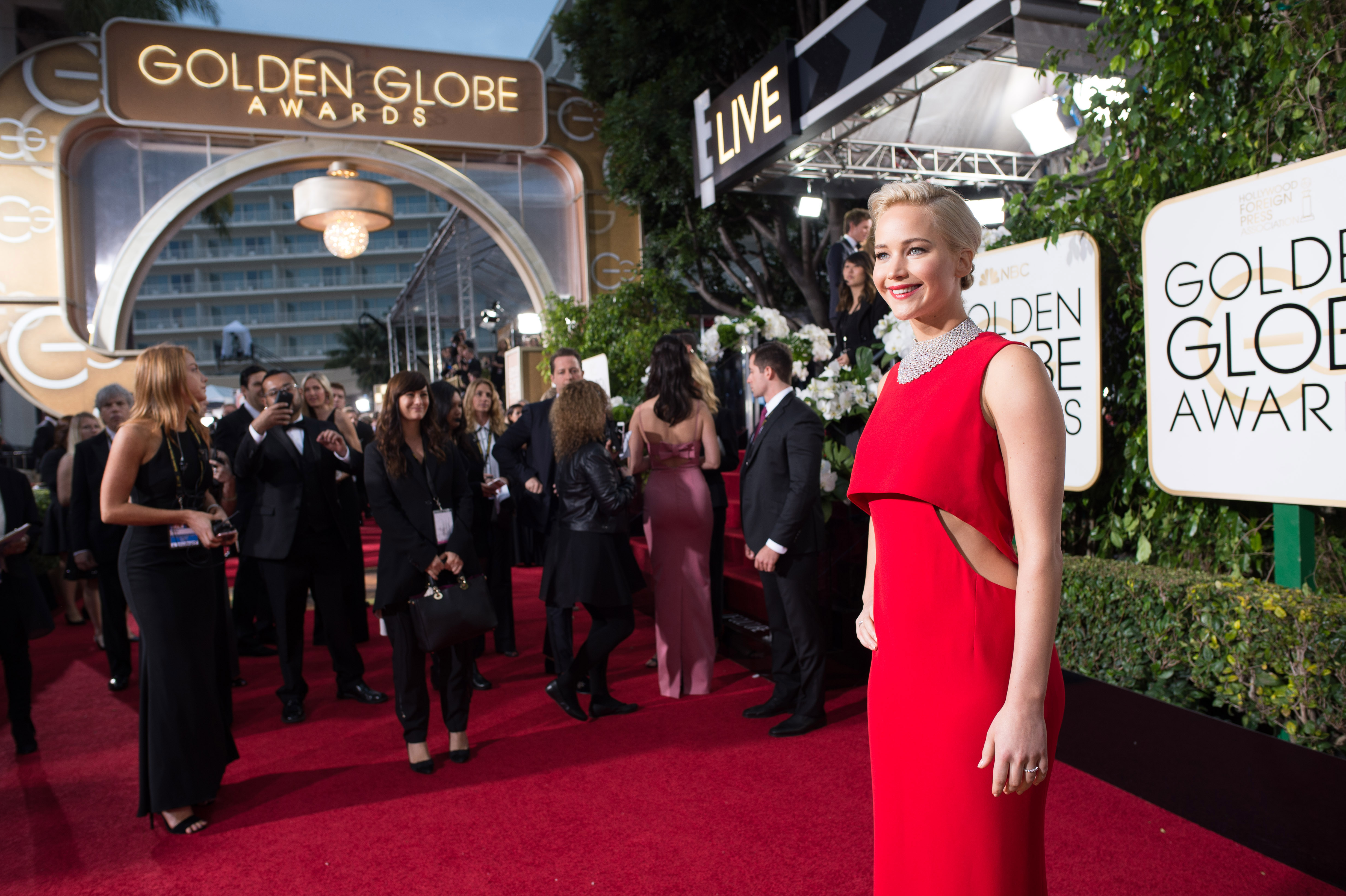 Actress Jennifer Lawrence (right) wore a red Dior gown and Chopard jewelry at this year's Golden Globe Award Ceremony on Jan. 10. (© HFPA)
With the return of A&E's "Love | Hate" column, two writers will declare their love or hate for recent pop culture events.
Flashing cameras and countless interviews on a Calvin Klein number or an Armani gown can elicit vitriolic responses from some, and be the subject of fantasies for others. The world will spend hours judging what actresses wear on the red carpet, from the Golden Globe Awards ceremony on Jan. 10 to the upcoming Oscars ceremony on Feb. 28.
Is the world of red carpet appearances rewarding and important, or harebrained? A&E senior staff Sebastian Torrelio and Emaan Baqai debate the merits of pre-awards show fashion obsession.
Love
Red carpets have basically turned into some kind of new-age performance art. Multiple networks and outlets covered the Golden Globes this weekend, enthusiastically commenting on dresses and gowns while the audiences at home made their tight scrutinies.
The scrutiny mainly applies to women – there's a much larger representation of female fashion in the media than male – but there really doesn't need to be. Fashion is fashion no matter who is wearing it, but what makes it interesting is the message garnered from the clothes on your back.
Wearing a tuxedo is easy, wearing a specially tailored Valentino suit in a striking fabric and color is a statement. Wearing a dress with subtlety is usually a winning idea, but matching that subtlety to a specific figure, hair stylization, clutch, jewelry and shoes is an entirely different challenge. Fashion is inherently complex, and as with anything complicated and publicly observed, there is a strategy to fashion that can be easily admired, understood and built upon.
That goes even further for different types of settings as well. The MTV Video Music Awards is a classic example of this: Lady Gaga's infamous meat dress is one thing, but the presentation that models Amber Rose and Blac Chyna made at last year's ceremony, wearing suits covered in derogatory terms, the lightest of which was "stripper," should be an inspiration to any appearance-savvy women in the business today.
If, removed from the carpet itself, outfit criticism turns into a more competitive atmosphere among peers and observers, then it's a different story. But fashion should always be discussed for more than just its glitz and glamour. It has turned into a thrilling sport with more intriguing, subjective connotations than anyone could ask for.
And hey, maybe by laughing at people's bad dresses from their award-losing night, it will make you feel better about the yoga pants you're wearing while reading this. It's a win-win.
– Sebastian Torrelio
Hate
There's a lot that I hate about celebrity-obsessed culture. It gets me existential in ways I'd rather not be – why are we keeping up with the Kardashians? Did Taylor Swift's belly button really warrant a trending topic on Facebook? If I Typed Like This Would I Be As Famous As Jaden Smith?
Of all the dumb things we focus on in celebrities' lives, nothing bothers me more than the emphasis on awards-show fashion.
I didn't watch the Golden Globes pre-show, but I don't think I missed much. There was probably a lot of "What are you wearing today?" awkward small talk between reporter and actress, "mani-cams" and weird full-body pans.
I get it – there's media coverage of celebrity fashion because people like it. However, this trend truly reveals where the interest of the masses lie – the superficial elements of celebrities' lives.
Obviously, the absorption with how celebrities dress doesn't just end at red-carpet shows, but I believe it begins here. The labeling of good and bad style is more toxic than just a trivial judgment to me – it belies a culture in which it is acceptable to overvalue appearances and devalue the individuality that personal style allows.
As if it weren't enough to see celebrities being trashed for what they choose (or don't choose) to wear under the spotlight, I feel that these shows distract viewers from women in the film and television industries' accomplishments more than anything. Maybe it doesn't mean anything more than weird "glam-cam" coverage of their dresses on the red carpet, as Cate Blanchett drew light to at the 2015 Oscars. But it's become a norm to extend the criticism and excessive attention to the appearance of women in all positions and at all times. Take, for example, the fact that the color of Michelle Obama's dress at the State of the Union was trending two days ago.
As a journalist and as a woman, it upsets me that superficial appearances and glamour battles are where the focus falls. I may have watched the whole "mani-cam" video, but I won't be watching another pre-awards show any time soon.
– Emaan Baqai
What do you think of red carpet awards show fashion? Email Torrelio at [email protected] and Baqai at [email protected]