Belly dance workshop on campus offers exposure to art form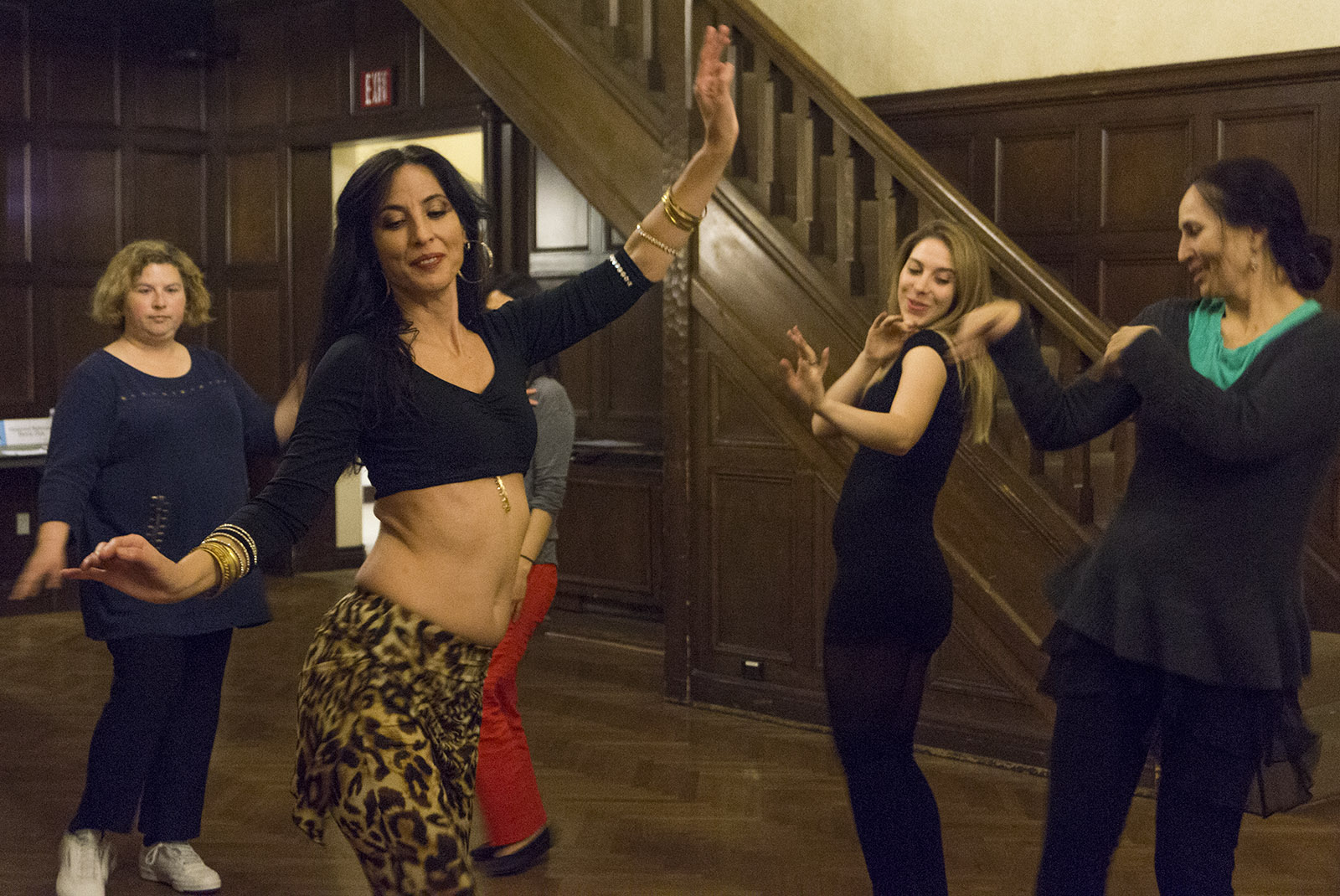 Belly dance performer Josie Bellydance (center) instructed the belly dancing portion of the Ballroom Dance Club's Middle East Culture Night on Monday at the Kerckhoff Grand Salon. At the event, Josie Bellydance also led a question-and-answer session in which she answered questions, for example, about the technique behind movements. (Rocio Flores Huaringa/Daily Bruin)
Her bangles, shimmering under the chandelier lights of Kerckhoff Grand Salon, accompanied the Arabic music like jingle bells.
Her hips moved separately, as if disconnected from the rest of her body. Sometimes they hit every major and minor beat in the music. Other times, they ignored the rhythm completely, loosening up to trace the almost hypnotic tune.
"There is no way my hips will ever move like that," I thought as I watched our instructor's demonstration, standing among an audience of about 20 people.

During the last song, Josie Bellydance, a belly dance performer and the instructor for the Ballroom Dance Club and International Folk Dance Club's Middle East Culture Night Monday, broke the audience's trance to invite all of us to join her.
The first volunteer rose from her seat and attempted to match Josie's movements followed, gradually, by the rest of the audience, young and old, male and female, student and non-student. Some leaped out of their seats with confidence, while others, including myself, latched onto the perfect opportunity to slide in unnoticed.
But Josie noticed everyone. She made eye contact with each participant to distract us from focusing on how awkward and mechanical our bodies looked compared to her almost snake-like fluidity.
When the music stopped, Josie bowed at our applause and opened the floor up for questions. Some inquired about the meaning and technique behind certain movements and others asked questions akin to common preconceived notions about belly dancing. A man and a woman asked if belly dancing is performed with the intent of seduction.
The question surprised me. Coming into the workshop, I was aware of the stereotypes surrounding belly dancing, yet I found the actual voicing of these opinions jarring with my determination to enter the workshop with an open mind.
However, this was not the first time Josie had fielded this sort of question. Josie said people tend to associate belly dancing with Turkish harems and concubines, which she said are archaically linked, if linked at all, to the dance form. In a more modern comparison, she said some group belly dancing in the same category as stripping.
"Sometimes you just have to tell them that there are all different women all over the world, educated women, professional women, who are dancers," Josie said. "In a way, it's a part of feeling good about yourself, and I think it's good for your self esteem."

She said she believes that belly dance provides dancers with a sense of beauty and confidence.

Josie also pointed out during the question-and-answer portion that men, themselves, often practice belly dancing.
That night, men made up about a third of the participants, their reactions ranging from giggling at the unnatural body movement to focusing intently in an effort to match Josie's steps with precision.
James Zimmer, the co-founding president of the Ballroom Dance Club and International Folk Dance Club, UCLA alumnus and workshop mediator, said a male presence at Middle East Culture Night is not uncommon.
"Some guys have really enjoyed the belly dance workshops in the past, so I think it's for everybody," Zimmer said.
Despite the sexualized stereotype of belly dancing, the participants seemed to embrace the art form with smiles and open minds. Karina Lozano, a second-year human biology and society major and vice president of the Global Dance Club, arrived at the workshop with an appreciation for the dance form's fluid movements.
"I honestly don't know too much about the significance behind it, but I think the dance itself is very graceful," Lozano said. "It's very beautiful, I think, and that's why I want to learn."
As we attempted to mirror Josie, some steps came more easily than others, and belly dancing taught me new things about my body. In an effort to mimic Josie's vertical hip movement, I discovered that despite being right-handed and right-footed, I am most definitely left-hipped.
By the end of the hour-long lesson, I had gotten the hang of hip-popping (at least on the left side), wavelike hand movements and three-point turns, but some moves, I just had to accept, must come with time and dedication. My leg shimmies weren't too shabby, but I found it impossible to keep up with Josie, whose legs fluttered so quickly that the cheetah print on her pants became a muddy blur.
Lozano also noted the degree of difficulty of some of the steps and said her admiration for belly dancers, as well as other dancers, increased with the belly dancing lesson.
After the workshop, Lozano said she gained a greater appreciation for arts and dance students at UCLA, whose work she said is often undermined by other students who do not realize the mental, emotional and physical demands of dance.
Josie described the complexities of belly dance as a gateway to understanding other forms of dance, once one masters rhythm and tempo, and other cultures. I observed this mastery as I watched Josie's performance.
Josie's artistry and her response to the misconceptions surrounding belly dance strengthened my respect for belly dance as an art form rather than what some perceive as a means for objectification.
"Women really support other women through dance," Josie said. "We're dancing at weddings, we're dancing at restaurants. We're not dancing for men."
Carras is an A&E senior staff writer. She was previously the assistant editor for the Theater Film and Television beat of A&E.
Carras is an A&E senior staff writer. She was previously the assistant editor for the Theater Film and Television beat of A&E.