Music professor uses Irish flute to relive travels, revive traditions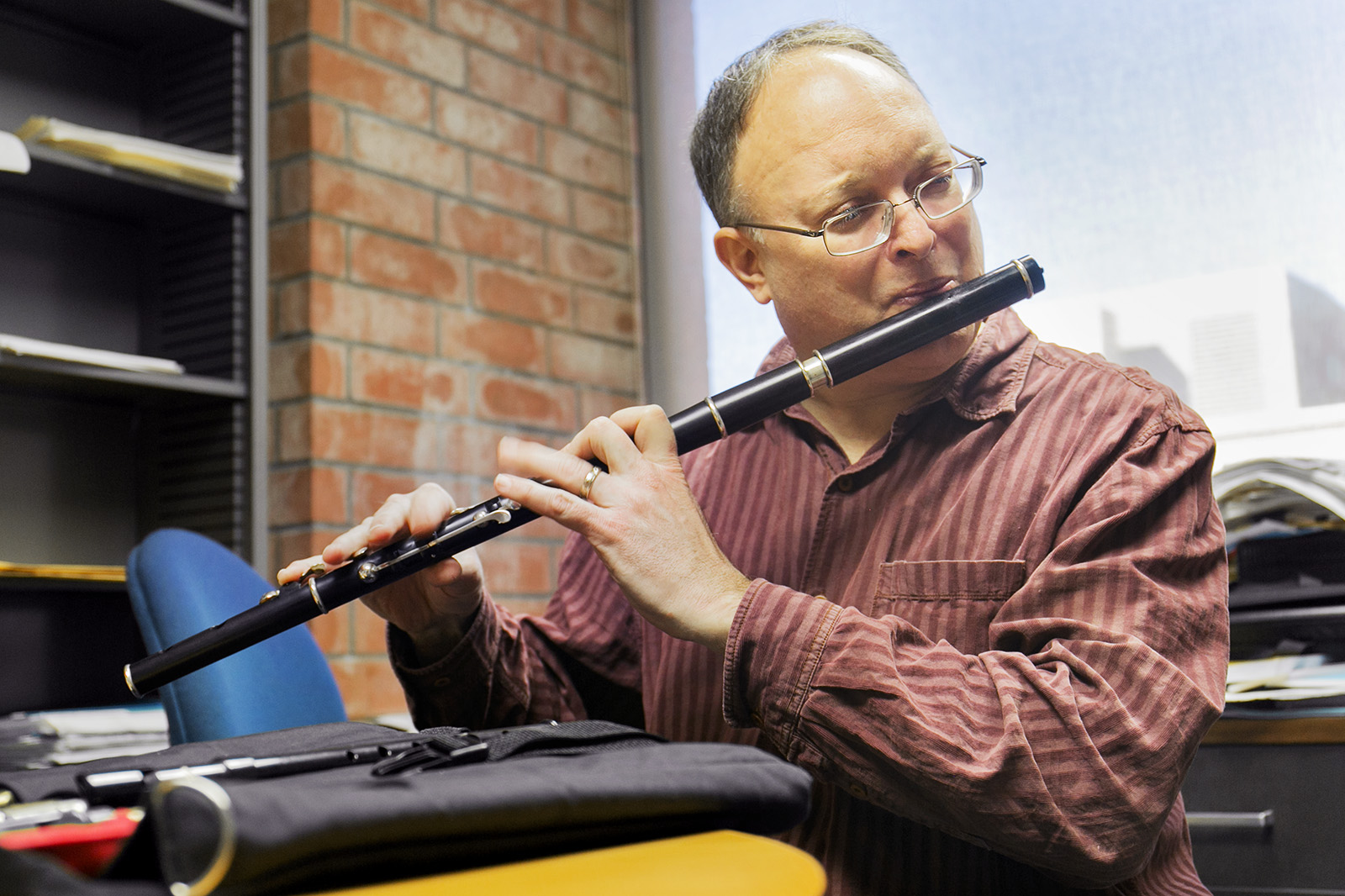 Ethnomusicology professor Timothy Taylor's perception of music as work and discipline was shattered during a night of watching men in a Northern Ireland pub playing Irish flutes while laughing, drinking and enjoying themselves in the music. Now, Taylor plays the Irish flute for his personal fulfillment and said the sound of the flute reminds him of his time in Ireland. (Jiahui Zhou/Daily Bruin)
Each week, Daily Bruin A&E will explore the instruments of the World Musical Instrument Collection and their performers that all contribute to the musical landscape of the UCLA Herb Alpert School of Music. This week, we highlight the Irish flute.
A single night in an Irish pub dismantled Timothy Taylor's strict, decades-old approach to classical music.
Back in 1988, Taylor walked into an Irish bar to see men playing the flute, clinking beer bottles and laughing. It had never occurred to him that in some pub nestled in a Northern Irish town, flute players could fuse performance with fun.
Taylor, now an ethnomusicology professor, traveled in 1988 from the University of Michigan to Queen's University Belfast as part of a fellowship exchange program. He had boarded the plane in hopes of studying with the Irish ethnomusicologist John Blacking, but Taylor also wanted to return to the place his ancestors had lived until the potato famine of the 1840s forced them to emigrate.
Inspired by the exuberance of the Irish pub performers, Taylor purchased a tin whistle, sheet music and a cassette with recordings. He practiced alone in his dorm room but could never perfect the sound.
Eventually, the boyfriend of a student in the dorms, hearing Taylor's unpolished tunes, knocked on his door and taught him how to add the lively variations of Irish music.
Irish tunes are passed down across generations and Irish musicians imitate them by ear. Taylor said playing off books does not sound the same.
His return to Michigan in 1989 deprived Taylor of a haven for his music. But Taylor decided to bring that night in Ireland back with him by initiating his own sessions in a local bar. In Irish music culture, a session entails a specific ritual: Musicians walk into a pub, sit around and when they hear a familiar tune, they play along.
A decade after returning from Ireland, Taylor switched to the Irish flute. In 2001, Taylor traveled to New York City to teach at Columbia University and found himself in the city of renowned flutist Mike Rafferty. Private lessons with Rafferty initiated Taylor to the East Galway style of playing the Irish flute. A mix of the instrument's warm sound with its challenging technique has captivated Taylor ever since.
As he traveled from California to Paris, Taylor would walk into unfamiliar bars and play his flute. The thrill of discovering unprecedented pubs and new friends attracted Taylor to this nomadic style of performance. At first it felt intimidating, Taylor said, but, at least while traveling, he'd never encounter the same audience twice.
Taylor is now a regular at the Irish bar "Auld Dubliner" in Long Beach, where he plays his tunes every Sunday except, he said, for the night of the Super Bowl and Christmas Day.
Most flute players are attracted to the sociability of the instrument, but for Taylor, the allure is more personal. Keeping his flute by his side, he retrieves it for a placid break from life.
"The woody, chocolatey sound of the flute reminds me of my younger times in Ireland," Taylor said.