UCLA student inspired by Ellen DeGeneres, fights cancer with humor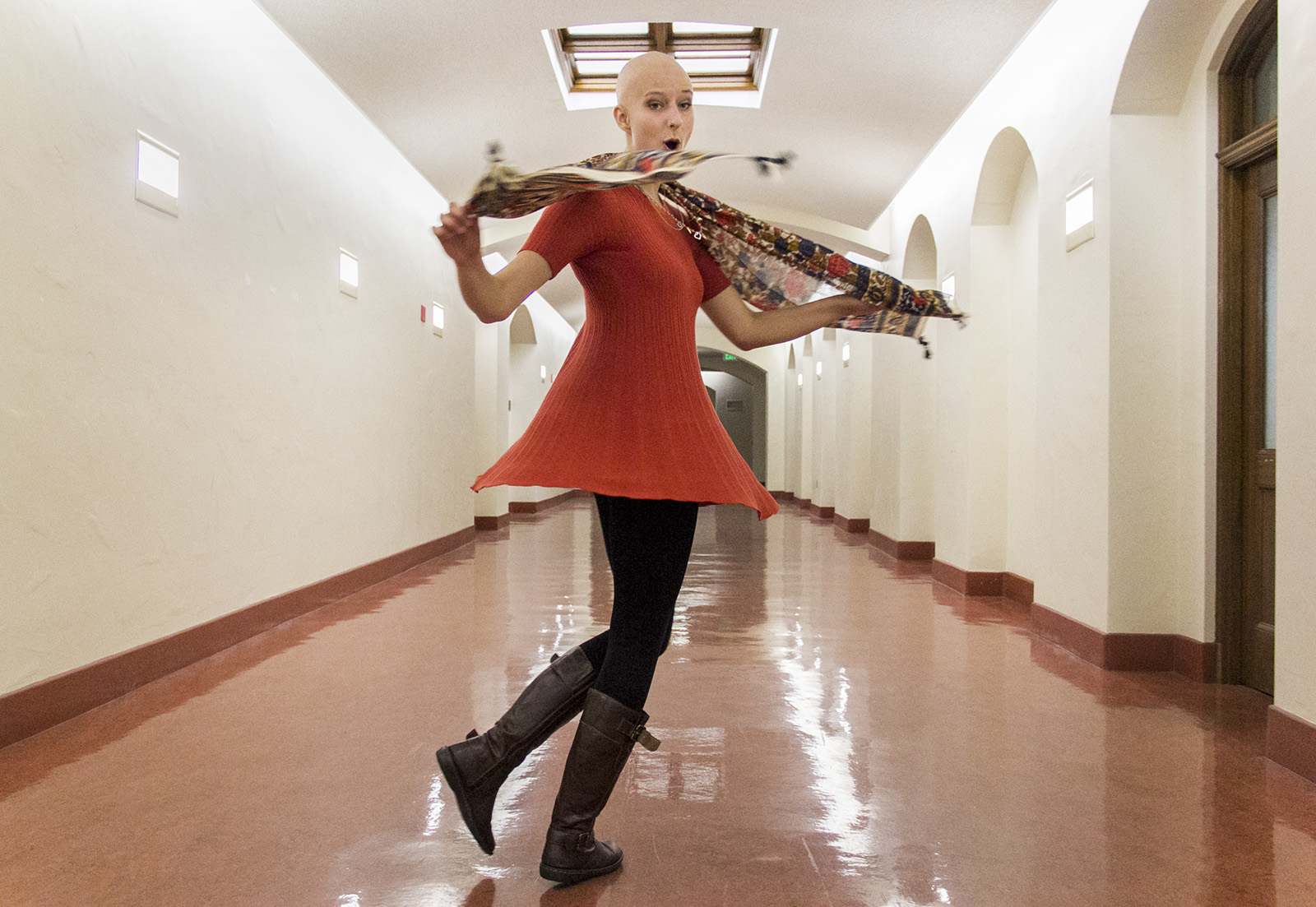 Fourth-year human biology and society student Lauren Grabowski was diagnosed with Hodgkin's Lymphoma in 2015. Inspired by Ellen DeGeneres, Grabowski created a video, "Lauren dances like Ellen," in which she imitates DeGeneres' dance moves and documents her DeGeneres'-style haircut, to update friends and family of her health. While Grabowski did not expect the video to go viral, the video now has over 22,000 views. (Zinnia Moreno/Daily Bruin)
Lauren Grabowski takes a deep breath as she runs her hands through her new haircut, feeling the short and layered blond strands between her fingers.
She tries not to grin as she begins to dance, kicking her converse-clad feet from side to side and swaying her hips in time to Beyonce's "Crazy in Love".
Grabowski, a fourth-year human biology and society student, was diagnosed with Hodgkin lymphoma in October 2015. Rather than losing her hair gradually due to chemotherapy, Grabowski cut it short to imitate Ellen DeGeneres' haircut. In a YouTube video that documents the cut, called "Lauren dances like Ellen", Grabowski also imitates DeGeneres' dancing against a wall covered in green ivy. The video has since garnered over 22,000 views.
Grabowski said she always found DeGeneres funny and loved her dance moves, finding her style relatable. While neither Grabowski nor DeGeneres are professional dancers, Grabowski said they each act like they know what they're doing. Having grown up watching DeGeneres' confident dance moves, Grabowski was inspired to imitate her haircut.
While she originally made "Lauren dances like Ellen" as a way to update her friends and family, it has since gone viral. Grabowski said she was surprised by the power of social media to bring different people joy through her simple video.
Lizzie Zweng, a fourth-year Design | Media Arts student and Lauren's roommate, said both Lauren and Ellen share an exuberance and genuine love of life.
"Ellen's transparency with her audience, the way that she just presents who she is to the world, is a lot how Lauren lives her life. Both (are) just super charismatic, fun loving people," Zweng said.
Grabowski and Zweng filmed the video on Nov. 19, over a month after she had first found a lump on her neck while studying. As a Check Your Boobies student ambassador, Grabowski had been involved in cancer prevention since her first year and knew she needed to see a doctor.
"I knew something was wrong; I immediately started tearing up," Grabowski said. "I just had this feeling that God was telling me this was going to be a really long journey but (He will) be here through it all."
Zweng accompanied her to the Arthur Ashe Student Health and Wellness Center where, after several tests, Grabowski was told there was a 90 percent chance she had cancer.
Returning to their apartment after the appointment, she and Zweng passed crowds of students rushing to class. As Grabowski looked around, she felt a change in her perspective. She realized everything on Earth is temporary and that she had to value her friends and relationships. Grabowski said she turned to her Christian faith to stay positive during treatment.
"All I could tell Lizzie is my body is not my own," Grabowski said. "It's an earthly thing, and I felt removed from my body and my current situation and I just had complete trust in the Lord that it would work out."
Absent of fear of the future, she realized the importance of living in the present after her diagnosis. While she had always heard this cliché, Grabowski said her diagnosis has made her adopt it.
"Anything can happen; you feel so invincible, you're so young. You feel like you can conquer the world; strong willed, determined," said UCLA student Lauren Grabowski.
Grabowski has a support team that she calls "Team Grabowski." It is made up of her friends, family and the organizations she is involved with at UCLA such as Cru, her sorority and Check Your Boobies.
Her mother, Bridgette Grabowski, said the strong support she has received is the fruit of the many relationships her daughter has had over the years. The support has made her feel comfortable with Grabowski remaining at UCLA during treatment.
"The Bruin community has helped her up," Bridgette Grabowski said. "So as difficult as it is for me to be away from her during this, that's where she needs to be. I'm grateful."
Grabowski's mother said the video "Lauren dances like Ellen" helps show the world Grabowski's life and personality beyond her diagnosis.
"She's not just a girl with a cute bald head, she's an extrovert and she makes people laugh," she said.
Zweng has continued to film Grabowski as she goes through treatment, and the two plan on posting more videos updating "Team Grabowski" in the months to come.
While Grabowski has since lost her hair, many are prodding her to try and get onto "The Ellen DeGeneres Show" in order to have a dance off with DeGeneres. Grabowski said she isn't looking to garner fame through her videos, and rather wants her story to inspire joy in others.
"The only reason I'd want to be on it is to make somebody else smile," Grabowski said. "If it could make someone else smile, maybe someone else that is battling cancer, then it would be worth it."