Rise of Hulu, other streaming services opens new era for television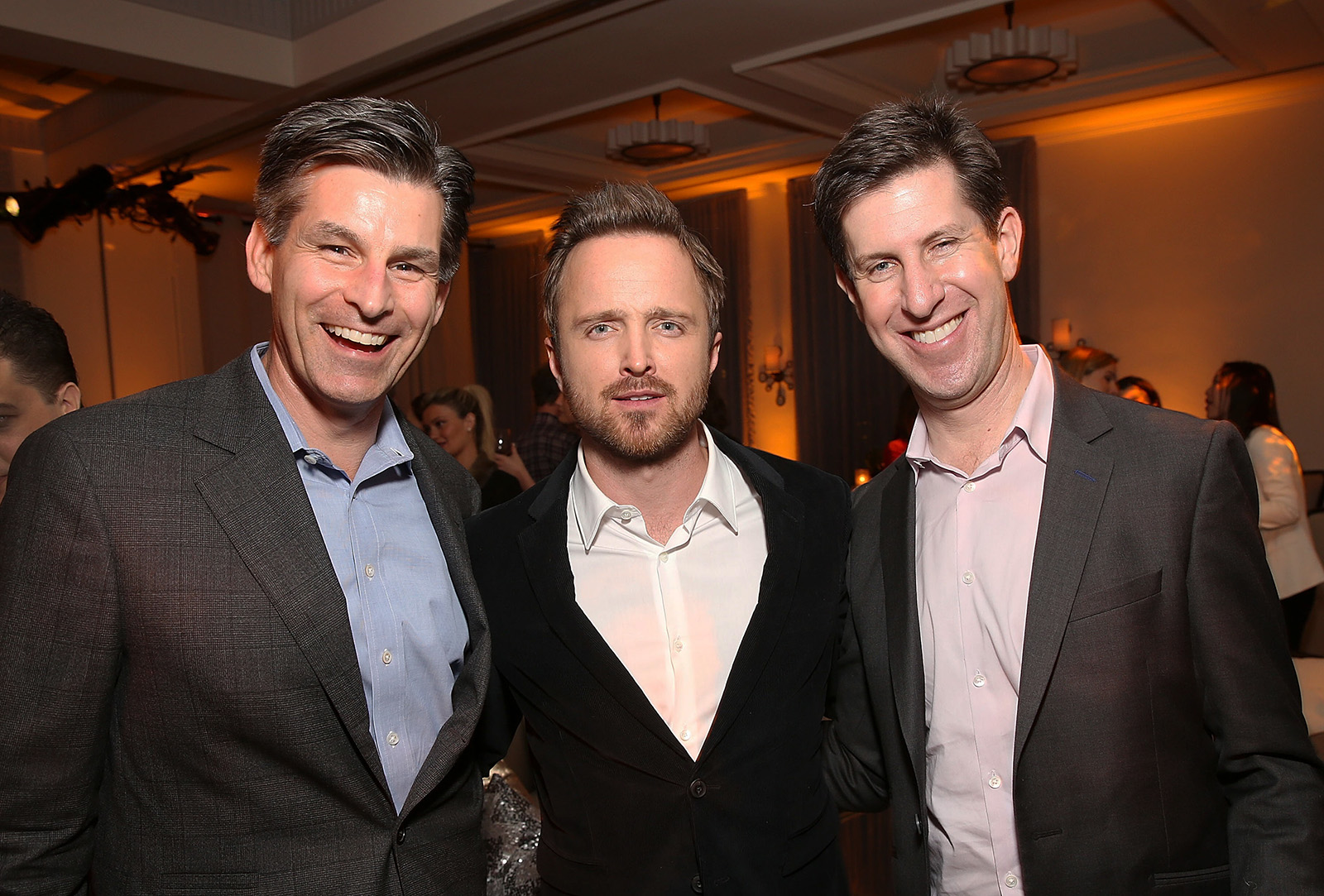 Hulu CEO Mike Hopkins, left, witnesses firsthand the changing face of television, as Hulu is one of many companies that has contributed to transforming the industry into a freer space to produce original content. (Courtesy of Hulu)
December 7, 2015 12:07 am
Channel-hopping and advertisements become a thing of the past when people sit on the couch and binge watch their favorite series.
Streaming services like Hulu and Netflix have changed the face of television, transforming it into a more free and organic industry for creators to produce content, said Hulu CEO Mike Hopkins.
UCLA alumnus Hopkins first got involved with the company in 2013 because of the exciting potential he saw in streaming.
"The rest of the TV landscape has been investing in satellite TV and technologies that were great for the user at the time," Hopkins said. "But they're not as simple and flexible and ubiquitous as what streaming can offer, with apps and subscription services."
The form of television shows has also been affected by streaming, Hopkins said. Streaming shows like "Master of None" and "Casual" are no longer married to the idea of a 22-minute or a 44-minute episode, because they don't have to incorporate time for advertising into the show.
For Neil Landau, the associate director of screenwriting for television at the UCLA School of Theater, Film and Television, streaming has changed the way people watch television. He said the new trend to binge-watch shows has led streaming services like Netflix and Hulu to favor what he calls the "slow-burning story model" in which the narrative is given more time to evolve.
"For (streaming) companies like Netflix, the entire first season is essentially the pilot, not just episode one," Landau said. "This is opposed to the (traditional) networks which tend to throw the kitchen sink at a pilot, they try to put everything they can in there to grab the audience's attention."
Landau will release a book on the subject of streaming and its effects on the television industry in January called "TV Outside the Box: Trailblazing in the Digital Television Revolution."
He said streaming has allowed for more provocative, edgy content because shows don't have to abide by the standards and practices, such as restricting nudity and expletives, set out to protect advertisers at cable networks.
Tom Nunan said the more liberal creative license is a testament to the audience's insatiable appetite for new characters and shows.
Nunan, a UCLA alumnus and former president of NBC Studios who now lectures in the UCLA School of Theater, Film and Television, said the only way new streaming platforms can survive is to become associated with their own unique shows. For instance, Netflix needs to tell the consumer it's the only place to find "House of Cards," he said.
"There's an old fashioned saying in the TV business: 'Content is king.' And never has that been more true," Nunan said.
Landau and Hopkins both said they believe the standard of television shows will only get higher in the future. With new TV platforms like Hulu, Landau said more shows will be produced, but only the best will survive the increased competition.
"It's going to become a form of 'digital Darwinism,'" Landau said. "Watching television now is like going to a bookstore or library, it would never be practical to read every single book."

However, finding ways to differentiate Hulu from its growing competition is one of the problems the company is facing, Hopkins said. He said Hulu aims to achieve this through its marketing.
Hopkins, Landau and Nunan believe the effects of streaming on the television industry have been generally positive. Directors and stars no longer consider TV to be a step down from movies as they used to, Landau said, as streaming has enabled them to explore their creativity with more freedom.
"When you don't have to worry how many eyeballs you got last night, or how to fit our ads in, or when you know the premier night isn't gonna make or break your show, all of a sudden you look at how to make TV shows differently," Hopkins said. "Streaming creates a very different kind of content, it's changed the stories that people can tell and how they're gonna tell them."
Thorne is the prime director. He was previously the assistant A&E editor for the Theater | Film | Television beat.
Thorne is the prime director. He was previously the assistant A&E editor for the Theater | Film | Television beat.