Movie Review: 'The Good Dinosaur'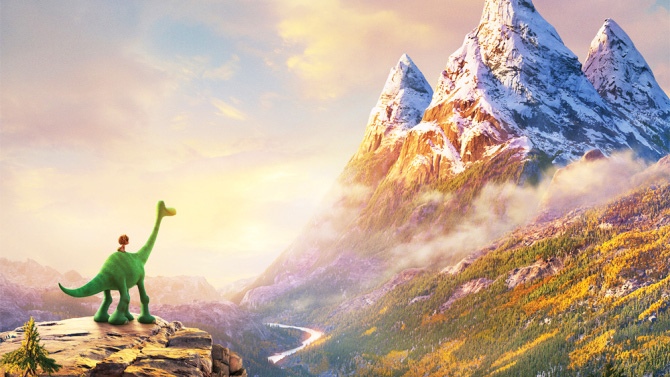 "The Good Dinosaur" Directed by Peter Sohn Pixar Animation Studios
Dinosaurs watch the famous asteroid that supposedly ended their reign on the planet, passing by Earth in the opening scene of "The Good Dinosaur."
The events of the new Pixar Animation Studios film take place in a world where dinosaurs never went extinct, evolving alongside humans into hunters-gatherers and shepherds. The movie, directed by Peter Sohn, who also worked on Pixar's "Finding Nemo," is an inspiring and amusing comedy-drama which tells the story of an insecure and fearful Apatosaurus named Arlo.
In the beginning, Arlo is surrounded by his loving family, which consists of his kind Momma Ida (Frances McDormand), wise Poppa Henry (Jeffrey Wright), strong and guileless brother Buck (Marcus Scribner) and resourceful sister Libby (Maleah Nipay-Padilla).
The five dinosaurs live happily on a riverbank and own a corn farm. Each family member is rewarded for their hard work by making a muddy footprint mark on the wall of a stone corn barn. Poppa, Momma, Buck and Libby have made their marks, but Arlo's foot has never touched the stone. His uncontrolled fear of everything keeps him from earning his reward.
The family idyll is interrupted when Poppa Henry tragically dies in a flood, resulting in a timorous teenage Apatosaurus finding himself far from the farm. Arlo has to take a long and dangerous journey back home, while trying to domesticate a little cave boy (Jack Bright), who saves Arlo's life and eventually becomes his best friend.
"The Good Dinosaur" is a movie made with the same themes that made Pixar's "Finding Nemo," "Up" and "Inside Out" so appealing and inspiring. It praises family, friendship and courage and has a main character many children and teenagers can identify with.
The movie reverses the human and the natural world: Cavemen don't speak at all, and the philosophical, ironic and hilarious speeches are made by animals.
This technique opens more possibilities for funny scenes in the movie, provided mostly by the voice of child actor Jack Bright, who plays the cave boy. Bright produces barks and howls, which are diverse tones that successfully replace the dialogue. And Arlo's changing personality through the film is highlighted by the voice of another child actor, Raymond Ochoa. Apprehensive and mostly quiet, Arlo's voice gets stronger and even grows into a confident growl by the end.
Similar to "Finding Nemo," "The Good Dinosaur" is a didactic film dedicated to nature. The views of snow-covered mountain peaks, virgin forest thickets and magical fireflies' illuminations provoke thoughts about how our planet would look like without cities, factories and highways.
The beautiful scenery further brings the audience's attention to ecological issues and provides a call to action for people to work with nature for the benefit of all. In the first half of the movie, the cave boy is depicted as a voracious predator. It's up to the vegetarian Apatosaurus to teach him to forget about insect and rodent meat and to fill his belly with berries and fruit.
When it comes to naming the cave boy, one character who resembles a creepy looking rhinoceros proposes names such as "lunatic," "killer," "murderer" and best of all, "hemorrhoids," to remind humans of their destructive impact on nature since dinosaurs walked the earth.
Arlo, however, follows his own instincts and names the little cave man Spot. The dinosaur and the human join together to fight their fears, finally making their mark by overcoming them and getting back to their families.

"The Good Dinosaur" is a beautiful film about humans' environmental consciousness and self-discovery. As Arlo's Poppa Henry said, it is about "getting through the fear to see the beauty on the other side."
– Maryna Romanchuk-Kapralau