Movie Review: 'The Hunger Games: Mockingjay – Part 2'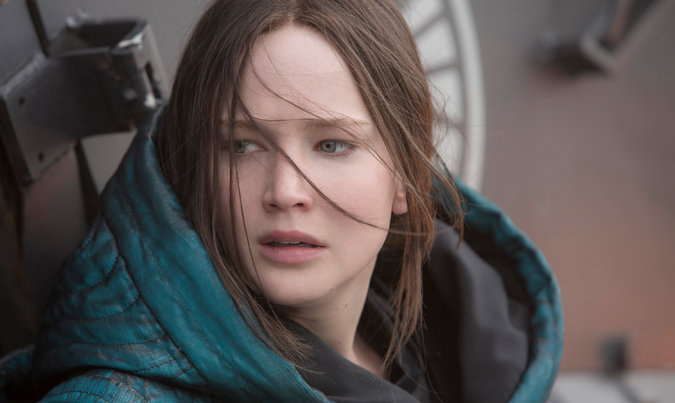 "The Hunger Games: Mockingjay – Part 2" is the last installment of the "Hunger Games" movie series that began in 2013. (Courtesy of Lionsgate)
"The Hunger Games: Mockingjay - Part 2" Directed by Francis Lawrence Lionsgate
It's strange to think how quickly "The Hunger Games" film franchise has passed. When the series started in 2012, Jennifer Lawrence was barely coming into the public eye and Philip Seymour Hoffman was still in prime acting form. Now, it's suddenly over, and a shocking amount has changed.
Whether or not the rumored spin-off movies come to fruition, "The Hunger Games" was a brief instance in pop culture – a very important, powerful instance. "The Hunger Games: Mockingjay – Part 2" has the uncomfortable job of finishing a story that was often as conceptually unpleasant as it was widely inspiring.
Despite a few bumps in the road stemming primarily from the original books, "Mockingjay – Part 2" is a mostly satisfying conclusion to the saga that will meet any coming viewer's expectations on the nose.
The movie starts off with no guidance to help those who have forgotten where the series left off. It begins with Katniss Everdeen (Lawrence) recovering from the jolting attack by Peeta Mellark (Josh Hutcherson) after he was rescued from the Capitol. Katniss has inspired hope as the Mockingjay symbol through numerous propaganda videos, and rebellion leader President Coin (Julianne Moore) informs her that her duties are complete.
Going against orders, however, Katniss sneaks away to the front lines hell-bent on killing President Snow (Donald Sutherland). Once there, she is accompanied by rebels to take back the nation of Panem. In anticipation, Snow has filled the abandoned streets of the Capitol with security traps and life-threatening enemies, effectively turning the fight into another maddening round of the Hunger Games.
Whereas "Mockingjay – Part 1" was an unconventional but slow entry to the series that relied on a building sense of danger, part two is the ultimate payoff.
It's essentially a war movie, unleashing solid action sequences for two-thirds of its running time. The scenes are diversified, too – one that takes place underground seems heavily inspired by director Francis Lawrence's 2007 project "I Am Legend" – and it's fun and frightening in a way "The Hunger Games" hasn't been thus far.
Beneath the battle, Katniss has to deal with an onslaught of contrived dilemmas. Throughout the movie, questions are constantly posed as to who exactly is on her side. "Mockingjay – Part 2" likes to bounce around the subplot of moral values, surmising that killing is wrong until it is posed against more killing, and armed revenge is a true test of one's righteousness. A regular war film would be scolded for so much harsh iconography, and "The Hunger Games" shouldn't be exempt.
Otherwise, "Mockingjay – Part 2" comes with all the problems that readers will be mindful of as they enter the theater. "Mockingjay" was the most polarizing of Suzanne Collins' novels, and the final film reflects that, especially in regards to the dissatisfactory and vague closure of the Katniss-Peeta-Gale love triangle.
"Mockingjay – Part 2" doesn't work out every abrupt moment and false ending to the most logical conclusions, but then that might have been a problem with managing the two-part adaptational split to begin with.
Francis Lawrence can't be blamed for many of the film's wrongs. Despite how shaky the source material was, he has made the best of what was provided.
Lawrence's directorial touch is exemplified in the movie's most disconcerting aspect: Hoffman's final onscreen performance. There are a couple moments in which a character will come on screen to read a letter written by Hoffman's character Plutarch Heavensbee, or relay his thoughts, that were clearly unfinished scenes. Like the flawed "Mockingjay" duology as a whole, it is what it is. At least the finished product serves as a way to say goodbye to an amazingly gifted actor.
"The Hunger Games: Mockingjay – Part 2" is meant to serve as a goodbye in a grand respect. The camera follows Katniss around more succinctly in this film than in the past installments. Inevitably, this is her story, one of female empowerment that has reached an inspiring level of cultural phenomenon. More so than any unsatisfying plot criticisms, it's her heroism that has defined this series in the eyes of a generation, and "Mockingjay – Part 2" is the bow – and arrow – unevenly placed on top.