Students plunge into ocean research through UCLA Marine Operations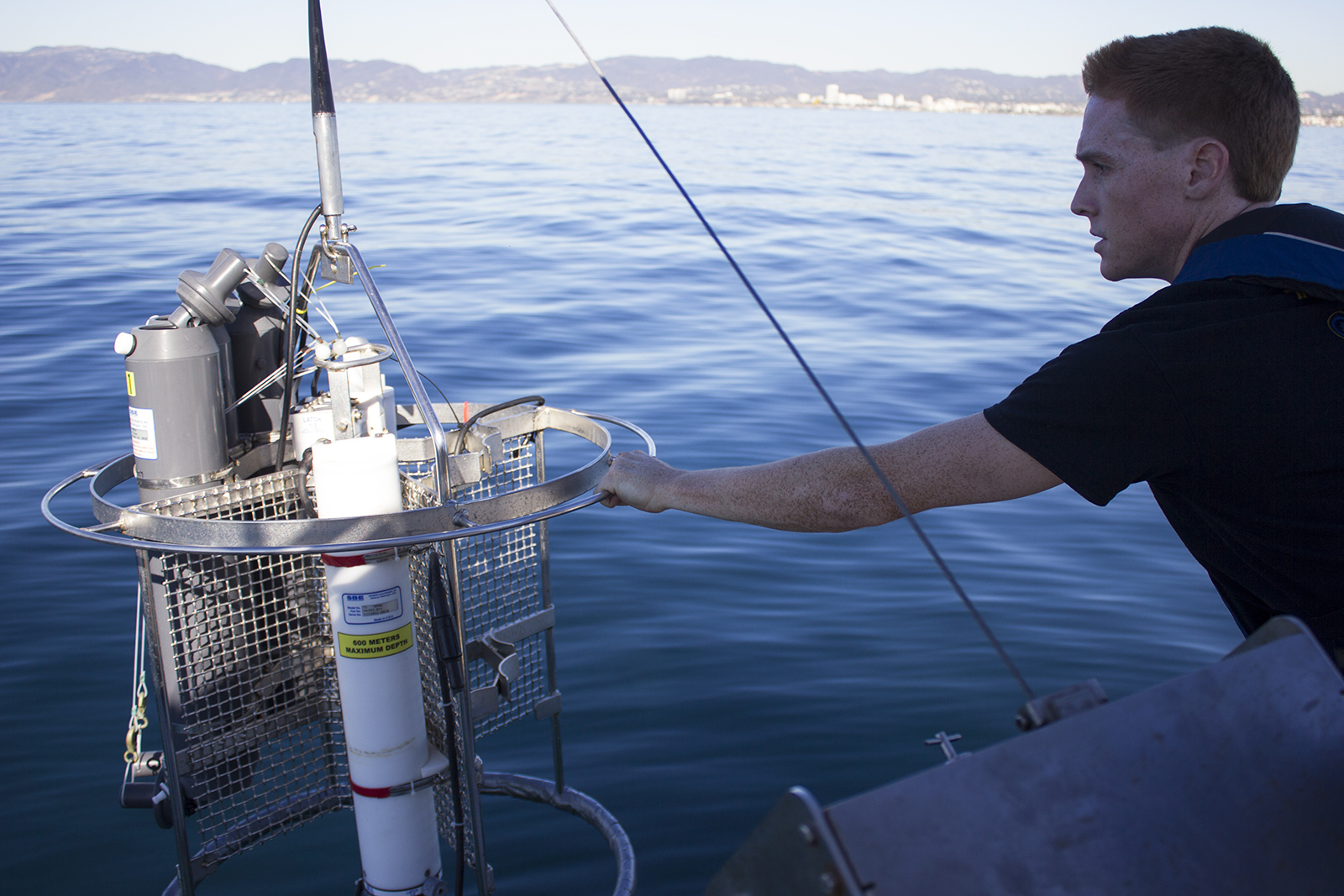 Jeroen Molemaker, an assistant researcher of atmospheric, oceanic and environmental sciences, received more than $50,000 from the Office of Instructional Development and the Scripps Research Institute to upgrade one of the old boats that belongs to the UCLA Marine Operations program. (Tehya Faulk/Daily Bruin)
A lone pelican skidded into the surface of the ocean, kicking up water droplets like a skier in fresh snow. Miles away from the coast of Los Angeles, Jeroen Molemaker's research vessel bobbed on the waves of Santa Monica Bay, as student researchers tinkered with oceanographic technology onboard.
The UCLA Marine Operations program, which allows Molemaker and his students to conduct practical oceanography research, is in its first year of infancy. Molemaker assembled the team in late 2014 to further study small-scale oceanic processes, physical events such as wave activity and wind-water mixing that operate on a molecular level.
Molemaker, an assistant researcher of atmospheric, oceanic and environmental sciences, received more than $50,000 in combined grants from the Office of Instructional Development and the Scripps Research Institute to upgrade one of UCLA's old boats.
"(Two years ago,) UCLA didn't have an observational oceanography program," said Molemaker, whose team departs on cruises from a harbor in Marina del Rey, California. "We try to … give (undergraduate students) projects they can actually handle. The idea is that they can make real contributions to the work."
Every week, the 27-foot Zodiac emblazoned with the UCLA logo cruises past colonies of sailboats and yachts towards predetermined locations in the bay known as wave points. Researchers primarily study fronts, or bodies of water that experience rapid temperature change but little change in depth, and use instruments to monitor temperature, salinity and electrical conductivity.
"Do you have a screwdriver? Or something long and pointy?" said Michael Morrison, a fourth-year atmospheric, oceanic and environmental sciences student. The deck of the Zodiac rocked tumultuously beneath his feet, as he checked on an instrument called the Rosette sampler, which collects water for analysis.
Tall canisters on the sampler fill with water to measure aquatic properties up to 700 meters below the water's surface. Morrison and his partner, Sarah Hafiz, heaved the sampler into the ocean with a splash, lowering it beneath the rolling waves of Santa Monica Bay with a mechanical rigging system they helped to build.
Aviv Solodoch, a graduate student in atmospheric and oceanic sciences who captained the boat last Friday, said physical oceanography helps him understand the physical characteristics of Santa Monica Bay. The data collected could improve how scientists track ocean temperatures and model climate change, or help engineers understand how to mitigate the spread of oil or sewage spills, he added.
Solodoch is one of a few graduate students trained to lead the cruises. Hafiz, a fourth-year environmental studies student, and Morrison are undergraduates who work with data collection and analysis upon the ship, earning research credit from the program and working alongside graduate students like Solodoch.
"We're trying to hone our abilities," said Morrison, who was recently offered a weather reporting internship from NBC. "We are students, but … we're trying to get our data collection up to a high standard."
A computer system on the boat receives live feedback from the instruments, including an acoustic Doppler profiler that uses sound waves to measure the velocity of the currents below. Members spent the past summer rewiring and fixing the boat's instruments and systems to prepare it for the rigors of cruising, Solodoch said.
"Things break down all the time – that's the life of an experimentalist," Solodoch said.
Despite mechanical difficulties, team members said they enjoyed the opportunity to research on the open ocean. Morrison said dolphins and seals would swim up to the boat.
"Whales are always special," said Molemaker. "One time, a whale swam right under our boat at no more than two meters deep. Everyone on board was too shocked to take a camera out."
Although they venture as far as 30 miles from the docks, the team still harbors close ties to the L.A. community.
UCLA is part of the Southern California Marine Institute, or SCMI, a consortium of 13 local colleges dedicated to marine research collaboration and education. UCLA faculty members are working with SCMI to design lab facilities for AltaSea, a 35-acre marine research center at the Port of Los Angeles, said institute director Daniel Pondella II.
Pondella added SCMI provides vessel support to UCLA. UCLA will also share research space at AltaSea in 2019 with local universities such as the University of Southern California and Occidental College.
The team is working to expand outreach to the Bruin community. Since February, members began taking earth, planetary and space sciences classes on field trips in the bay. Later this year, Molemaker also plans to teach a Fiat Lux seminar in practical oceanography.
"(The topic is) something a little bit out of the ordinary," said Molemaker. "But oceanography has a very direct, observable connection to our daily life. It's very visual – you can show it, and you can touch it."