UCLA student, trainer publishes vegan Thanksgiving menu on blog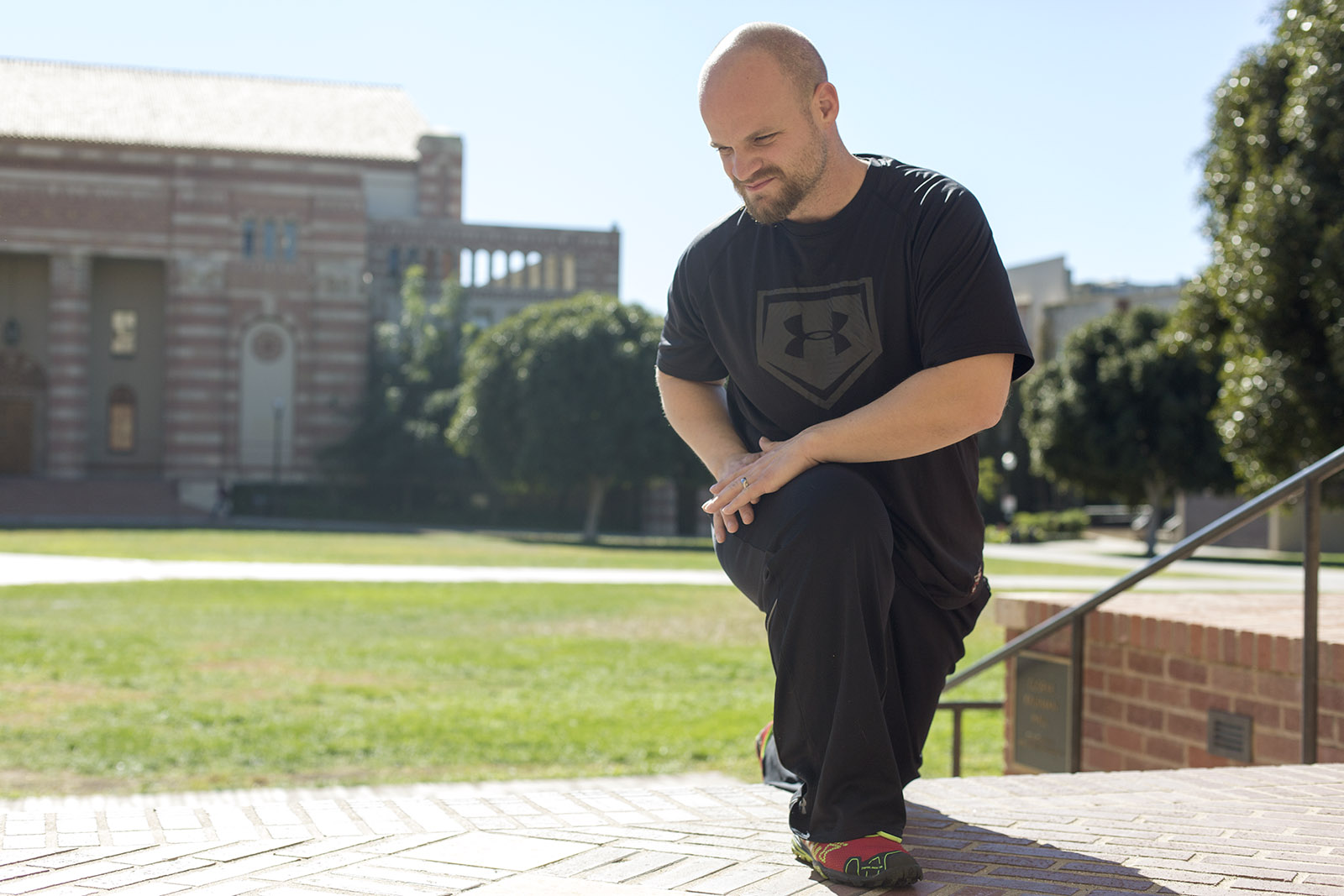 Fourth-year psychology student Victor Rivera published a vegan Thanksgiving menu on his blog "Vegan Power Training" to help explain the vegan lifestyle. Rivera said he got the idea for the blog after he realized that some people believe vegans can't train for strength and do bodybuilding. (Owen Emerson/Daily Briun senior staff)
Victor Rivera will cut his vegetarian holiday poultry, dig his spoon in vegan stuffing and treat himself to some egg and dairy-free pumpkin pie on Thanksgiving.
November is known as National Vegan Month, and fourth-year psychology student Rivera published a vegan Thanksgiving menu on his blog "Vegan Power Training" Saturday to help explain the vegan lifestyle. The blog was sparked by his realization that some people believe vegans can't train for strength and do bodybuilding, he said.
"Vegan Power Training" combines Rivera's two main philosophies of health and nutrition. The blog's goal, Rivera said, is to crush vegan stereotypes and educate his readers about intensive training in combination with vegan diet.
Rivera said as a personal trainer, he meets many female clients who have a fear of lifting weights and getting bulky. He is currently working on interviewing female weight lifters and having female guest posts on the blog.
For Rivera, who has been vegan for eight years, the transition from a meat to vegan diet didn't happen overnight. He went vegetarian for a month in 2008 with the intention of becoming vegan because he said he loved the idea of protecting the environment and having a healthy lifestyle.
Before the transition, Rivera said his wife, a longtime vegetarian, would say "Moo" whenever he'd eat a burger.
"My wife is a really amazing cook. Her vegan lasagna is insane, I can eat 20 pounds of it," Rivera said.
Rivera said his wife encouraged him to start reading books such as "Fast Food Nation," which gives the top-down look at the meat industry from animal to worker abuse at the slaughterhouses, and "Skinny Bitch," which is a nutrition book. These books inspired him to have a compassionate lifestyle.
"Most of the people don't want to make the link between the pain and their food," Rivera said. "A meat-eater's diet triples the impact on global warming compared to vegan diet."
Veganism is more than just a plant-based diet, Rivera said.
"My goods are also cruelty-free," he said. "I don't have any leather belts or shoes; I don't buy wool. It's not just a diet, it's a lifestyle."
One major change for him, Rivera said, was cooking more meals, because eight years ago, the variety of vegan products offered in stores wasn't huge, so Rivera had to look up many vegan recipes himself.
"Going vegan is hard, it requires more planning," said Dolores Hernandez, UCLA's nutrition education coordinator. "In transition to the vegan diet, it is important to focus on food groups and start slowly replacing specific ingredients."
UCLA alumnus Jason Pierce has known Rivera since sixth grade and said he was converted vegan by Rivera and his wife.
"Blogs such as 'Vegan Power Training' are important," Pierce said. "Most people don't know anything about vegan lifestyle, especially in combination with cardio exercises and body building."
Pierce said Rivera is able to share his knowledge about the psychological aspect of fitness on his blog, in addition to his knowledge of physical training.
On Thanksgiving, Rivera will take a break from schoolwork and run around his house in Tarzana, chasing his 7-year-old son, while his wife makes candied yams and vegan turkey. The family will have dinner and talk to their son, who is also vegan, about National Vegan Month, Rivera said.
"Having National Vegan Month is important because it shows that we are no longer just some tiny smattering people," Rivera said. "This is why I hope my 'Vegan Thanksgiving Recipes' post will encourage people to try something new and maybe learn they like vegan version of something even more than the standard version."