Q&A: UCLA alumni reflect on Armenian Genocide through film '1915'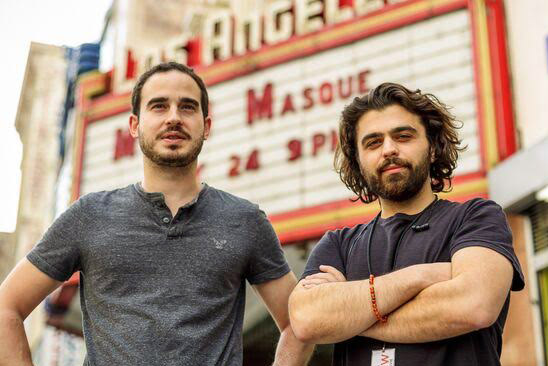 UCLA alumni Garin Hovannisian (right) and Alec Mouhibian (left), who are both Armenian, co-wrote and directed the psychological thriller movie "1915" to commemorate the 100th anniversary of Armenian Genocide. (Bloodvine Media)
A crowd of more than 100,000 people filled Sunset Boulevard and La Brea Avenue on April 24, marching with flags or protest banners and chanting in memory of those who died in the 1915 Armenian Genocide.
To commemorate the 100th anniversary of the genocide, UCLA alumni Garin Hovannisian and Alec Mouhibian, who are both Armenian, co-wrote and directed the psychological thriller movie "1915," which was released in April.
Set in 2015, "1915" centers around a theater director, his producer and cast who are putting on a homage to the victims of the Armenian Genocide in the form of a play at the Los Angeles Theatre. The film will be screened in the James Bridges Theater on Tuesday night in an event presented by Melnitz Movies and UCLA's Armenian Graduate Student Association, followed by a Q&A with Hovannisian and Mouhibian.
The Daily Bruin's William Thorne spoke with Hovannisian and Mouhibian about the intention behind the movie and the reaction the film has received.
Daily Bruin: What made you want to commemorate the genocide through the medium of film?
Garin Hovannisian: Alec and I decided to make a film that would not only tell of the events of 1915, but just as importantly for us, answer a crucial question: How can something that happened 100 years ago on the other side of the world possibly matter to us here today? As we get further away from (the genocide), we see it as something that has been condemned to the history books, as something that has happened and been forgotten, but we wanted to make it a living, breathing event with continuing existence.
DB: Why did you decide to set the film in Los Angeles?

GH: Outside of Armenia itself and equal with Moscow, Los Angeles has the largest community of Armenians and I think the power of that community was demonstrated earlier this year on April 24, 2015.
Alec Mouhibian: Also because Los Angeles is the capital of the Armenian diaspora and a bastion of memory for Armenians who are not living in their homeland anymore. It's where memory has festered, grown, found its place in churches and schools and created a very vibrant community.
DB: How was it writing about a subject matter that seems so personal for both of you?

AM: The tagline of our film is "you can't escape the past" and in some ways, this is a film about the mysterious and unexpected ways in which the past catches up with us. … We are Armenians who can feel very detached from this place and time, so we wanted to explore this path though certain characters who think that they are beyond or who think that they are free from the past, but they're not.

GH: Alec's family and mine descend from the people of 1915. We descend from the horror and the denial that followed, so it was inevitable that, as creative people, in some point in our lives we were going to have to face the darkness.
DB: How do you deal with the subject of denial of the genocide?

GH: It was the effort of our movie to include the politics, but not let ourselves be defined by it. Some of our characters are not so much in denial of the Armenian genocide, (as) they are in denial of something more personal. Each character in "1915" is trying to escape an aspect of his or her own past, so it was our aim to frame denial not only in political terms, but in personal terms, because we all have corners or aspects of our own past that we try and run away from or pretend they don't exist. To bring the political realm into the realm of film, denial for us became a much deeper psychological condition.

DB: What has been the public's overall reaction to the film?

AM: Our mission from the very beginning wasn't for people to say what a lovely movie this was, but for people to be engaged by and be challenged by it and for audiences to erupt in discussion and debates about it. We feel that our mission has been accomplished going by the sheer diversity, variety and potency of the kinds of reactions it has generated.
There are people who have loved it and have considered it to be a fundamental contribution to how we think about our past. There have been people who have considered it a total failure in the way in which we should approach our history, but in either case, the dialogue the movie has created has been very important for the intellectual growth which is necessary as we move forward in genocide studies.
Compiled by William Thorne, A&E senior staff.
Thorne is the prime director. He was previously the assistant A&E editor for the Theater | Film | Television beat.
Thorne is the prime director. He was previously the assistant A&E editor for the Theater | Film | Television beat.