Philharmonia prepares for first performance of school year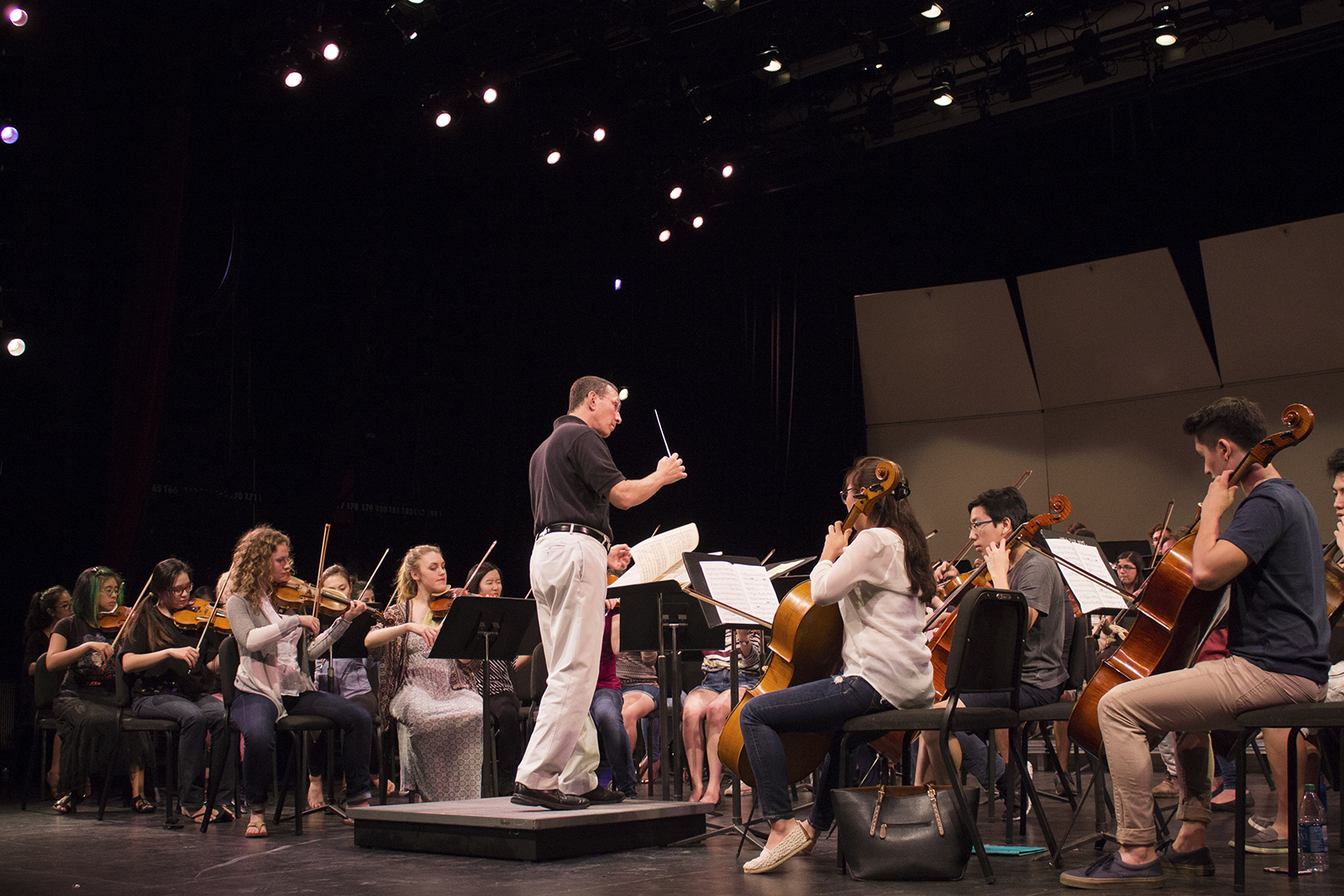 UCLA Philharmonia will hold its first concert Thursday in Schoenberg Hall. The orchestra will perform Beethoven's Eighth Symphony and Honegger's Third Symphony. (Kailey Rishovd/Daily Bruin)
The lights dim as student performers tune and run through scales on their instruments. With a final trill from a woodwind instrument, UCLA Philharmonia prepares to perform on the stage of Schoenberg.
For Gary Heaton-Smithlink, a doctoral candidate in percussion performance and the manager of the orchestra, the concert represents a fresh start to a school year and a chance for new students to play with others from different musical and cultural backgrounds.
"Everyone has their own unique approach to playing," Heaton-Smith said. "For the orchestra, part of the process is assimilating all of that into one cohesive group, which is really exciting."
UCLA Philharmonia will hold its first concert of the year Thursday, performing Beethoven's Eighth Symphony and Honegger's Third Symphony. First-year students will be playing in their first Philharmonia performance tonight after only three weeks of preparation.
Neal Stulberg, the Herb Alpert School of Music co-director and conductor, said Beethoven's Eighth Symphony is a much-performed piece that requires tremendously concentrated energy and focus.
On the other hand, Stulberg said Honegger's symphony is so rarely heard that this performance may be the first time the piece has been played for a Los Angeles audience in many years.
Stulberg said that Honegger's Third Symphony is a piece that swept across the world after it was composed from 1945 to 1946. The piece, Stulberg said, resonated with audiences as a powerful evocation of the emotions surrounding World War II before falling out of the concert repertoire.
Smith said Honegger's Symphony fell from popularity about a decade after it was first released. Recently, however, the piece began to resurface in orchestral repertoires.
"It's been hidden and shelved for a very long time, and finally people are starting to play it a bit again," Smith said.
Third-year music performance student and double bassist Armando Wood, who transferred to UCLA this year, said he is excited for Honegger's piece because of its rarity and the depth in its meaning.
"I think that in many ways it's easier (to play lesser-known pieces) because a lot of people don't have preconceptions about it," Wood said. "It's also harder, because the music has some very technical moments, very odd passages that we have to negotiate."
Stulberg described the piece as something the orchestra players would enjoy and perform well.
Stulberg said because the piece is such a personal expression of the composer, both the players and the audience will be able to easily understand the depth of feeling communicated by the composer and the emotional power of the music.
"It's a piece which alternates between movements of almost a violent energy with … broad gorgeous lyrical expressions, to a sardonic, inexorable march," Stulberg said. "(Ultimately, it moves) to a final transformation of what the composer hoped would be the prospect of a more peaceful future."
For Wood, pieces like Honegger's symphony provide an opportunity to grow as a performer in his first UCLA performance. Wood said his previous training prepared him somewhat, but he quickly had to adjust to the caliber and pace of UCLA Philharmonia.
Smith said the high intensity of the repertoire and rehearsals of the orchestra provides opportunities for students to get to know their peers and immerse themselves in a musical environment.
"In some aspects there's a bit of an edge to this concert already because it happens so fast and preparations are so quick," Smith said. "For the players themselves, its such a great opportunity to meet their sections and get familiar with this process because the Philharmonia concerts always happen really quickly."
A quarter or more of the Philharmonia membership turns over every year, so they're always beginning with many students who are new to the group, which Stulberg said adds a freshness and renews the orchestra's personality and energy.
"The sonic experience is tremendous, the energy coming off the stage of 75 live performers together creates a great experience," Stulberg said. "Seeing one's classmate achieves and communicate at this level is really inspiring."