UCLA alumni film first person pilot in Alaskan wilderness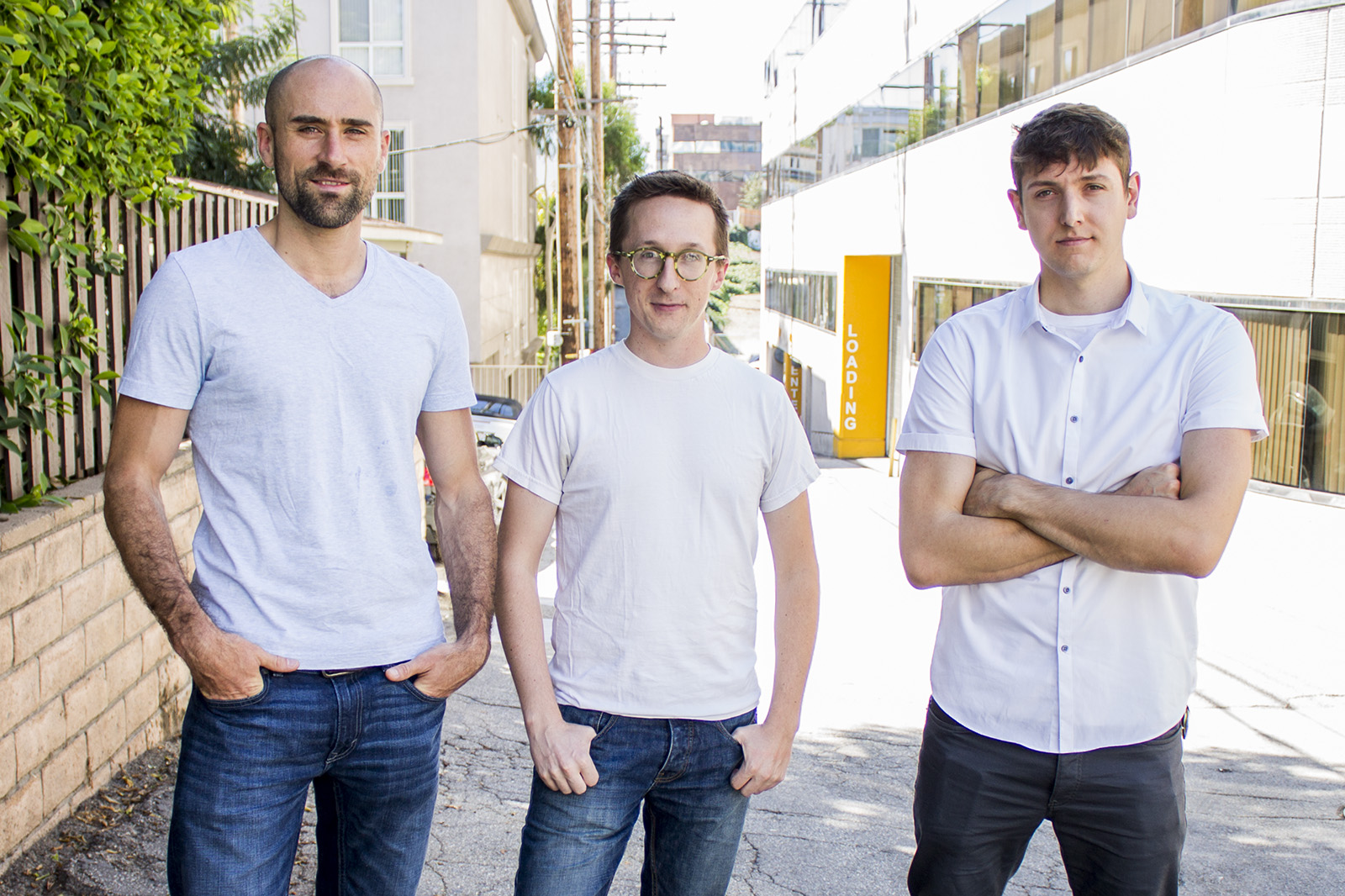 Actor and cinematographer Justin Perkinson (left), writer and director Ben Arfmann (center) and producer JP Castel (right) – all UCLA alumni – spent two weeks in the Alaskan wilderness filiming their TV show "Dead or Alive – Stranded in the Alaskan Wilderness," which premiered on the History Channel (Jennifer Hu/Daily Bruin)
By
Daily Bruin Staff
Oct. 12, 2015 1:46 a.m.
UCLA alumni Ben Arfmann, JP Castel and Justin Perkinson spent two weeks in Sitka, Alaska filming through the cold, rain and snow in the unforgiving Alaskan wilderness for their survival series pilot.

Premiered on Sept. 27 on the History Channel, "Dead or Alive – Stranded in the Alaskan Wilderness" is set in the heart of the Alaskan backwoods. After an abrupt separation from his guide, a stranded hunter fights to stay alive against harsh weather and dwindling resources.
Producer Castel explained that the story unfolds through a first person point of view. The camera serves as the eyes of the protagonist, the audiences sees everything he sees.
Justin Perkinson, the show's co-creator, cinematographer and the actor who plays the hunter, said television shows filmed in point of view are rare. He likened the style to something from the video game world, but still nascent in cinema and television.
"It's very early on in its stage and trying to figure out the grammar of storytelling. And (pushing) the envelope with it is exciting on a technical side and on a storytelling side and on a performance side," he said.
Perkinson met "Dead or Alive" writer and director Arfmann and producer Castel as graduate students at the UCLA School of Theater, Film and Television, where they collaborated on a short film that would become the stylistic foundation for "Dead or Alive."
Based on the real-life tragedy surrounding the murder of deputy sheriff Kyle Dinkheller, "Random Stop" was a thesis project that was told through Dinkheller's eyes as he attempts to pull over a speeding vehicle. The short film was also shot entirely in first person point of view, going on to screen at South by Southwest and was a finalist for the BAFTA student film awards in 2014.
Castel said filming "Random Stop" proved difficult because Perkinson was always tethered to equipment, hindering his mobility. With "Dead or Alive," he said the trio faced a new challenge in figuring out a way to allow Perkinson to run, hunt and swim through the Alaskan wilderness.
Filming in first person also required deeper thought in how a scene would be depicted, said Castel. Because they couldn't show Perkinson's face, Castel said getting a sense of emotion was difficult.
While much of modern cinema places a foundation on the audience's ability to watch an actor's facial reactions, Arfmann said first person filming takes this ability away. Because of this, he said they had to place more emotional weight in the script and Perkinson's performance: his voice, his movements, his body language.
Perkinson added that filming in first person wasn't simply putting a camera on an actor's face and letting them proceed freely, but an endeavor that required complex effort.
"If I spun my head way too fast it would just be this very visceral – in a bad way – swirling experience," Perkinson said. "You needed to figure out how to gracefully move the camera which seemed a little slower than it should be, but actually read through the eyes of the protagonist/viewer as a natural movement."
Arfmann said the end result gives audiences an intense feeling of claustrophobia, trapping them in each moment and bringing them closer to the fear and anxiety the hunter feels in his predicament. Shooting in point of view works best with stories that put their protagonist in situations where he is self-reliant, he said.
Arfmann credited his interest in trapping characters to his experience with UCLA TFT Professor Howard Suber, who stressed that the best kind of storytelling comes from trapping people literally or figuratively.
Perkinson and Castel also attributed the project's success to their experience at UCLA as students.
"All the people we took to Alaska are Bruins as well. This was a family affair," Castel said. "It's been really rewarding in that sense, we get to bring something back."