Student merges musical influences in self-produced EP 'Contentions'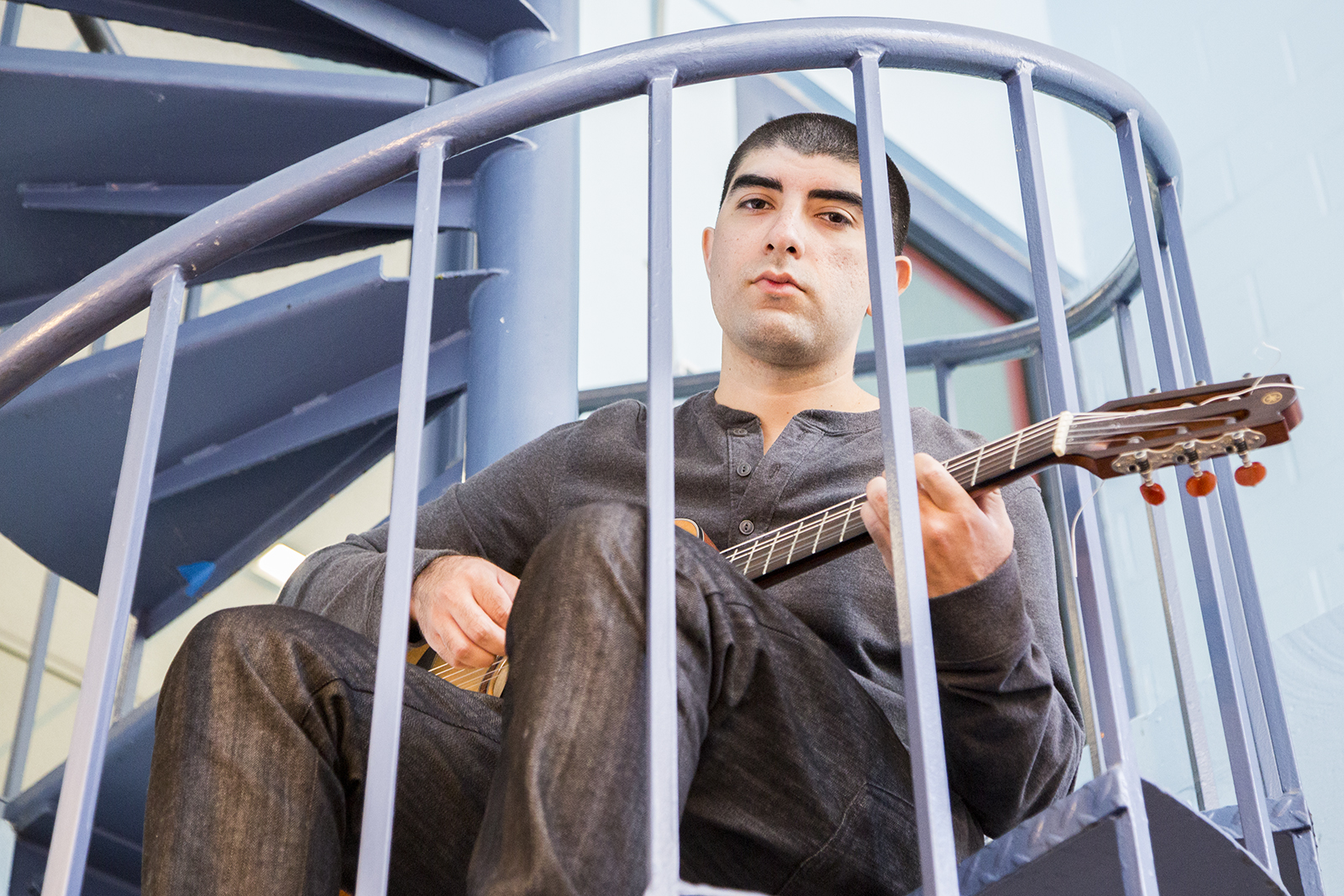 Joe Del Rio, a UCLA Extension student, is currently working on his debut full-length album as part of a local music initiative by record label All Welcome Records. (Owen Emerson/Daily Bruin senior staff)
Joe Del Rio glanced through the pages of LA Weekly and spotted an advertisement for UCLA Extension music industry courses.
The singer-songwriter then decided to travel from his hometown of Fresno to Los Angeles, where he is now pursuing a career as a musician by day and studying at UCLA Extension by night.
Del Rio will release his first self-produced extended play, "Contentions," on Nov. 9 under the stage name El Joe of the River. He is also currently working on his first full-length album with All Welcome Records after being selected for the Local Music Initiative, a program for local musicians from the greater South Bay and Inglewood area.
He said he heard about the opportunity after someone told him about the competition. He then decided to send in a short biography and a few of his songs that he had already recorded from "Contentions."
"With something like that, you gotta take it with a grain of salt," Del Rio said. "Like I'm just gonna put it out there and whatever happens, happens. Fortunately, it worked out."
Del Rio said his musical motivation is inspired by his Mexican American upbringing in Fresno. He said because his parents are immigrants that worked hard to ensure his comfort, he wants to do the best he can because of the effort they put in.
"(My upbringing has) inspired a sense of being an underdog, the sense of trying to figure out where you get your piece of the pie," Del Rio said.
Del Rio said because of the lack of a local music scene in Fresno, he was lyrically and musically inspired by music of all genres. He said hip-hop influenced his lyricism during his childhood because of Fresno's urban setting.
He channeled his hip-hop and Spanish guitar influences into his EP and has already released "Soft Sound," the first single from "Contentions," available to stream on SoundCloud.
Del Rio chose other local Los Angeles musicians, such as drummer Justin Siegal, to work with him on his album. Siegal and Del Rio met when they both performed at a show together in San Francisco.
Siegal described "Soft Sounds" as dissonant and reminiscent of a lullaby, adding that he used light brushes on the drums to produce a soft, jazzy feel.
"Joe is kind of down in his vocals and guitar so it's kind of haunting and the lyrics are pretty poignant," Siegal said.
"Contentions," which Del Rio self-produced with sound engineer Andrew Monheim in Monheim's recording studio AndromiDen Records, addresses conflicting qualities such as weakness and power that he said he wishes to embrace or resist.
The EP marked the first time Del Rio worked in a professional recording studio.
He said the experience helped him focus solely on his musical creativity and not also have to manage the technical aspects of production.
"It was kind of a learning curve, to … go in the studio just to be the artist, just to be the creative one," Del Rio said.
Del Rio bonded with Monheim over their love of rap and hip-hop when they met through a music collective in Los Angeles. They worked on "Contentions" for the past year and a half, fine-tuning the songs that Del Rio wrote.
"It's definitely inspiring how he does his vocals and his singing style," Monheim said. "If you listen close, you can hear a lot of hip-hop and rap inflections in his rhythm."
Monheim said Del Rio is different from most artists because of his patience and dedication to perfecting each song.
"As an artist you try to have everything inspire your sound – any everyday experience," Del Rio said. "The point of art is to live as much as you can and then reinterpret that."