Movie Review: 'Pan'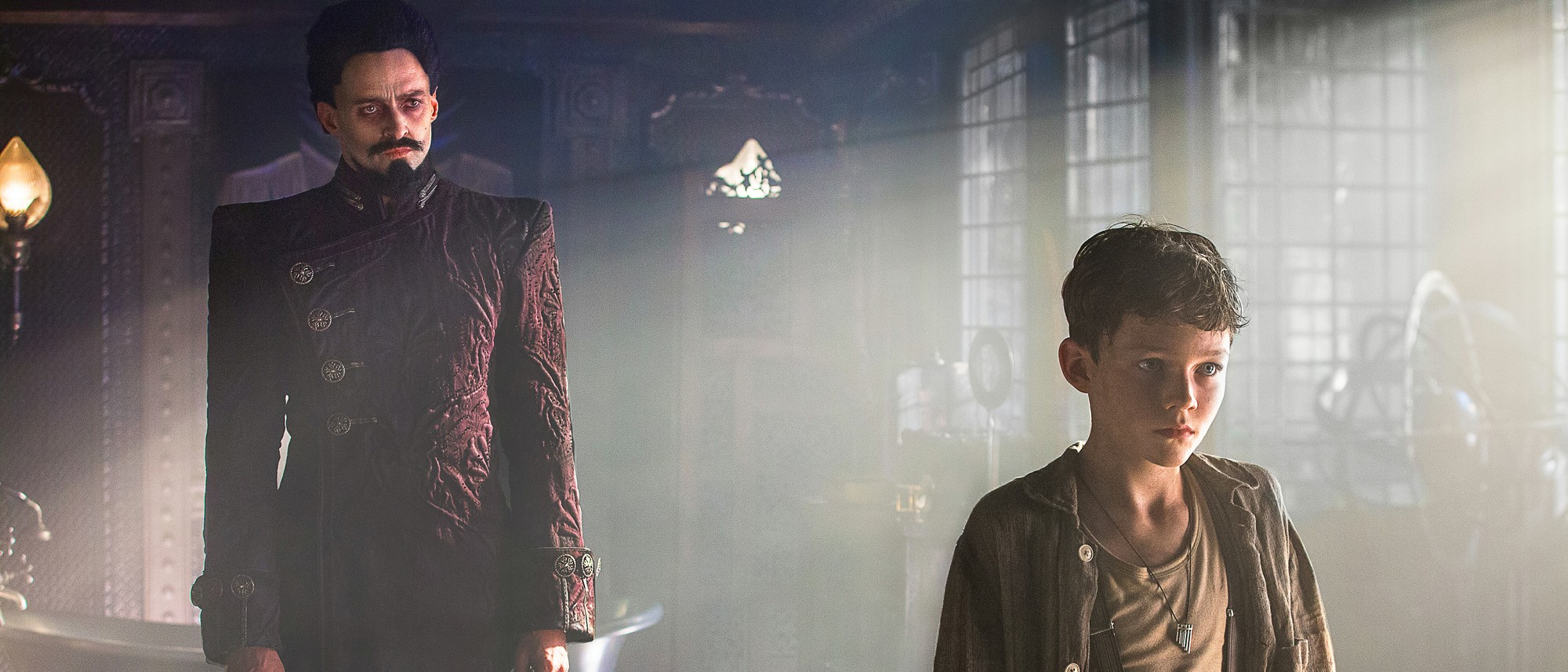 "Pan" Directed by Joe Wright Warner Bros.
There are a handful of moments in director Joe Wright's prequel take on the "Peter Pan" story that are absolutely terrifying.
One is when Hugh Jackman appears on screen as the child-kidnapping pirate Blackbeard and starts singing Nirvana for no apparent reason. Another is when a poorly composed CGI skeleton emu starts stumbling and squawking toward the camera.
But the most frightening moment comes at the very end, when the filmmakers tease that "Pan" is intended to have a follow-up film that completes its connection to the original "Peter Pan" novel. It's not a terrible idea – "Pan" has fleeting moments of inspired, child-pleasing fanfare that could work if produced under a tighter tent.
However, making this film into a series seems like a good enough reason to close off Neverland's borders from unsuspecting visitors.
"Pan" starts out as innocently as a fantasy origin story could: in a dreary British orphanage. Inside, the unassuming Peter, played by Levi Miller, lives with his fellow down-on-their-luck children and the requisite evil, rat-faced matriarchs. One night, Peter discovers a plot to sell orphans off to scrupulous characters, but what he doesn't suspect is that those characters are Blackbeard and his group of re-appropriated circus clowns on a flying pirate ship.
Peter and his dozens of unnamed housemates all get flown to Neverland, where Blackbeard puts them to work as mining slaves. They're forced to dig for fairy dust, a magical element that allows Blackbeard to gradually rejuvenate his youth. Luckily enough, Peter reveals an ability to fly that's unbeknown to even himself, giving Blackbeard the notion that Peter may be the chosen one of legend to help him find the lost fairy kingdom.
Here's something that more child-gearing movies should do that "Pan" does in grand fashion: have all the cast members overact like it was the end of their careers. Jackman can do this extremely well, turning the movie into something of a Broadway show whenever he gets to a monologue. Garrett Hedlund, as a young Captain Hook, also takes advantage of his chance to make kids giggle by enunciating every word he says with an over-the-top Southern drawl. At the very least, it warrants a smile.
"Pan" also features Rooney Mara as Tiger Lily, a native of Neverland portrayed along with her tribe as the savages. Her performance doesn't really have many interesting character notes besides occasionally swooning over Hook.
Tiger Lily, with a headpiece the size of her entire torso and graced in at least 70 different colors, is a very evident piece of overdone imagination, which is fine for a certain child audience. But even then, there should be some kind of management in place to determine what is and what isn't necessary in a film like this. Is it at all important that both Amanda Seyfried and Cara Delevingne have roles that last, at best, a couple minutes each, in which they are near unrecognizable? No, not at all.
Likewise, is it imperative to include a gigantic CGI pixie fight at the end of the film, where Blackbeard and his pirates swing their arms at big, glowing balls of flickering light, one of whom gets name-dropped for a brief, meaningless second as Tinkerbell? It's cute, but it serves no purpose – "Pan" is full of these types of elements that all get passed off as mystical trite.
At the very least, "Pan" is magical at its core.
During the course of nearly two hours, the film loses the overbearing glimmer that its outer shell has been manufactured into, with all the pizzazz and 3-D fireworks that one would never ask for. Digging deeper though, "Pan" becomes another fairy tale stripped of its heart and concern for anything vaguely reminiscent of themes.
"Pan" doesn't deserve all of the critical shellacking that its title implies, but it's not worth much of a rave either. It is, however, another one of Hollywood's jarring lessons in adolescent-pleasing and classic novel-remaking absurdity. The notion that there is an audience for that type of thing nowadays is less than comforting.