Student's conceptual pet photography appreciated by thousands online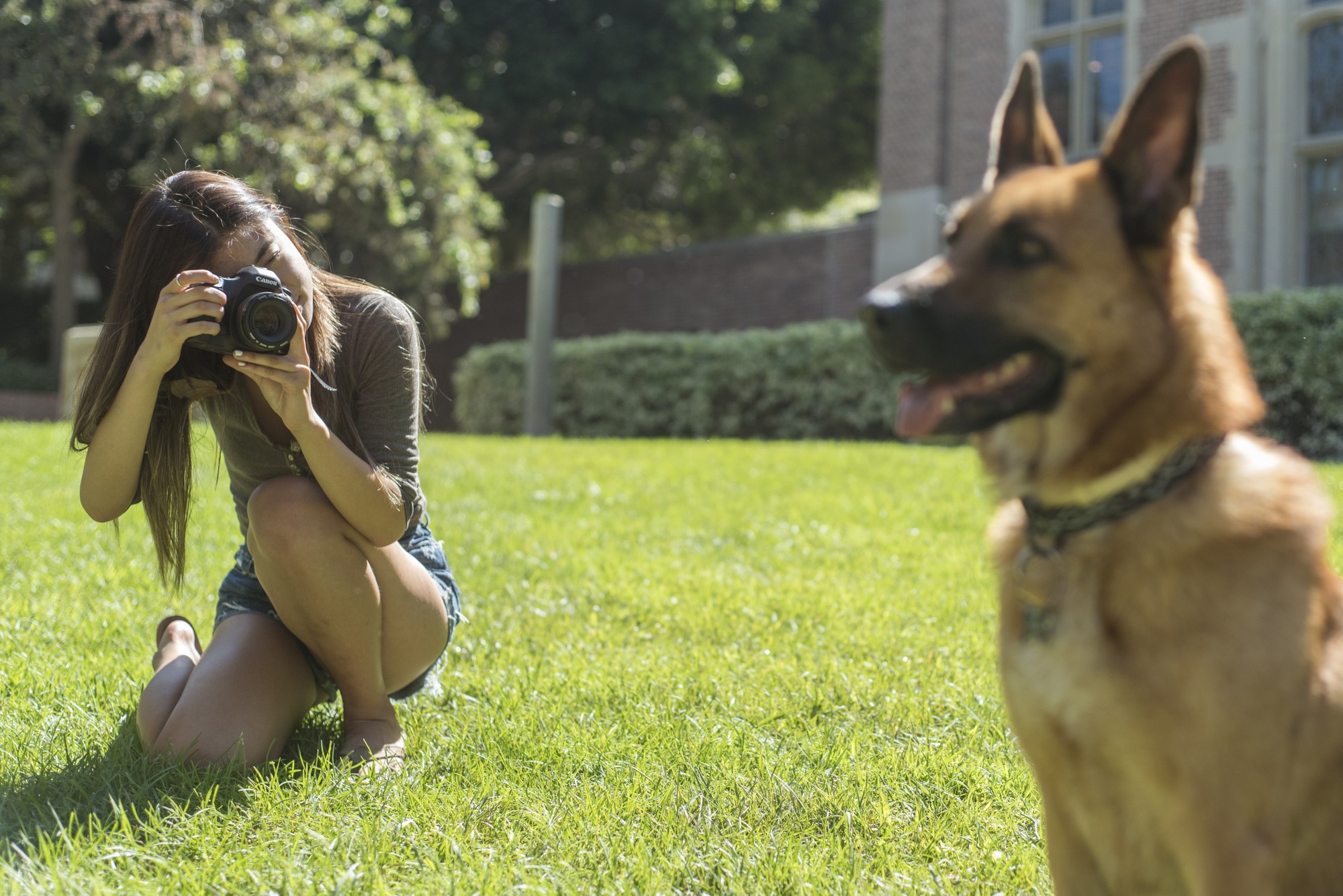 Third-year communications studies student Jessica Trinh said she wants to turn conceptual pet photography into an art form. She edits props such as glitter, paper hearts and sparklers into her photographs of dogs. (Daniel Alcazar/Daily Bruin senior staff)
Jessica Trinh was browsing for greeting cards in Barnes & Noble when she stumbled upon one with a photograph of her own dog.
The third-year communication studies student has sold her conceptual pet photography to companies such as Hallmark, and was pleasantly surprised to see her art in the real world.
Trinh's photography business on Facebook now has almost 85,000 likes, Snoop Dogg posted one of her photos on Instagram and she has worked with pet companies Purina Pro Plan Cat and KONG. She transferred to UCLA this fall, where she will continue to shoot for clients in Los Angeles and develop a photography project for shelter dogs.
"It's funny when I tell people I take pictures of dogs, and they laugh because it seems kind of ridiculous," Trinh said.
Trinh said much like portraits of people, photos of dogs can display more than just cuteness and also show emotions. She has set out to demonstrate that pet photography is an art form itself, by capturing dogs outside their natural state of playing fetch or sitting in the living room.
Her photographs often feature her own two dogs – a young golden retriever named Kodi and an Australian shepherd named Daisy – with props of flowers, raining glitter, bubbles, crowns, goggles and pacifiers to give the subjects character.
Trinh said editing is what makes her photographs stand out – she uses composite photos to add scenery and props to the frame. First, she aims for a crisp image of a dog looking straight at her. Then, since dogs cannot remain posed for long periods of time, she removes the dog and photographs props where the dog once was. The glitter, paper hearts or sparklers are then edited into the dog's portrait on Photoshop.
She began photography as a hobby at age 13 after her dad gave her a camera. She said her golden retriever Chuppy was her experimental model because he was the only subject available for her to photograph.
Jackie Trinh, an alumna and Jessica's sister, said Chuppy was inseparable from Jessica from the beginning. Since then, Jackie has watched Jessica behind the scenes for her shoots, as Jessica keeps the scene in control.
"I can't explain it," Jackie said. "She's a dog whisperer."
Michele Davis, an alumna and family friend of Trinh, said when she first saw Trinh's photos, she was awed by how artistic they were and how Trinh had a strong work ethic when training and working with canine models.
The hobby turned into a business in 2012, when Trinh was 18 years old. A photography blog shared her photos and they went viral, sparking the interest of companies in hiring her. BuzzFeed and the Huffington Post, among others, have also featured Trinh's pet images.
In March 2014, Trinh's original inspiration, Chuppy, unexpectedly had to be put down by the veterinarian, Jackie said.
Jackie said Jessica had to take Chuppy to the emergency room alone because Jackie was at UCLA and their parents were out of town.
While the experience was heartbreaking for Trinh, she realized how her photography allowed Chuppy to stay alive and be appreciated by thousands of people online. Her photos of him became a compilation of memories.
"It was really good to have a dog like that to create such a close bond through photography," Trinh said. "I thought I couldn't find inspiration again but … I realized that my photography was leading up to the moment he passed away and it would help me console myself."
Soon after, Trinh got Kodi, her young golden retriever. She said Kodi was born with the model gene; he had immense self-control to sit still in a box from a young age.
Now that she is separated from her own dogs while studying at UCLA, she said she will be able to focus on clients from Los Angeles. Trinh said clients typically want her to capture their dogs' personalities the same way she does for her own animals. Trinh said leaving her pets and coming to UCLA will allow her to experiment with other breeds of dogs besides her own.
Over a year ago, Trinh took photos of shelter dogs with paper hearts raining in the background for the Animal Assistance League of Orange County.
Ron Cole, a board member and volunteer with the Animal Assistance League of Orange County, said Trinh's photos portrayed their dogs in a positive light away from the cages and kennels.
"I can tell by the way the photos turned out, her passion for the dogs, how she cares about them and wants them to find homes," Cole said.
She hopes to continue showcasing shelter dogs available for adoption with a developing project "Let it Rain Love." Her shelter dog Daisy inspired the project; she was untrusting when first adopted, but Trinh saw the gradual change as Daisy became friendly.
"I felt the stereotype of shelter dogs (was) kind of demolished," Trinh said. "I want people to realize those dogs aren't a lost cause – they're actually just in need of someone to give them enough love."
She said the project is being developed, but she hopes people will submit photos of dogs up for adoption and she can send instructions about how to edit them.
"It's cool to have the power to freeze time," Trinh said. "I'm able to prove people otherwise that it's not just a hobby, that it's not something just cute and fun, but it can actually be an art form."
Weinberg is the prime content editor. She was previously the A&E editor and the assistant A&E editor for the lifestyle beat.
Weinberg is the prime content editor. She was previously the A&E editor and the assistant A&E editor for the lifestyle beat.