CEC, CAC run out of Bruin Bash wristbands despite guaranteeing admission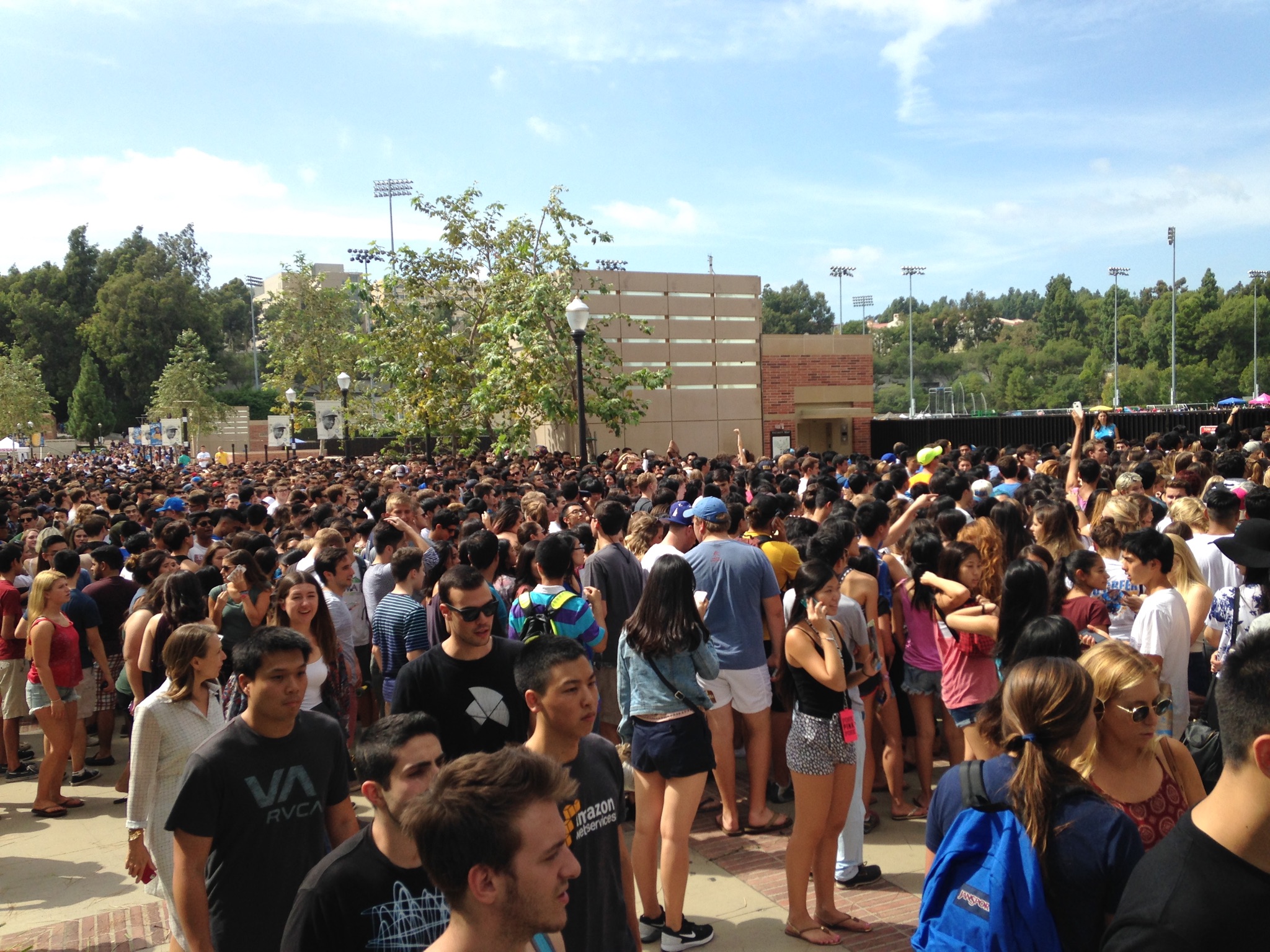 Thousands waited in line for Bruin Bash 2015. Wristbands to the concert ran out before 6 p.m., despite assurance from Campus Events Commission and Cultural Affairs Commission that every interested student would be able to attend the event. (Owen Emerson/Daily Bruin senior staff)
This post was updated on Sept. 24 at 3:17 a.m.
New and returning students lined up to attend Bruin Bash Monday, only to realize that wristbands to gain access to the free concert ran out by around 4 p.m.
Students crowding the Intramural Field the concert shouted protests, upset because the Campus Events Commission and the Cultural Affairs Commission previously promised they could all receive admission to the event.
When you change your mind about Bruin Bash so you end up selling your wristband for $35 LMAO

— Michelle (@tsunamichelle) September 22, 2015
I think I know what drowning feels like after standing in line for bruin bash

— EP (@penelizabeth) September 21, 2015
UCLA students are out of control sometimes. intelligent individuals but bad at forming lines. #bruinbash #uclacec pic.twitter.com/TJqh66iDY9

— dayanara ramirez (@dayanara_r) September 21, 2015
i'm going to atone for my sins now and become a saint because i just got a glimpse into hell waiting in line for a bruin bash wristband

— tay ❁ (@MissTayLeigh) September 21, 2015
waiting in "line" for bruin bash tickets like pic.twitter.com/1LaZSkJzVZ

— acrink (@allycrinklaw618) September 21, 2015
UCLA Emergency Medical Services transported about five people to local hospitals Monday after responding to more than 20 calls related to Bruin Bash.
UCPD spokeswoman Nancy Greenstein said EMS responded to about 23 calls Monday. Two calls were made from the Intramural Field Monday afternoon, and the rest of the calls were made in surrounding areas after the event.
Bruin Bash is an annual concert hosted by CEC and CAC. Part of the True Bruin Welcome Week, this year's show will feature alternative R&B duo NxWorries and French electronic DJ Madeon and is held in Pauley Pavilion, which seats about 13,800.
This year, CEC and CAC staff distributed wristbands to people waiting in lines and assigned seating on a first-come-first-serve basis. Last year, the event, which featured headliner Chance the Rapper, was held in the Los Angeles Tennis Center after the flooding of Pauley Pavilion. Tickets were distributed using a lottery system.
At the Sept. 15 Undergraduate Students Association Council meeting, Campus Events Commissioner Lexi Mossler said CEC and CAC have moved away from implementing the lottery system this year because every student interested in attending the concert will receive a wristband.
The Bruin Bash website said that every student wanting to attend would receive a wristband. The website warned potential attendees any lines formed before 2 p.m. would be dispersed by on-site security.
However, a line formed on Bruin Walk before 2 p.m. and grew too large for CEC and CAC staff to disperse. The line became disorganized when students began rushing the Intramural Field when it opened at 2 p.m. to begin wristband distribution.
Cultural Affairs Commissioner Amy Shao said CEC and CAC staff focused crowd-control efforts on the entrance to the Intramural Field, where Los Angeles Fire Department officials were stationed for back up, once students began flooding the field.
About 200 CAC and CEC staff members attempted to control the crowd that formed, Shao said.
Some students reported waiting nearly two hours for the wristband, and a student fainted while waiting for her wristband.
Brenda Torres, a third-year sociology student, said she started waiting in line at 2 p.m. and received her wristband two hours later.
She said she saw a student faint in line with no EMS staff available to assist her.
"The whole path was packed with students," Torres said. "When she passed out, students were yelling for help and trying to carry her out of the crowd."
Torres said CEC and CAC staff were eventually able to assist her and bring her out of the crowd, but she thinks the response was insufficient.
LAFD officials on the scene refused to comment on the incident.
Greenstein said UCPD also made two arrests that night, but she is unsure whether they were related to Bruin Bash.
CEC and CAC referred students unable to receive wristbands to the screening of "Mad Max: Fury Road" in Ackerman Grand Ballroom.
Compiled by Shreya Aiyar, A&E senior staff, Roberto Luna Jr. and Nicholas Yu, Bruin senior staff.