Son inspires UCLA alumna to 'go green' with fast, healthy foods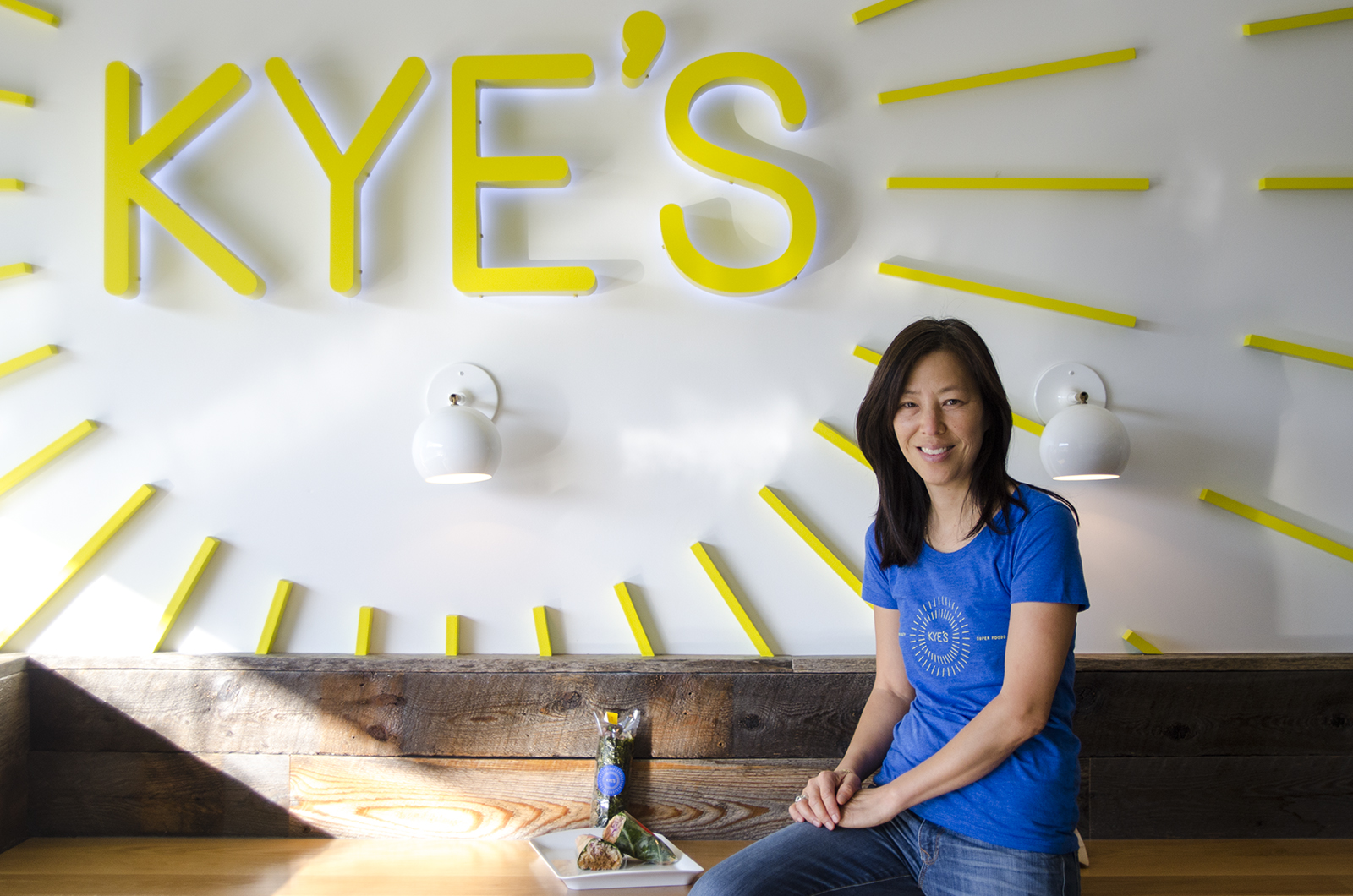 UCLA alumna Jeanne Cheng opened Kye's, a quick service healthy food restaurant named after her son. The restaurant, which is located in Santa Monica, features healthy foods inspired by her son's dietary restrictions and Cheng's molecular biology degree. (Miriam Bribiesca/Daily Bruin senior staff)
Jeanne Cheng packs lunches in a shade of green each day for her son, Kye. Green eggs, green apple juice and green mac and cheese all fortified with added vegetables are just a few of the items featured in his lunchbox.
"For his hamburgers, I'd blend swiss chard and different vegetables into the meat," said Cheng, a UCLA alumna. "I would always just try and give him things that were really yummy that his peers were eating."
Cheng's main goal has always been to provide her son nutritious and tasty foods, especially given Kye's strict dietary restrictions due to his gluten and dairy allergies.
Eventually, Cheng realized her foods could be taken outside the lunchbox and shared with the world. When her son started kindergarten in 2012, Cheng developed the idea for Kye's, a quick service healthy food restaurant named after her son. It opened in Santa Monica in November 2014, combining Cheng's passion for nutrition with flavors from her Asian heritage.
The main attraction at Kye's is the "KyeRito," similar to a burrito with an outer layer of romaine lettuce, collard greens or seaweed. Cheng said the dish draws from the Asian way of eating meats and vegetables wrapped in rice.
Although Cheng never worked in a restaurant or had professional cooking experience before opening Kye's, she said her background in health and molecular biology degree helped fuel her business idea by giving her insight into what the body needs to function optimally.
"Everything I've ever done and studied and experienced in life is going into this full force," Cheng said.
Cheng sees a connection between her past medicinal education and current endeavors as a full-time business owner of a healthy food restaurant; she said she approaches cooking the same way she did her biology lab work in college.
"When you're in the lab doing all these experiments, you're following a very precise procedure in order to get a result," Cheng said. "That's exactly what someone with cooking is doing – it's the same type of process."
After earning her degree, Cheng said she decided to focus more on preventative medicine, pursuing studies at the Shanghai University of Traditional Chinese Medicine. She said her east-meets-west experiences factor into her restaurant menu, which features a variety of Asian-inspired ingredients like seaweed and root vegetables, and her food philosophy of KyeChi, a portmanteau of "Kye's" and "tai chi."
"(KyeChi) serves both the yin or nutritional reasons of why we eat, as well as the yang of why we eat, which is for the pleasure and happiness food brings us," Cheng said.
Rouha Sadighi, the general manager and executive chef at Kye's, said Cheng's approach to food has made her think about nutrition in a way she never has before.
"I've learned a lot about food as a healing mechanism from (Cheng)," Sadighi said.
Sadighi said Kye's is trying to change the way people view and consume health foods, appealing to a wider audience.
For example, Kye's burgers have the bun removed and chard, brown rice and nori added, but Sadighi said it tastes like a real burger because it uses high quality beef rather than vegan imitation meats.
"I think there's a weird kind of stigma with healthy food – with foods that are vegetarian- and vegan-friendly – where people just think it's not going to taste good," Sadhigi said.
Lynn Miller, Cheng's business partner and fellow healthy food proponent, said she thinks Kye's stands out among the myriad of Los Angeles' healthy fare because of the grab-and-go design of the KyeRito.
"There's healthy food, there's convenient food, there's gourmet food out there," Miller said. "But we're bringing them all together in one package and introducing a new product."
To extend Kye's local reach, Cheng has partnered with UberEATS, a restaurant delivery service owned by Uber, and opened a grab-and-go service in downtown Los Angeles.
Her ultimate vision for Kye's, however, is international.
"(Kye's) would be so cool in Asia, to have someone in Tokyo see this and go, 'Oh wow a nori burger, what's that?" Cheng said.
Though Kye's has been a natural fusion of all her own personal interests in health, nutrition and Asian philosophy, Cheng said she ties everything about the business back to her son.
"Always in the back of my mind is, 'Will my kid eat this?'" Cheng said.
McCormick was the 2017-2018 Digital Managing Editor for the Daily Bruin. She was previously an assistant editor of the A&E section, overseeing the Music | Arts beat.
McCormick was the 2017-2018 Digital Managing Editor for the Daily Bruin. She was previously an assistant editor of the A&E section, overseeing the Music | Arts beat.