UCLA student sells customized beanies to multiple UC campuses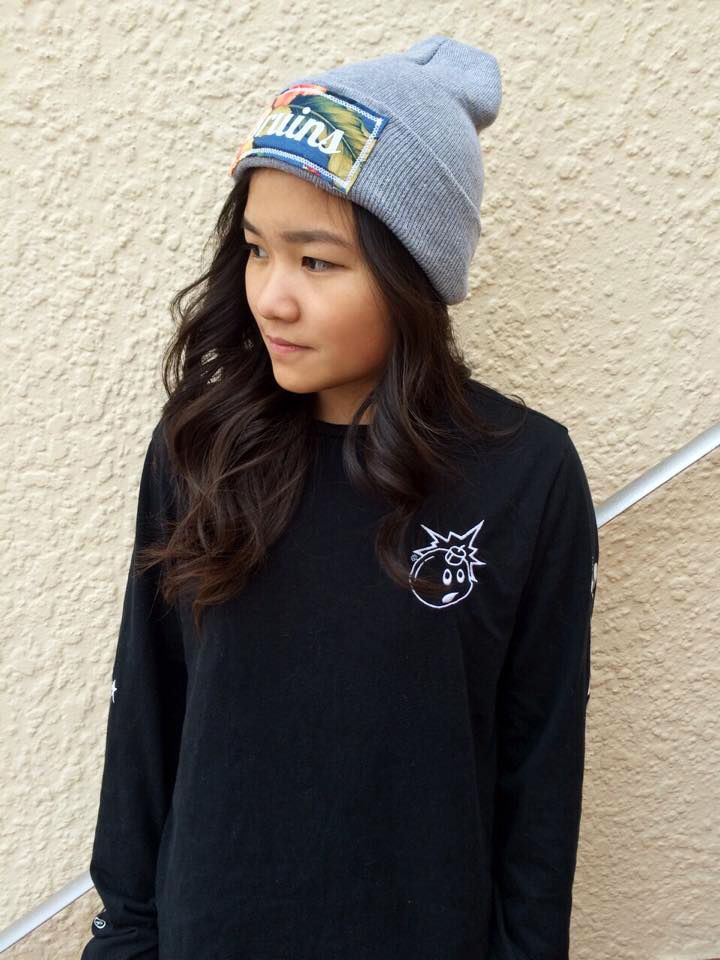 Rising second-year pre-human biology and society student Chloe Yang runs a business selling customized beanies with handcrafted designs. (Courtesy of Chloe Yang)
Chloe Yang and her friends sold customized beanies for a group economics project in high school. When the class was over, none of her friends looked back.
Yang, however, decided to move forward with the business.
Today, the rising second-year pre-human biology and society student owns Calicoast Co., which she operates during school breaks at her home in San Francisco. Yang sells each beanie for $10 and estimates she has sold about 200 beanies to UC students with more than $1,000 of profit since she started in 2014. Though she aspires to work in the medical field, Yang plans to continue her business.
For a school project about supply and demand, Yang said she and her friends decided to make beanies in 2014 because they were popular, fashionable and would fit in with San Francisco weather and culture. They'd seen beanies with fabric swatches on the front and planned to make similar ones bearing popular phrases such as "Cali."
After the project was over, Yang's friends didn't want to continue but allowed Yang, who had been the team leader, to take over the business.
"From the start I was probably the most motivated to do this project," Yang said. "I guess I enjoyed it the most out of them. (Selling beanies) just seemed so natural to me."
Yang mainly uses Facebook to reach out to different UC campuses, and takes orders over Facebook messenger so she can communicate with customers one-on-one. She has posted in the freshmen group pages and the Free & For Sale page at UCLA.
Customers begin by customizing their beanies. After choosing from 12 fabrics, 23 phrases and five beanie colors, they use Venmo or Paypal to pay Yang. She cannot print trademarked phrases, so she uses generic terms on the beanies; some terms refer to specific universities, such as "Bruins" for UCLA.
Yang said one beanie takes about five hours of work. She screen prints by using chemicals to burn a pattern onto a silkscreen, uses the silkscreen to print text onto fabric, and then sews the fabric on and irons the beanie. She has sent her products as far as Hong Kong and Mexico.
"These are all kind of handmade, so there's no set manufacturing production line that creates every single thing the same exact way," Yang said.
Yang's friend, Linda Luong, has helped her with making the beanies since high school. Luong recently decided to make a hat for herself using skills she learned from Yang.
"Creating it on my own was a lot of work, really tiring, it also took a lot of time but it was really worth it in the end because the work that we put in turned out really great," Luong said.
UC Davis student Terry Vargas said she ordered a beanie after seeing Yang's post on the UC Davis freshmen page last summer. She ordered beanies with her floor mates after she moved in last year. Vargas had never bought a beanie before, but resolved to buy Yang's because she appreciated that it was customizable.
"I thought it was really cool, especially that she has most of the UC mascots (written) on it," Vargas said. "Like we were the Aggies, and we're really proud of being Aggies, so most of us got beanies with Aggie lettering."
Yang only works on the beanies during breaks from school because she keeps busy as a part of the UCLA Sex Squad, a little sister to the Lambda Phi Epsilon fraternity and a member of the Association of Chinese Americans. She will stop taking orders for the summer at the beginning of September.
Although she has a passion for health and plans to enter the medical industry, Yang still hopes to somehow work in business in the future. She intends to find an internship during the year to encompass her interests in business and management.
"I want to do projects," Yang said. "I do this (business) for myself to feel productive and to feel like I'm actually doing something in my life that I actually enjoy."
If she could acquire the resources for it, Yang would like to eventually mass produce the beanies.
"Sometimes I see my beanies on campus," Yang said. "I can't help but fangirl, because I'm standing right there and I see my own creations on someone and I see that they're really appreciating it. … It's really cool to see your own production out in the real world."