Roaring Nights at the Los Angeles Zoo brings back '80s music, style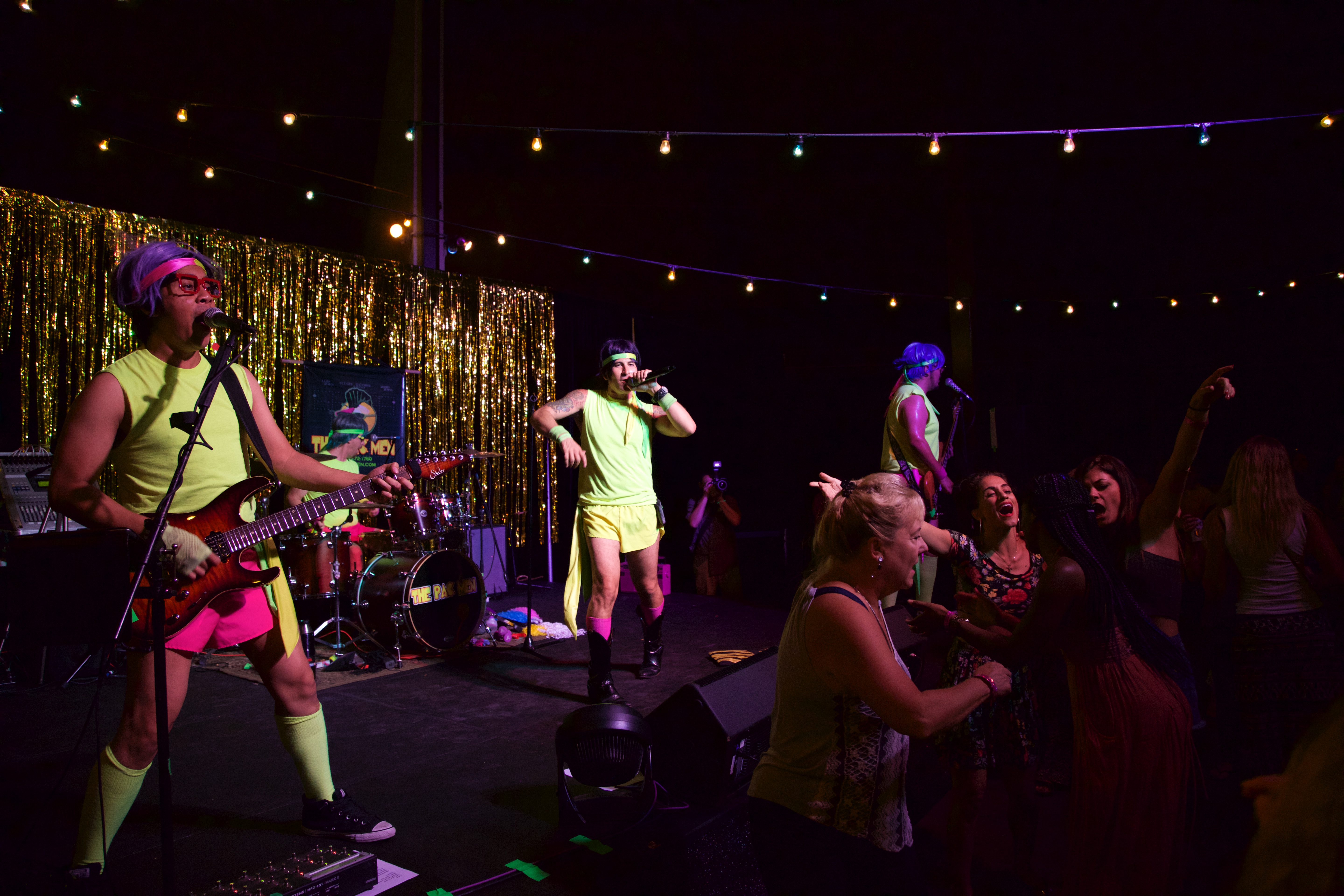 The Pac Men, an '80s cover band, was one of the night's biggest attractions. Dressing in vibrant '80s attire and led by their lead singer Sting Ray, The Pac Men gave audiences a nostalgic '80s dance party and a night to remember. (Owen Emerson/Daily Bruin senior staff)
Hoards of zebra print leggings and crimped curls teased to lions' mane proportions roamed rampant outside the lined gates of the Los Angeles Zoo.
But rather than a scene of a mass animal outbreak, the commotion belonged only to '80s-clad zoo-goers queued up Friday for the zoo's final event of its annual summer music series: Roaring Nights.
The series, which kicked off in June, concluded with an '80s theme that invited guests, 18 and older, to dress up. Featuring live music entertainment, full-service bars, L.A. food trucks, games and a painting station, the event also provided after hour access to animal exhibits like the Elephants of Asia and the Campo Gorilla Reserve.
"I haven't been to the zoo in a long while," said visitor Tim Stapenhorst. "So it's going to be cool to see the animals – lions, maybe a gorilla."
Located deeper within the zoo, the animal exhibits were remote from the clamor and noise of the music and dancing guests. Zookeepers stood alongside crowds of observers to relay information about the habitats and behaviors of particular species, but these exhibits were eventually closed off as the night wore on and darkness made viewing more difficult.
As the animal exhibitions started to wind down, guests were led to other social activities elsewhere in the zoo.
With '80s hit-makers like Bon Jovi and A-ha blaring from the speakers, the event presented an "Animal Artistry Paint Party" nearby its entrance, where purple tables with wet paints were set up for guests to get creative. Most of the paintings showed animals, which were displayed in adjacent white tents as they hung up to dry.
Upon moving further inside, guests could visit the Tease, Curl and Crimp Hair and Make-Up Station. Fetiche Beauty Salon, a Glendale-based salon, gave free hair services to amp up individual get ups with some added retro flair and boosted volume.
"Everyone (tonight) wants their hair done," said Evlin Gharbigi, the owner of Fetiche. "The closer to God, the better. Everyone's like, 'tease my hair!'"
At 8:30 p.m., the night's main musical act, The Pac Men, took the stage under a roofed venue next to the salon station. The four-person group, an '80s cover band, is dedicated to performing the decade's most popular songs from many different genres, including dance, rock, hip-hop, new wave and pop.
Upon continued watching, audiences found the group to be a bit of a comedy act as well. Geared in skin-tight, neon yellow with purple wigs and latex boots, the band humorously shimmied and pranced around while reviving new wave rock hits like Modern English's 1982 single "I Melt with You" and pop-rap hits like M.C. Hammer's 1990 "U Can't Touch This."
"The reason we chose '80s music (to cover) is because younger people like it, and old people like it," said Sting Ray, the band's lead vocalist. "There's a lot of diversity – none of it sounds the same."
Taking audience members by the hand and bringing them up to dance on stage, The Pac Men riled a small, dancing crowd of young adults and middle-aged couples alike under the soft, strung-up lights of the venue.
To replenish dancing guests, bumper-to-bumper food trucks were set up a small distance outside the venue area. Trucks included Coolhaus, The Grilled Cheese Truck and Komodo. Next to the trucks was an open dance floor with admittedly sparse dancers and a DJ playing continuous, iconic singles of the decade.
"You can see the nostalgia going on everywhere," said visitor Rosemarie Shamieh. "It was fun reliving the '80s. Listening to the music and the memories coming back – we should do more of these things."