Students split on effectiveness of BruinAlert warning system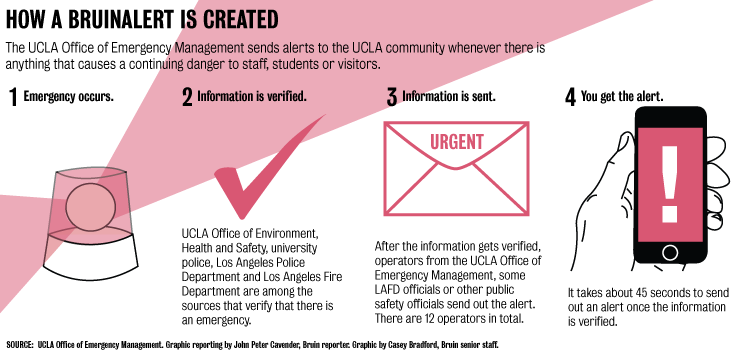 UCLA's emergency message system, BruinAlert, provides the campus community with notifications whenever anything poses a continuing danger to students, faculty or visitors.
However, students have said they wonder why some alerts were not issued during emergencies last year and how BruinAlerts come about.
Once UCLA's Office of Emergency Management verifies an emergency that poses a continuing danger to the campus community, it takes 45 seconds to send out an alert, said Art Kirkland, director of the Office of Emergency Management.
Kirkland added the office often verifies emergencies with university police, the Los Angeles Fire Department or the Office of Environment, Health and Safety at UCLA, but anyone on campus could verify an emergency for them.
UCLA's Office of Emergency Management did not send notifications through BruinAlert after the recent fire in Rieber Hall and the bomb threat at the Student Activities Center, causing some students to say they were upset with the service.
Kirkland said the Office of Emergency Management did not send alerts because by the time officials verified that both events had occurred, neither event constituted a continuing danger to the UCLA community.
Some students have criticized the alert system for not sending an alert about the bomb threat at the Student Activities Center.
Sophia Arriola-Gibson, a rising second-year Design | Media Arts student, said she found the fact that no alert was sent out between the time the police first heard of the threat and when it determined there was no danger, to be alarming.
James Jordan, a rising third-year political science student, said he thinks the lack of a timely alert goes against the point of having an alert system that notifies students in the event of potential dangers.
During the 2014-2015 school year, only one BruinAlert was sent, compared to three from the previous summer and school year, Kirkland said. BruinAlert this year told students about a shooting in the Palms area of Los Angeles, several miles south of campus.
Kirkland said BruinAlert usually sends about two alerts per school year, in addition to six test alerts sent in the form of emails and text messages.
BruinAlert notifications are automatically emailed to students with valid UCLA emails, but students, faculty and staff can sign up to receive text message notifications as well.
UC Santa Barbara experienced a number of emergencies during the 2013-2014 school year and officials said their university police department uses similar criteria to determine what emergencies to send alerts for.
The UCSB Police Department sends two types of notifications to the campus community, timely warnings and emergency notifications, said UCSB spokesman George Foulsham in an email statement.
Timely warnings are issued for serious crimes UCSB officials deem to be continuous risks to the campus community. Emergency notifications are issued for emergencies that pose an immediate threat to the heath or safety of the campus community, Foulsham added. BruinAlert sends out notifications for both types of threats, but does distinguish between the two kinds, Kirkland said.
Like UCLA, UCSB sends alerts through emails and text messages. In addition, UCSB officials post emergency messages on a signboard located at the campus entrance. University officials also post updates on the main campus website during critical incidents.
Some students said they like the BruinAlert service because it provides a sense of security.
"It is nice that (BruinAlert) is there," said Eduardo Song, a rising fourth-year business economics student. "It does its job during emergencies."