Alum's memoir on working for Groucho Marx to be made into feature film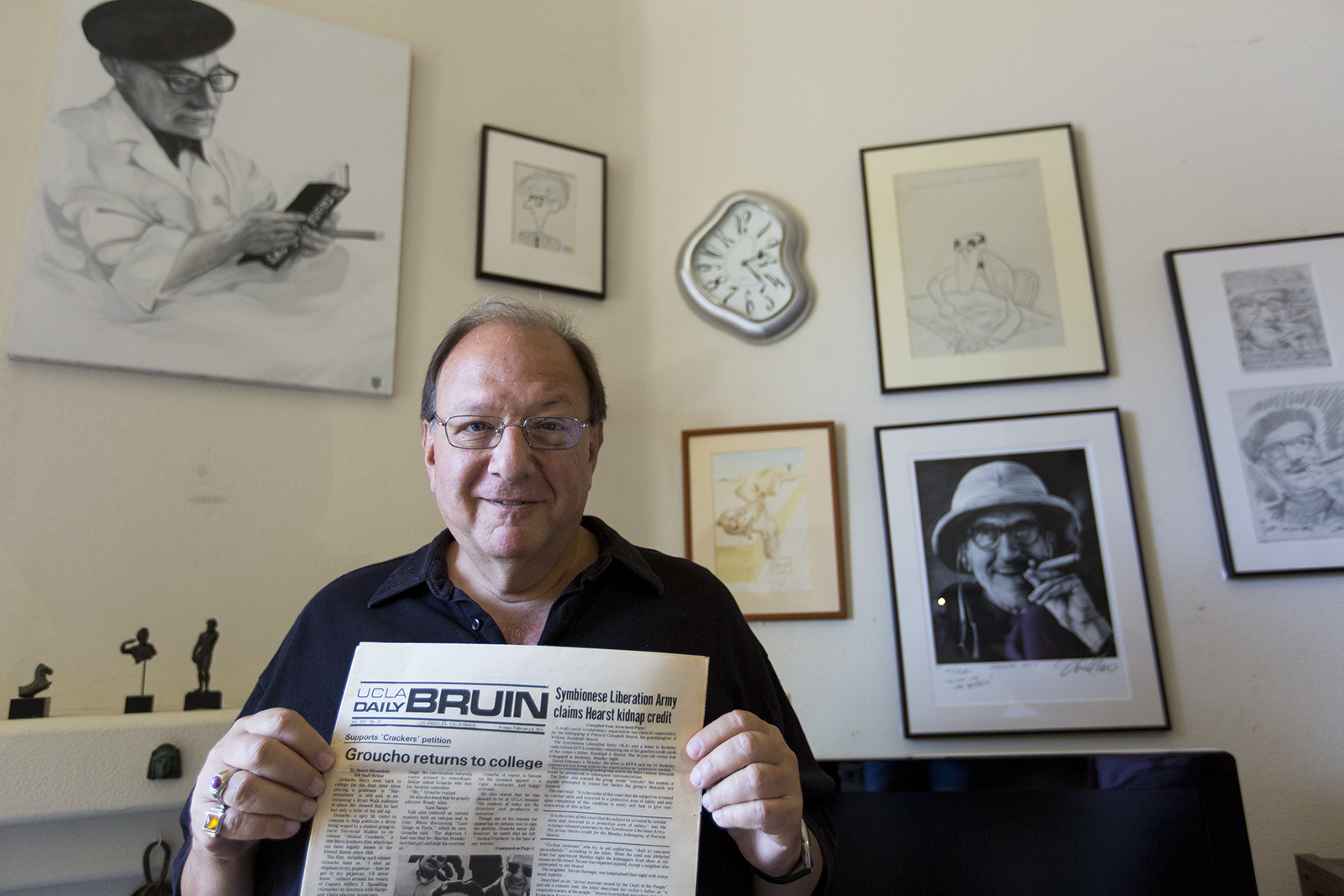 When he was a second-year student at UCLA, Steve Stoliar (above) and his roommate founded The Committee for the Re-release of "Animal Crackers" (CRAC) to petition Universal Studios to re-premiere the Marx Brothers' film "Animal Crackers" in 1974. (Keila Mayberry/Daily Bruin)
In 1974, with the support of an aging Groucho Marx, a group of UCLA students took on the might of Universal Studios and won.

Steve Stoliar and his then-roommate Daryl Busby created The Committee for the Re-release of "Animal Crackers" (CRAC) when Stoliar was a second-year history student, and successfully petitioned Universal Studios to re-premiere the classic Marx Brothers film and eventually fully re-release it in the U.S.
A few months later, Stoliar found himself hired as Groucho Marx's personal secretary and now, 41 years later, Stoliar's memoir, "Raised Eyebrows: My Years Inside Groucho's House," has been optioned to be made into a feature film.
Stoliar said the rise of his movement to re-release "Animal Crackers" was meteoric, starting out as a group of kids asking for signatures and growing far larger than he had expected.
After seeing a damaged, bootleg copy of the film at a revival house in Orange County, Stoliar said he realized it was an essential part of the Marx Brothers canon that deserved to be in good condition.
"All of my friends and I were fanatic Marx Brothers aficionados, and 'Animal Crackers' was the great missing link in their work," Stoliar said. "They only released 13 movies and it was their second film."
Soon after creating the committee, Stoliar said he decided to take a wild shot and phone Erin Fleming, Marx's partner and manager at the time, for help.
It turned out that Fleming had heard of the petition drive, and even sensationally offered to bring Marx to campus to publicize the cause.
"I could hear my heartbeat increasing while I was talking to her on the phone," Stoliar said.
Stoliar said the day Marx, a legend of black-and-white cinema, came to campus, was a momentous one. UCLA alumnus and co-founder of the CRAC Busby said he remembers that Marx's arrival on Feb. 7, 1974 caused a media and student furor on campus.
"It was heady stuff for two kids who were film fanatics and who revered all these guys," Busby said. "We couldn't believe it, I mean, here's Groucho Marx coming up Bruin Walk to sit at our table."
With the support of Marx and a few thousand signatures on the petition, Universal agreed to print two new, clearer versions of the film and then have dual re-premieres in Westwood and New York.
UCLA alumna Eileen Clark was one of those who helped promote the petition on Bruin Walk, and she said she remembers circulating the petition among political students with clever pickup lines and long hair. Clark said she was amazed that a little campaign like theirs could get Universal Studios to act.
After leaving UCLA, Stoliar said he called Fleming once more, asking if he could do anything else to help Marx. Stoliar said she offered him a dream job as Marx's personal secretary then and there, because they needed someone who knew the brothers' work well to deal with fan mail. At the time, Stoliar said he couldn't believe his luck.
"Gradually getting to know my hero was strange," Stoliar said. "I'd hear him shuffling down the hall and then he'd ask for me; I was amazed that he knew who I was."
Stoliar was the longest working employee in Marx's final years, staying on as his personal secretary until Marx's death in 1977. While there, Stoliar said he accumulated a wealth of stories and memories upon which to base his 1996 memoir, "Raised Eyebrows: My Years Inside Groucho's House."
"It's not a biography of Groucho Marx," Stoliar said of the book. "It's more of an intimate story of his household."
Stoliar said the combination of Marx, the aging legend Fleming, the ambitious woman in charge of his life, and himself, a lucky Marx Brothers fan who came along for the ride, made for a remarkable household.
It was announced in a Deadline Magazine article on June 17 that "Raised Eyebrows: My Years Inside Groucho's House," had been optioned. The feature film version is set to be directed by Rob Zombie, who Stoliar said is a passionate Marx Brothers fan, with script input from Oren Moverman.
Stoliar said it will be a surreal experience to see his twenty-year-old self on the silver screen, but he is also looking forward to watching his book come to life.
"It's going to be this almost play-like, low-key, high-emotion, bittersweet story of Groucho towards the end, with Erin being mercurial, and wide-eyed Steve becoming less wide-eyed as he gets pulled into this vortex of the home," Stoliar said.
Thorne was the prime director. He was previously the assistant A&E editor for the Theater | Film | Television beat.
Thorne was the prime director. He was previously the assistant A&E editor for the Theater | Film | Television beat.