Alumna's play "All American Girl" explores religious extremism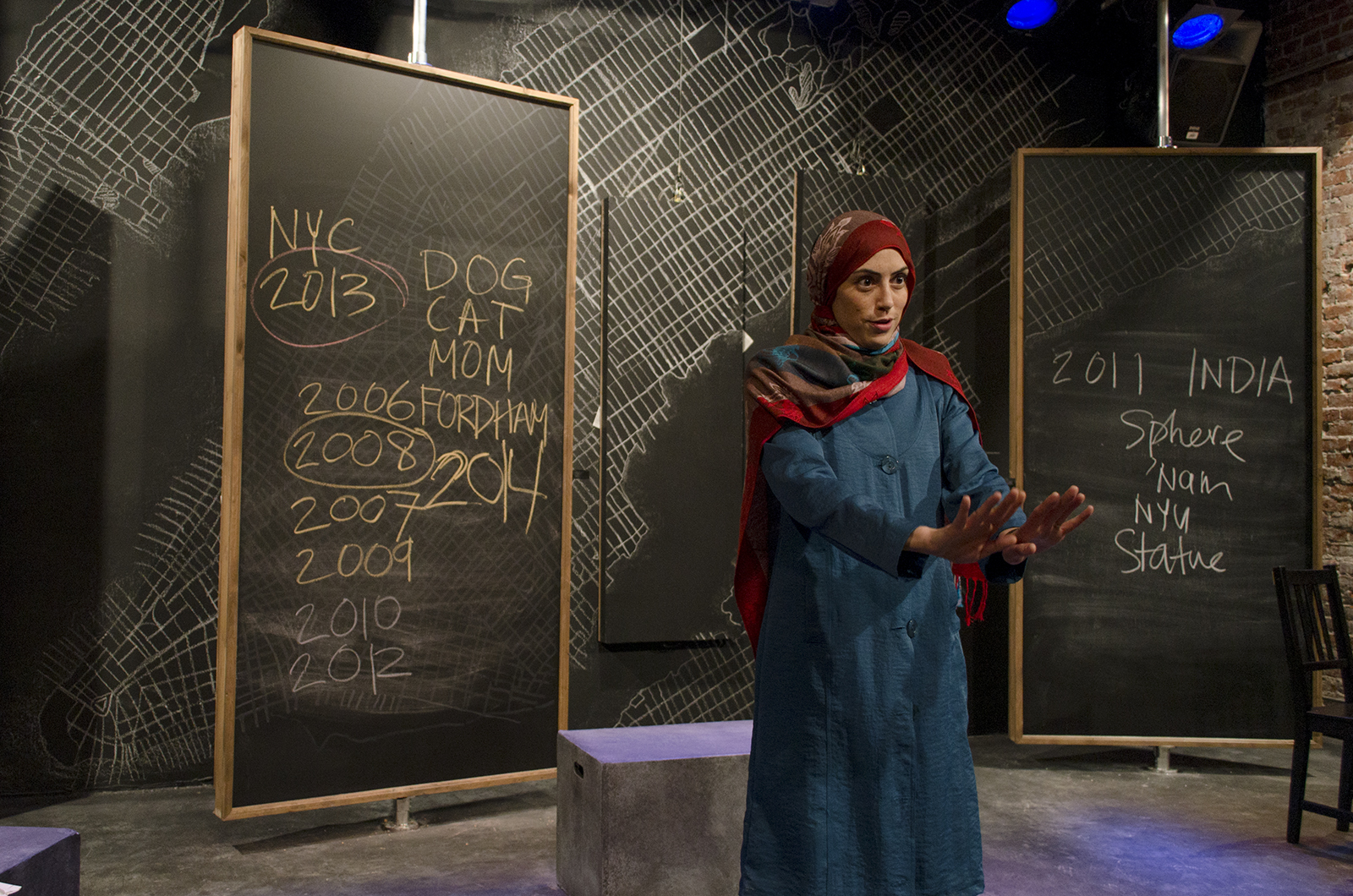 UCLA alumna Wendy Graf's new play, "All American Girl," explores main character Katie's tranformation from a fundamentalist Christian to a radical Muslim and the act of violence she commits to alarm people. Graf said viewers should focus on Katie's evolution, not the politics behind the attacks. (Miriam Bribiesca/Daily Bruin senior staff)
Friday - July 26
Lounge Theatre
General Admission $30
When playwright Wendy Graf watched news coverage of the Boston Marathon bombing in 2013, she noticed something unusual about reports on the wife of one of the bombers.
Graf, a UCLA alumna, said none of the news reported on Tamerlan Tsarnaev's wife's role in the act of terrorism, only choosing to focus on her identity as an all-American girl despite her radical tendencies and conversion to Islam. Graf said she wondered if Tsarnaev's wife could have been a part of the plot, too.
Graf's new one-person show, "All American Girl," explores the idea, with alternating actresses Annika Marks and Jeanne Syquia each playing all the roles on the nights they perform. The show opened at the Lounge Theatre in Hollywood on July 3. It will run through July 26.
The play follows Katie and the people around her as she ages from 7 to 24, transforming from a fundamentalist Christian to a radical Muslim. In the play, Graf said, Katie attempts an act of violence with the intention to alarm people, not hurt them. Marks said she sees similarities between Katie's behavior as a Christian and as a Muslim.
"I think the real question at the heart of the play is, 'Is violence ever justified?'" Marks said.
Graf said the point of the play is to focus on Katie's personal evolution, not the politics of the attacks. She said Katie's change in character is drastic and driven by the choices she makes.
"It's a psychological study … of how a seemingly ordinary American might get seduced by radicalism," Graf said. "I wanted people to jump on her journey and see both sides of it."
Graf said she identifies with Katie and expects audience members to do the same, or at least recognize her humanity.
"All these kids who commit these acts – we just think they're monsters," Graf said. "We don't really see what led up to them making those decisions."
Marks said each actress plays Katie and about 17 other characters who come in and out of her life. The other characters include her family members, her husband, her husband's family members, her teachers, her bosses and her childhood pastor.
Graf said she studied the character arcs of the Boston bombers and accused terrorists, both fictional and real, to write the play. She also studied the everyday lives of Muslim individuals in different countries, using her experiences from a trip to India as a guide.
"In a way, you have got this sort of consultant working with you on the play that can give you all the information you might be looking for," Marks said.
InterACT Theatre Company cast two alternating actresses in the role because of Marks' and Syquia's schedules. Marks, who currently plays recurring character Monte in "The Fosters" on ABC Family, and Graf have worked together before. Graf said she had seen Syquia in a play about five years ago, and her performance left such an impact on Graf that she contacted Siquia after Marks had also recommended her.
Graf said she, Marks and Syquia worked on the script together during rehearsals, revising and discussing the piece before staging it. Syquia said "All American Girl" has been one of the most challenging shows she has performed in because she is the only actress on stage. She said she takes advantage of breaks during rehearsals to rest before performing again.
"I think I've learned a lot about just stamina, and how to take care of yourself," Syquia said.
Graf said the play deals with themes such as family and religion, but that she doesn't attempt to answer questions or pose her own ideas in her writing.
"I don't give answers. I wouldn't even begin to have an answer," Graf said. "I like to leave the audience with questions and let them go across the street and get a drink and argue it out."