Emerging trend of surprise albums puts focus on artists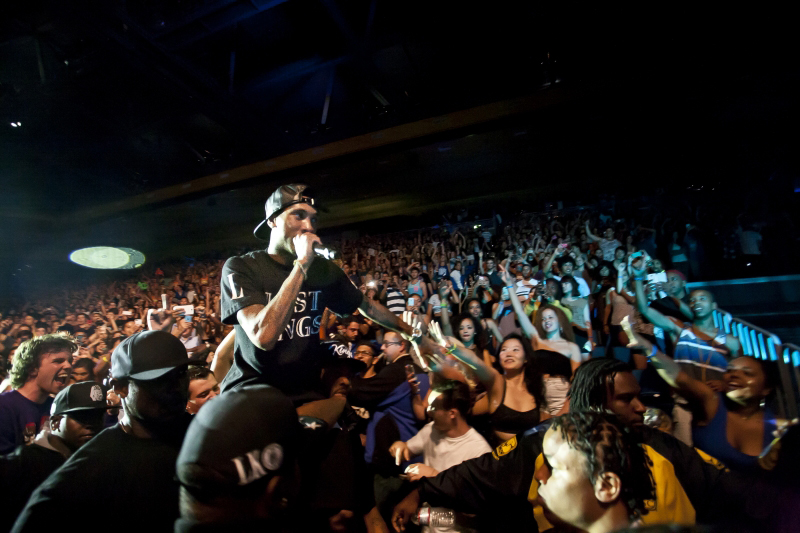 Former Bruin Bash performer and rapper Tyga dropped his album "The Gold Album: 18th Dynasty" on June 23 without promotion. The release only sold 2,200 copies its first week. (Daily Bruin file photo)
The music industry died once and may be dying again, with the power shifting from music industry executives to the hands of artists.
The emerging trend of artists dropping surprise albums without promotion is switching the attention from the music industry to the artists themselves.
Robert Fink, a professor of musicology at UCLA who also administers UCLA's minor in music industry, said the record business almost completely collapsed during the Great Depression. The shift to an online and media focus may be the modern equivalent of this event.
In the past few years, popular artists such as Beyonce, Drake, Kendrick Lamar, Radiohead and Frank Ocean have been following the trend of dropping surprise albums on the unsuspecting public, setting off immediate online hype.
Because of the shift from record companies creating hype for new albums to the artist choosing their own release date, artists can have more control over their own content and the way it is marketed, Fink said.
Currently, consumers are seeing a shift from sales of physical copies of an album to releases distributed via digital media.
In 2007, Radiohead recorded its album "In Rainbows" without a record contract and released it online as a pay-what-you-want album, announcing it 10 days before the release.
As a result, the album received a substantial amount of exposure over social media, leading fans to rapidly acquire the album.
The Radiohead frontman, Thom Yorke, also released his album "Tomorrow's Modern Boxes" on BitTorrent the same day it was announced, and it became the most torrented album of 2014.
After dropping her eponymous album with no prior promotion at the end of 2013, Beyonce topped the charts and became the artist with the fastest-selling album on iTunes.
The sudden release of the album shocked the public, and it sold more than 800,000 copies internationally in three days.
J. Cole's album "2014 Forest Hills Drive" was announced just two weeks before it was leaked and immediately gained success by reaching No. 1 on the Billboard 200 charts, selling about 350,000 copies in the first week.
Samee Warrier, a third-year ethnomusicology student, said she thinks higher-profile artists get more attention because of the shock value.
"It becomes super viral really easily," Warrier said. "No one really expects (the album) to be up, but when you find it, you have to share it with everybody. It's really facilitated by social media."
Because of the attention well-known artists already have, they can leverage their media presence to their advantage, Fink said.
"We already had a moment where people decided, 'Why should I own songs when I can have a radio and have all my music for free?'" Fink said. "It didn't mean that musicians stopped making records or that popular music disappeared."
Fink said he believes that because of online access, which promotes piracy, stealing and streaming, it is less important to maximize sales and more important to maximize control of the media.
Jessica Schwartz, an assistant professor in the musicology department, said surprise-release albums are also a way for artists to experiment without the public trying to appropriate or discover what they're working on.
"I think also (protecting artists' privacy) passes on a much larger and more pervasive issue on social media in terms of how social media has been so pervasive and it seems like everybody has access to everything at all times," Schwartz said.
Without revealing their process, musicians are able to avoid the spotlight and attention and focus on their own artistry, Schwartz said.
"(Surprise albums) show how dynamic the music industry can be," Schwartz said. "I think that artists and the music industry (are) always being very creative in terms of circumventing the social media."
However, not all artists are successful with the online streaming trend. Warrier said artists like Beyoncé still have extremely high physical sales, possibly because of her popularity and fan base.
On the other end, Tyga's most recent album, "The Gold Album: 18th Dynasty," only sold 2,200 copies its first week after a surprise release. Although Tyga is a relatively well-known rapper, he did not reach the outcome that his counterparts did, showing that this trend is not always successful.
With pop, rap and R&B artists keeping the details of their next album release in the dark, more musicians may follow their lead with future releases.
"(In the future), it's going to be more self-made, self-produced kind of music, which means it'll be better for the artist but it won't exactly be better for the industry," Warrier said. "But it's a necessary shift in order for the industry to evolve."