Alumni, current students share stories of memorable photo shoots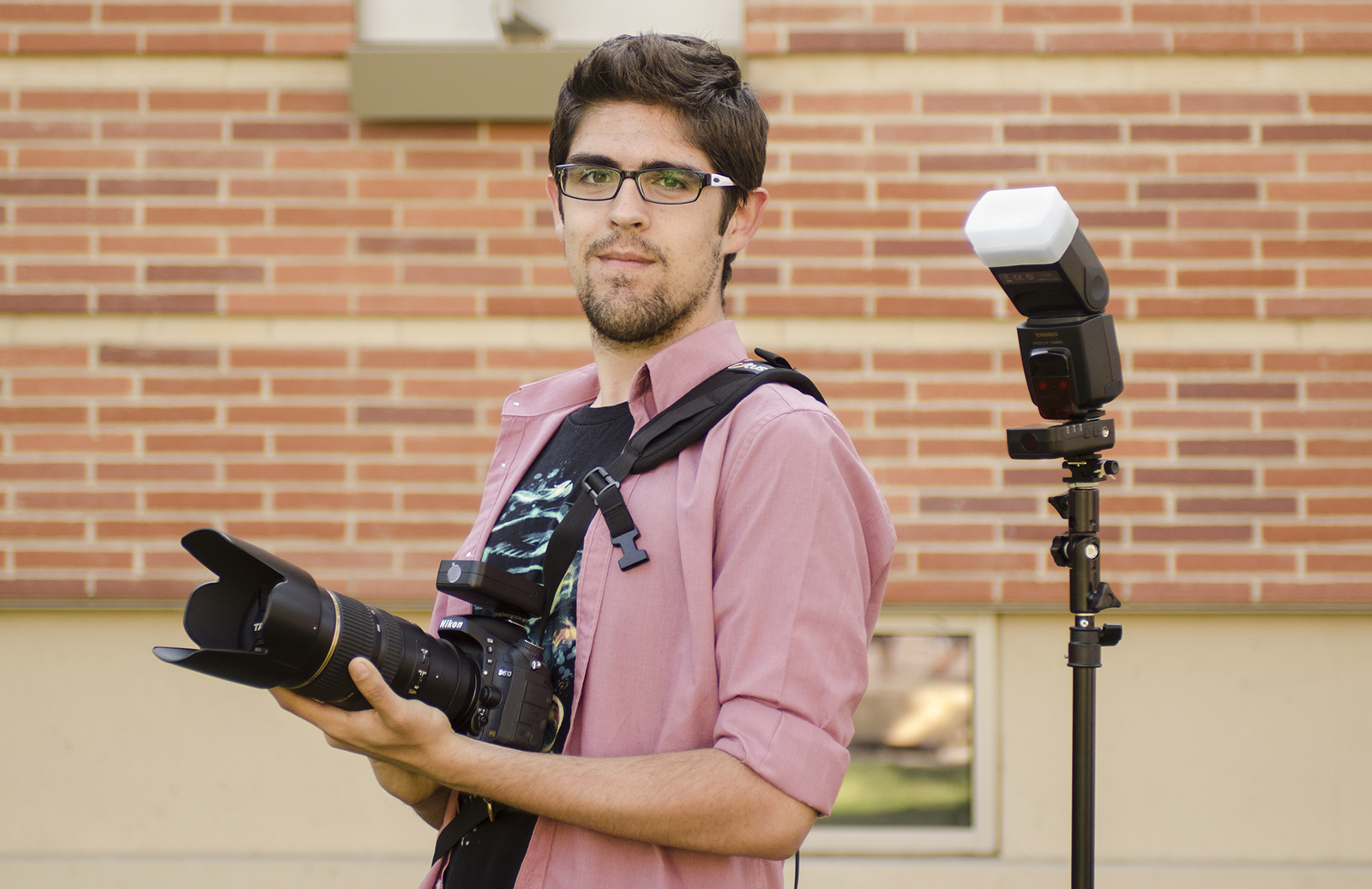 Alumni and student photographers, such as fourth-year biology student Kyle Rubalcava (above), have taken to campus landmarks such as Royce Quad to document seniors leaving UCLA in graduation photo sessions. These shoots provide photographers with a source of income and give students a keepsake of their college experience. (Heidy Cadena/Daily Bruin)
Beaming friends donning blue sashes embrace under the arches of Royce Hall, ready to document their dwindling time as undergraduates. A photographer urges the graduating seniors to laugh before capturing the bittersweet moment.
These graduation photo sessions allow alumni and current students to express their passion for photography while making a little extra money. After years of shooting seniors, these photographers have built up a portfolio of not only photos, but also stories about their most memorable shoots.
"The whole (graduation) shoot thing blew up more recently, I'd say within the past three years, because of the fact that social media has blown up," said photographer and alumna Tiffanie Chow. "(Students like) showing (their) life to everyone, so it's super in demand now."
With the rise in popularity, alumna Natasha Sadikin said more photographers have come onto the scene since she began shooting more than three years ago. She said the new competition has lowered prices, enabling graduates to do multiple sessions with different groups of friends.
Graduation photographers began their businesses at varying points in their lives. Photographer Nikki Klepper, a second-year world arts and cultures student, said she was trained in black-and-white film photography while studying abroad in France in high school, kindling her passion. She launched her business at UCLA by chronicling sisterhood events for her sorority.
Chow became interested in photos at an earlier age. She said she helped her father develop pictures in his darkroom as a child until she received her first digital camera in fifth grade.
Other graduation photographers, such as fourth-year biology student Kyle Rubalcava, second-year art student Brett Mirly and second-year music student Nick Lie, said they are primarily self-taught, having learned from YouTube videos or online articles.
"A formal education isn't something you always need," Rubalcava said. "It's finding something you enjoy doing and rolling with it."
Many photographers initiated their businesses after friends requested they take their senior portraits. This is true for alumnus Joel Ontiveros, who said he began to shoot seniors he had met as a resident assistant and orientation counselor.
These photographers realized Royce Quad is a popular backdrop, as Rubalcava said he has to wait for spots to open up at what he calls the big three: Royce Hall, Shapiro Fountain and Janss Steps.
Ontiveros said about 80 percent of his clients ask for Royce Quad, while only about 5 percent have alternative venues in mind, sometimes requesting major-specific buildings. Unless they're shot early in the morning or late in the evening, photos taken at Royce Quad will have throngs of people in the back, Ontiveros said.
To avoid blurred people in the background, Ontiveros said he laid on the dirty rooftop of the Mathematical Sciences Building while shooting a group. He said creativity was required to get the ideal vantage point with a skyline.
"I'm not very structured doing a shoot," Ontiveros said. "Those genuine moments where they're having a good time I think produce the best photos."
Chow said she finds artistic angles that exclude background crowds when the area near Powell Library seems to have the congestion of 405 Freeway.
"(Angle) it in a way where you don't see people," Chow said. "You want it to look like this is your freakin' campus."
Realizing many graduation portraits depict students with their arms crossed in front of Royce Hall, Mirly said he sought out creative scenes, citing an instance when clients dragged an inflatable boat into Shapiro Fountain. During an all-male shoot, one student refused to get his trousers wet in the fountain, so the students all removed their pants and just wore boxers.
Mirly also ventures beyond Royce Quad. This year, Mirly said he noticed a growing trend: both North and South Campus students opting for the Franklin D. Murphy Sculpture Garden's more natural setting.
Klepper said she discovered the Sculpture Garden's hidden beauty when light shines through the trees to create a bokeh effect, which results when the background is composed of blurred circles of light.
The Bruin Bear is another venue for Klepper's shoots. She said two girls mimicked riding the bear like Kim Kardashian and Kanye West on the motorcycle in the "Bound 2" music video.
Rubalcava said other places, like a 10-foot wall that a student scaled in the outdoor amphitheater near Kaufman Hall, can produce extreme shots.
The props, or lack thereof, made certain shoots memorable for photographer and alumnus Charlie Chang. In one of his sessions, Chang said a group of girls insisted on posing topless with just graduation sashes covering themselves. Once, a gang of friends brought In-N-Out and threw fries in the air like confetti in their photos, because, Chang said, they frequented In-N-Out during their time at UCLA.
In addition to these memories, senior sessions generate a source of income for alumni and student photographers.
"When you're a student on the side, you're broke all the time," Rubalcava said. "So whatever money you do make just goes to more equipment. It's a cycle; it's vicious."
Chang captured 57 groups last year, which equates to thousands of dollars. Lie considers photography his college job and said he makes enough to meet his general expenses throughout the year.
Others rely on graduation photos as a career: Klepper said she'll continue part-time throughout her life, while Chow said she's quitting her job at a music company to pursue photography full-time.
Jacquie Nguyen, a fourth-year bioengineering student and client of Lie, said graduation shoots are worth the price because it's convenient not thinking about poses or lighting, but leaving the planning to someone more capable.
Last year, Sadikin hosted a group session with then-senior Diane Han. As an international student, Han said she wanted a snapshot with her international and domestic friends since they were all taking different paths and would no longer spend time together.
"The great point of taking (graduation) photos is celebrating it with your friends who have also spent the four years with you," Han said. "They're like your family, so it's basically like a family portrait."
Fourth-year communications studies student Priyanka Vigneswaran, who runs a photography business with two other UCLA students, said the key to a successful candid shoot is relating to clients by showing them she's a student too. With the demand of graduation photos, Vigneswaran said she aims to make every shoot special because it only happens once for each senior.
"(Graduates will) see my pictures for the rest of their lives," Chang said.
Weinberg is the prime content editor. She was previously the A&E editor and the assistant A&E editor for the lifestyle beat.
Weinberg is the prime content editor. She was previously the A&E editor and the assistant A&E editor for the lifestyle beat.