HOOLIGAN member pursues public health, theater passions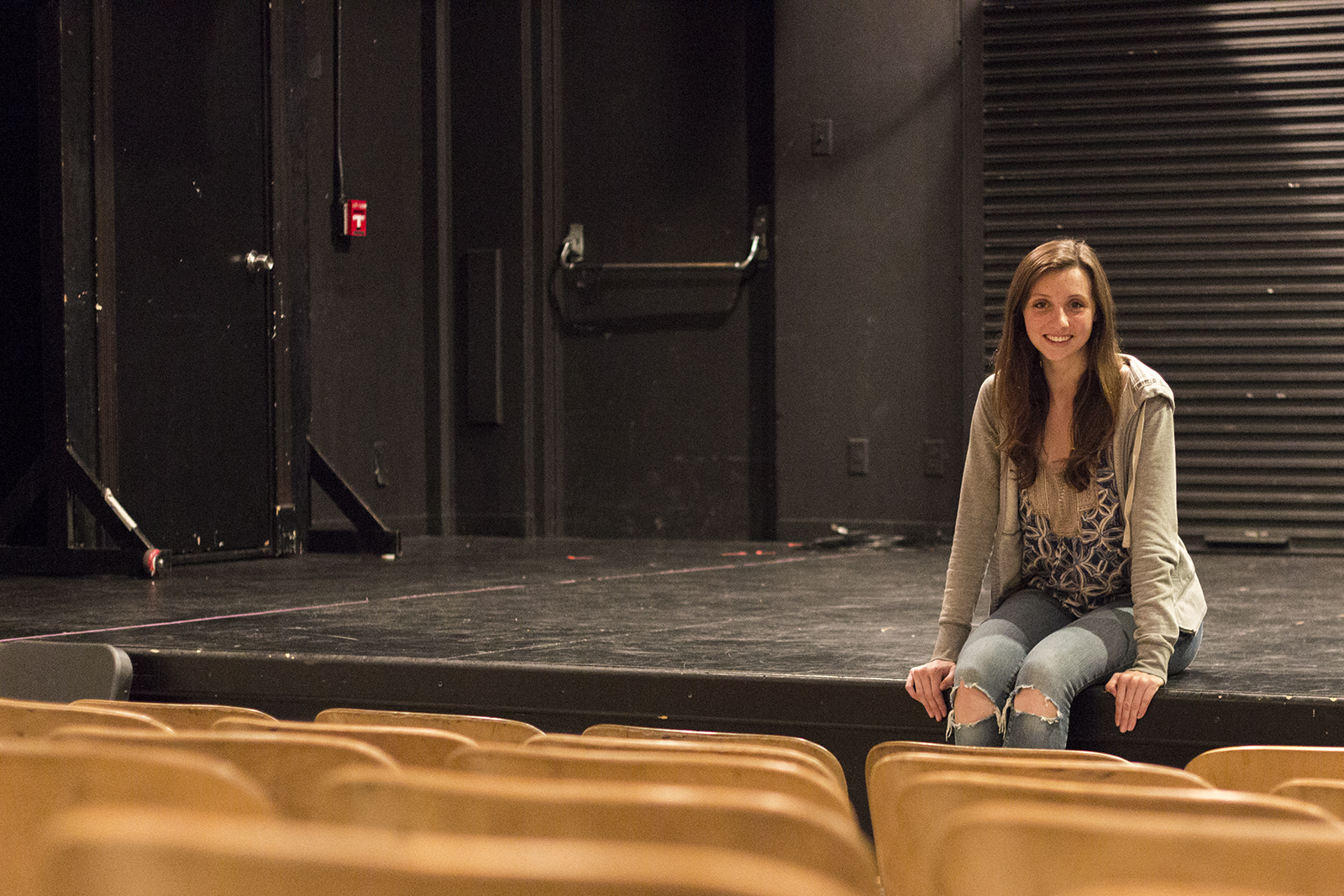 Fourth-year Cathy Yount combined her interests in theater and science by majoring in human biology and society while working with Hooligan Theatre Company. Drawing from her teaching experience at ArtBridge, a program that uses arts to teach a variety of subjects in local schools, she will go on to intern with the arts education outreach department at Musical Theatre West. (Alyssa Dorn/Daily Bruin)
The original version of this article and the headline incorrectly stated that Yount is a HOOLIGAN director. In fact, she directed for HOOLIGAN but is not a director. The original caption of this article incorrectly spelled Catherine Yount as Kathy Yount.
When her mother gave her an ultimatum between soccer and theater in elementary school, Catherine Yount had no doubts as to which path she would choose.
But years later, as a first year, making the choice between theater and another passion was not as easy.
Active in theater most of her life but also invested in science, Yount entered UCLA confident she did not have to choose between the two. Now, four years later, Yount said she will not only graduate with a degree in human biology and society, but she will also leave UCLA with a range of experiences that derive from teaching others through ArtsBridge, a program that utilizes the arts to teach subjects like math, history, language arts and the sciences to local schools.
"There is just something really incredible about the smell of the theater and standing backstage while the overture plays of a musical," Yount said. "I don't know if it's because I have such good memories of that growing up that it recalls those memories, or if it's just a really happy place."
Yount said she has been on the stage since joining a community theater in second grade. With her first big break as the titular character in "The Little Red Hen" in third grade, Yount said she continued to take on various roles in community and high school productions. Her roles ranged from lead characters such as Sarah in "Guys and Dolls" to Rosie in "Bye Bye Birdie."
When it came to applying to colleges, Yount said while she did contemplate focusing on theater, she ultimately chose against it because she wanted to explore her other passions. Once accepted to UCLA, Yount said she considered a variety of majors and finally decided on human biology and society because of her interest in genetics and human life.
After deciding what she wanted to study and adjusting to UCLA, Yount got involved in theater by performing in HOOLIGAN Theatre Company's production of "Titanic" her second year, she said. Yount continued to immerse herself in HOOLIGAN since, as an actress. Most recently, she directed HOOLIGAN's winter quarter production of "The Wedding Singer" and starred in the spring quarter production of "Our Town."
Kelly Lennon, a fourth-year theater student and artistic director of HOOLIGAN, said while Yount had a very clear vision for the "The Wedding Singer" as a director, she was always interested in hearing other people's opinions and collaborating as much as possible.
"She certainly has impacted the lives of so many HOOLIGANs," Lennon said. "In 'The Wedding Singer,' she really provided an opportunity for the entire cast to shine and blew them away as the lead in our spring play, 'Our Town.'"
As well as HOOLIGAN, Yount said she is involved in ArtsBridge, where her role involves planning creative lessons. In one such lesson, Yount said she assigned a group of fourth graders to write stories about fictional animals in order to better understand biomes.
Yount said one of her favorite moments at ArtsBridge occurred when a student asked if her animal could fart rainbows to camouflage into the tropical rainforest. The best part about that question, Yount said, was that it demonstrated pure, weird nine-year-old imagination coupled with scientific logic.
"She is an amazing teacher," said Rachel Freeman, a third-year world arts and cultures student, HOOLIGAN director and fellow ArtsBridge teacher. "She just has so much patience and kindness with the kids and makes sure they all have fun and understand what's going on."
While Yount does not plan on becoming a teacher, she said she may want to incorporate arts education into her future career. In the meantime, Yount said she is considering getting a masters in public health.
Much like her time as an undergraduate at UCLA, Yount believes she will be unable to concentrate on a single passion at the loss of the one that's been with her since second grade. As such, this summer she will pursue an internship with the arts education outreach department at Musical Theatre West in Long Beach.
"I am so passionate about public health, but I don't know if I can do that at the expense of giving up theater," Yount said. "I hope there is an intersection and maybe if there is not, I'll create one. I'll make it because I need to at this point."