Graduate student wins California Strawberry Festival's recipe contest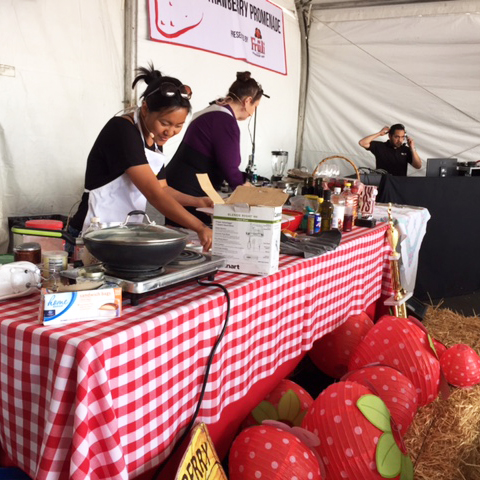 The annual California Strawberry Festival took place Saturday in Oxnard. English graduate student Alethia Shih (left) won The Berry Blast Off Recipe Contest Championship for her strawberry-based poke cake. (Marina Romanchuk-Kapralau/Daily Bruin)
The original version of this article inaccurately stared that Alethia Shih beat Jodi Taffel. In fact, judges' decision declaring Shih and Taffel as co-winners was binding. The popular vote was informal and non-binding.
Strawberry season in California brings many tasty things: strawberry pies, strawberry jams, even strawberry beer and strawberry caviar – delicacies presented at the annual California Strawberry Festival in Oxnard.
English graduate student Alethia Shih won the Berry Blast Off Recipe Contest Championship at the 32nd annual festival on Saturday with her steamed strawberry coconut poke cake. The rules of the Berry Blast Off Recipe Contest were simple but strict, Shih said: The recipes must contain strawberries as an ingredient, and baking was not allowed.
Out of 90 candidates who submitted their online applications in April, only two were selected for the final competition. Shih competed against another food blogger, Jodi Taffel, better known as the Fabulous Bacon Babe. Taffel appeared before the audience with a sparkly crown on her head and surrounded by trophies from other cooking contests.
Judges declared both Shih and Taffel as co-winners as they disagreed. Shih won a knife set, a two-night getaway to San Diego, Palm Springs or Cabo San Lucas, Mexico, and a qualifying ticket to compete in the World Food Championships in Florida in November.
"I might try the winning recipe myself," said Chelsea Madren, one of the six judges and a food blogger, who writes under the name OC Food Diva.
Madren said she evaluated the finalists' work based on creativity, presentation and use of strawberries, and said Shih's fulfilled all three.
Shih has her own cooking and baking blog called Wallflour Girl and has previously won awards such as the Best Tasting award at UCLA's Edible Book Festival. The blog was born as a sample for the new media class Shih taught for high school students during her first summer at UCLA in 2012 as a part of UCLA's Summer Discovery program.
"I chose this blog name because, even though I'm an extrovert at first glance, I tend to get shy in large groups and find that I express myself best when I'm tucked away safely behind a screen, writing or in my kitchen baking," Shih said.
Shih said she does all the cooking, writing, photography and web design herself, with help from a friend with the website organization. Managing her hobbies of baking and blogging along with her academics is not easy, Shih said.
"School always comes first," Shih said. "I keep a work journal, so I can figure out what I am actually wasting my time with."
Because of her hectic schedule, she stopped advertising her Wallflour Girl online Etsy shop and started to work mostly with large food companies, Shih said. Her job is to review products of companies such as Twix. Shih said brands often sponsor her to make recipes using their products and to showcase a story to go with them.
"These opportunities are really wonderful because they challenge me to create recipes from a creative new angle and to really engage with a broader community of bloggers who are doing the same thing," Shih said.
Shih said she receives support on her blog from family and friends. Fong Lui, a close friend from UC Berkeley where Shih received her bachelor's degree, said she thinks Shih's blog is a great creative outlet, especially because Shih loves to write so much.
"A few months after she started Wallflour Girl, she had a series called 'Lit, Wit and Oven Mitt' (on the blog)," Lui said. "I found it particularly fun to read. Usually when you Google recipes online, all you get is a set of instructions. But with 'Lit, Wit and Oven Mitt' you got an entertaining story to go along with it."
Shih said professional blogging actually takes up more time than she could ever imagine – on a busy week, it's essentially a full-time job. She plans to keep the blog at a hobby level, but said that she is very happy to be a winner of the Berry Blast Off Recipe Contest.
When the judges disagreed and the host of the contest announced that the tiebreaker would be resolved by popular vote, Shih said she was floored by the audience's overwhelming response.
"One of my favorite parts of being a baker and blogger is getting to really connect with other people," Shih said. "I'm incredibly happy about the prize and honor of winning, of course, but the fact that a crowd of near-strangers was willing to support me onstage is an experience that I will never forget."