Spring Sing 2015: HOOLIGAN Theatre Company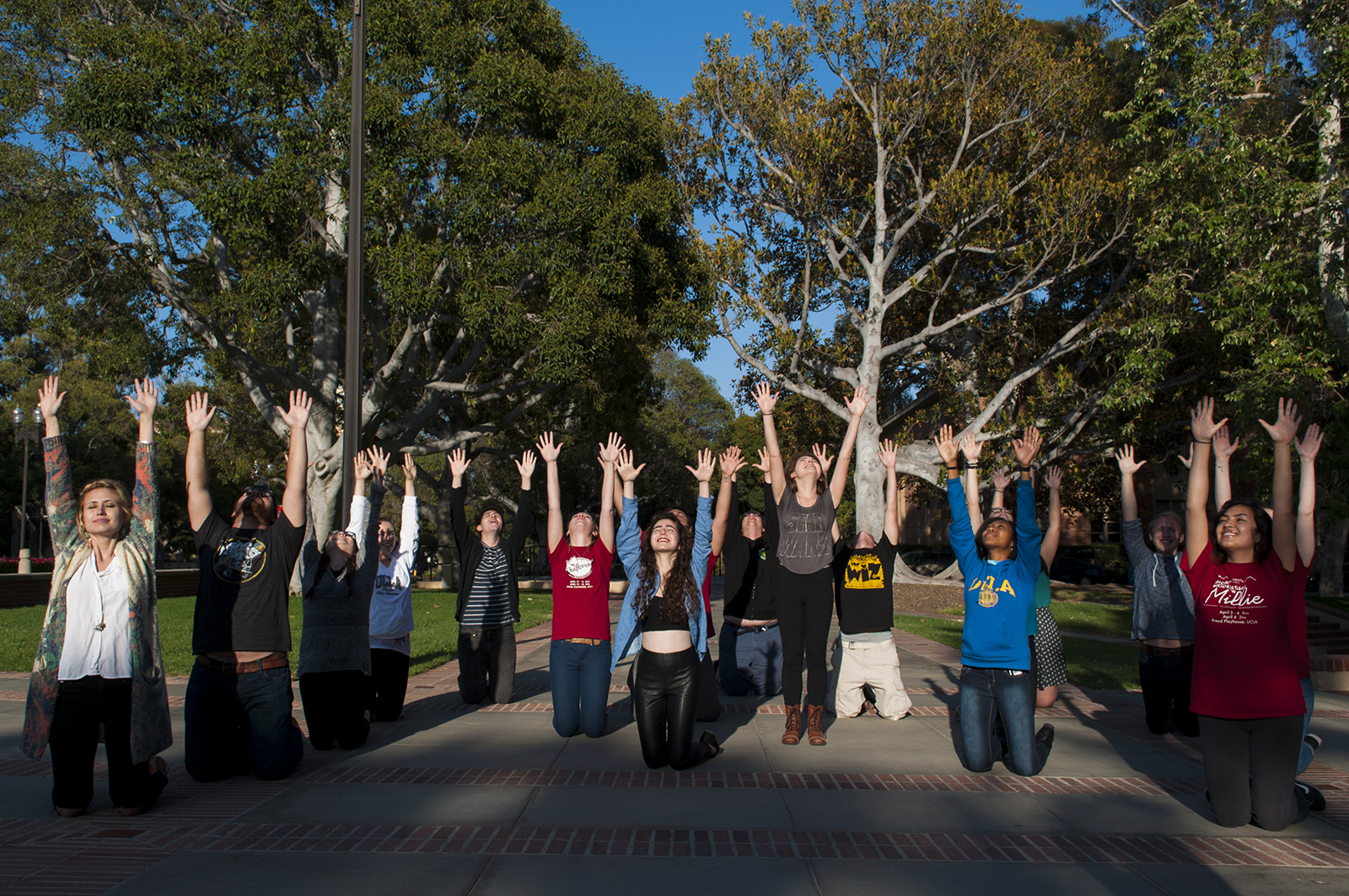 HOOLIGAN Theatre Company has performed at Spring Sing for the past two years and will return to the stage on Saturday with a showcase of energetic pop songs that deal with the theme of acceptance and fitting in at UCLA. (Monica Jeon/Daily Bruin)
On top of Parking Structure 2 on most weekend evenings throughout winter and spring quarter, dancers leapt across parking spots, while singers belted out their favorite pop songs and actors interjected witty lines.
HOOLIGAN Theatre Company has taken up residence in the structure while it rehearses for its upcoming Spring Sing performance. The group, which has performed at Spring Sing for the past two years, has been working to perfect its 2015 show, which centers around an undisclosed theme.
Third-year English student Sara Beil, who co-wrote and co-directs the piece, said the group mostly practices on weekends. She said it was difficult to schedule rehearsals around the company's two main shows in the winter before Spring Sing auditions.
Beil worked on the show last year too, in the same capacity. Last year, she and her co-writer went up to HOOLIGAN's executive board members and told them they would write the show, which they based off "Peter Pan," but this year they had to submit a concept proposal.
"We tried to be different this year," Beil said. "We don't want to settle into a formula."
She said the group originally auditioned this year with a completely different show that used characters from "Scooby-Doo." However, after talking to the Student Alumni Association, she said they decided to scrap that number and come up with a new one.
"We realized that the story had a lot of problems, and it wasn't something that we thought everyone in the audience could connect to or really be interested in," Beil said.
Beil said the new story has a more simple storyline than the one HOOLIGAN originally auditioned with.
"It's super energetic, it's super fun, it's catchy pop songs we all love with a lot of really ingenious and really funny lines in the middle," said second-year political science student Ana Karina Palacio, who does hair and makeup for the company and performs in the ensemble.
Palacio said she started doing hair and makeup when she joined HOOLIGAN and found that Spring Sing provided her with new challenges.
"I want to make everyone super unique," Palacio said. "You have to remember that Pauley Pavilion is a 9,000-people stadium, so (for) the people in the back, I want them to be able to notice things, (while) also looking good on the screen and not looking like a clown."
Second-year film student Brandon Papo, who is making his HOOLIGAN debut, said he saw the company onstage last year and felt the need to join them this year. He said he feels a connection to the theme of the show this year, which deals with acceptance and fitting in at UCLA.
"I think the main thing about this production is that even though you might feel lost, there is still a place for everyone," Papo said.