Pac-12 championship holds hope for redemption for UCLA track and field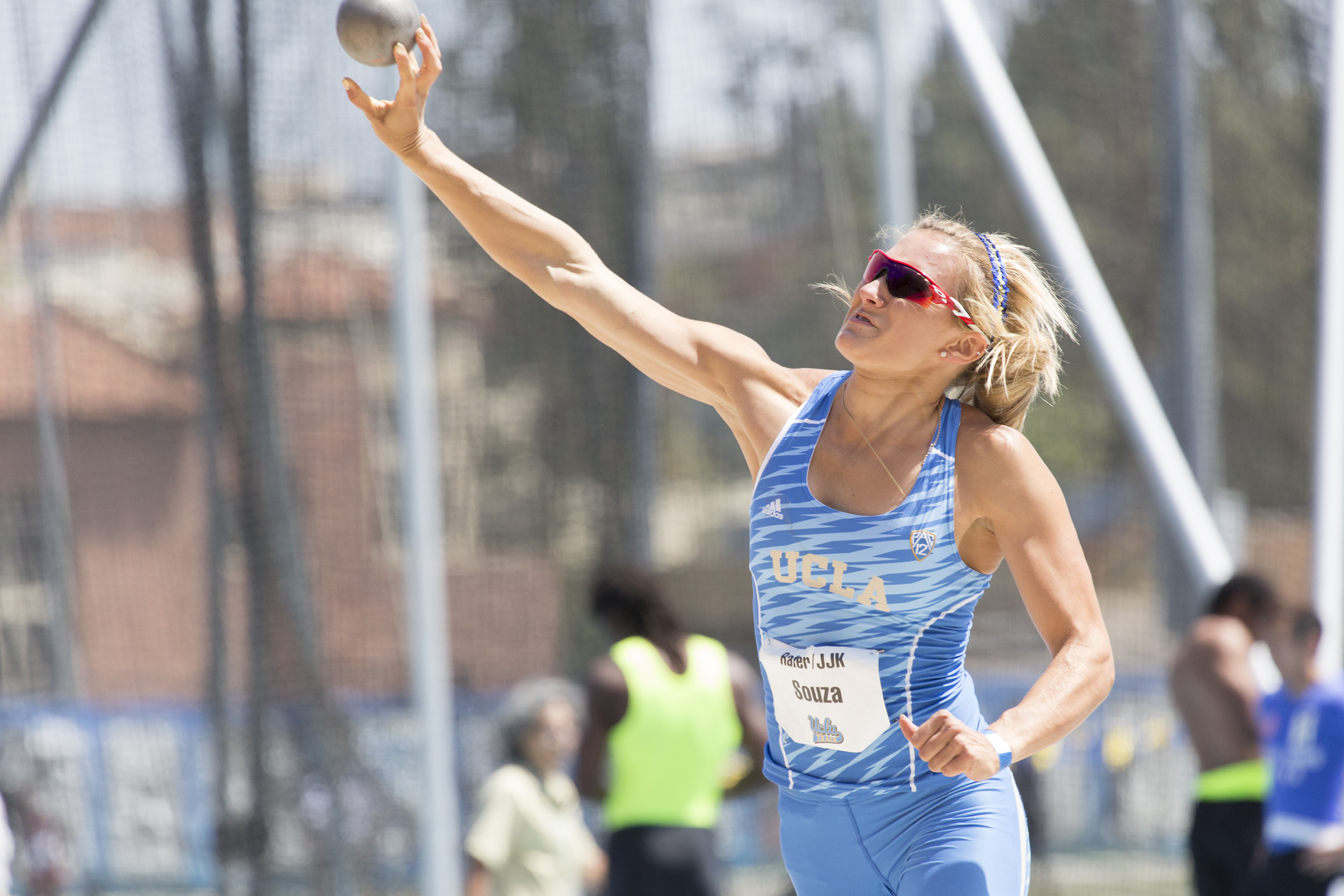 A solid performance from redshirt senior Tatum Souza, currently the No. 9 women's heptathlete in the country, will be a major component of UCLA's comeback against crosstown rival USC in the first weekend of the Pac-12 championship on Saturday. (Aubrey Yeo/Daily Bruin senior staff)
UCLA track and field will have a shot at redemption this weekend.
After last Sunday's dual meet loss to the Trojans, the Bruins are hoping for success during the first weekend of the Pac-12 championship at Drake Stadium, where USC athletes will once again be present. This weekend will be solely for multi-event athletes, while next weekend will feature the track and field events.
"The level of competition at USC is going to be similar to the level of competition at Pac-12s because they've got a really great team," said redshirt senior hammer thrower Alec Faldermeyer. "And so competing against the best, that prepares you for these bigger meets."
Looking ahead to this weekend, the athletes competing in the multi-events will have the opportunity to give their team a jumpstart. One of these individuals is redshirt senior Tatum Souza, the No. 9 women's heptathlete in the country.
"We go a week early so that we have the possibility of competing in the individual open events and scoring points in that as well, hopefully," Souza said.
Souza expressed some disappointment over last weekend's loss against USC, but said she sees it as an opportunity to prepare for this weekend.
"It was a great tune-up for us and to see where we're at (as a team) at this time in the championship season," said the redshirt senior. "I was really happy with a lot of people's performances. I'm not happy with the end result – the loss. But I think there's a lot of good that came out of that meet."
Souza will be joined this weekend by her fellow Bruin multi-event teammate, redshirt senior Alexis Walker. Walker has made strides of improvement throughout her career and looks to make one more this weekend on her home track.
"For me personally, it's kind of like a Cinderella story to go out this year. I took that redshirt year to really focus on getting better with the heptathlon with the help of (multi-events coach) Jack Hoyt and his guidance through that struggle," Walker said. "To go out with the Pac-12 multis at UCLA, it's something that I can only dream of."
For the Bruins, this year's Pac-12 championship bears even bigger implications than in years past. This is the first time that the conference championship has been held at Drake Stadium in 10 years, and the Bruins will use this as extra motivation to put their best foot forward.
"It's our track. It's our home," Walker said. "We have a lot of pride in the track as a whole and all of the updates that (director Mike) Maynard has brought to the track. And he's very excited and worked really hard to renew all the facilities to host a big meet like the Pac-12 championship. I think that pride is going to add a little more spark under all of us and help us increase our performance."