Undergraduate Bruin to curate Fine Art Show, Student Photo Contest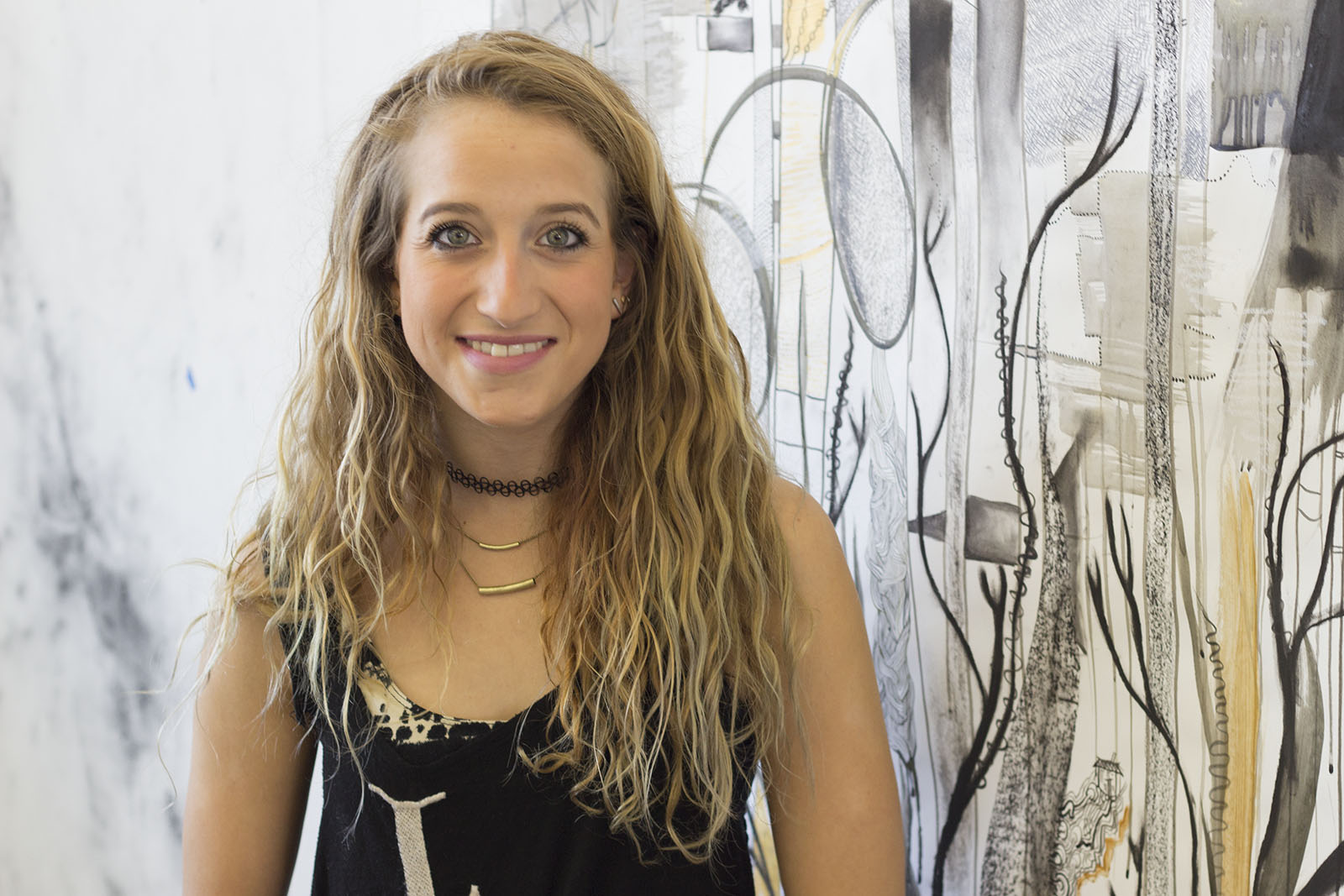 Third-year art and art history student Rachel Berkowitz will serve as the curator for the annual Fine Art Show on May 21 and the Student Photo Contest on Thursday. This year, Berkowitz opened submissions to all students, not just those studying art at UCLA. (Alyssa Dorn/Daily Bruin)
The original version of this article and the caption accompanying the article incorrectly stated Rachel Berkowitz is a second-year student. In fact, she is a third-year student.
Rachel Berkowitz said she showed her love for humorous artwork at last year's Fine Art Show, submitting a painting of a huge, brightly colored baby with squinting eyes and a mouth screwed up in a wail.
The third-year art and art history student now serves as the curator for this year's Fine Art Show on May 21 and the Student Photo Contest on Thursday, both of which will be held at the Yitzhak Rabin Hillel Center for Jewish Life at UCLA.
Sponsored and funded by the Pamela and Randol Schoenberg Foundation, the annual photo contest's first-place winner will receive a prize of $500. The winner of the Fine Art Show will be rewarded with a prize of $1,000 and the Philliss and Lou Mann Prize for Excellence in the Arts award.
As a curator, Berkowitz said she's in charge of organizing the arrangement of all of the pieces for the two events, as well as advertising both and garnering submissions.
"My biggest worry was getting the word out," Berkowitz said. "I've been advertising all over Facebook; those posts have been great because loads of people have been messaging me from them."
For the past couple months, Berkowitz said she has been preparing with Perla Karney, the artistic director at the Dortort Center for Creativity in the Arts at UCLA Hillel. In addition to supervising Berkowitz during the preparation period, Karney said she will also help to arrange all of the pieces for the two events.
Karney said one of Hillel's program directors, Danielle Natelson, recommended Berkowitz for the curator position for the two events this year.
"When we met, I found Rachel to be very dynamic and she had wonderful ideas," Karney said.
Karney said they have received more submissions this year for the photo contest than any other year.
"(Berkowitz) designed the flyers and promoted the (contest) to the photography club and we promoted it on our website, and it seemed like it worked because I've just been overwhelmed by the response," Karney said.
Growing up in London, Berkowitz said she was constantly surrounded by art, as she was forced to visit art galleries by her parents.
"After a while I started to really appreciate it," Berkowitz said. "My cultural upbringing was a huge part of (my interest in art)."
Berkowitz said she made the move from England to UCLA in order to pursue an art program that would allow her to try other academic subjects as well.
"I don't really like the idea of just an art school," Berkowitz said. "I'm very open to studying everything and mingling with everyone else, and in England it's just always confined art schools, so there was no point in staying there."
While Berkowitz has never curated a gallery exhibition before, she said she is constantly working with art and photography. In addition to creating the People of UCLA Facebook page, Berkowitz said she also takes graduation photographs and photographs for campus clubs and societies.
"I like doing things that involve everyone – rather than just the art school – because everyone appreciates art; I think it's a (medium) that should involve more people," Berkowitz said.
For the Student Photo Contest gallery, Berkowitz said she wanted to keep things traditional and required the submitted photograph size to be 8-by-10 inches in order to accommodate those who wanted to submit old-fashioned negative photographs.
Berkowitz said, so far, there have been a lot of paintings and sculptures, a few small installations and some photographs submitted for the Fine Art Show. This year, Berkowitz said the art show is open to all students.
"Last year I know (the art show) was confined to just art majors, but this year I wanted to make it open to other people too," Berkowitz said.
Berkowitz said another aspect of the Fine Art Show that makes it different from other fine art shows put on by the art department is the fact that it is organized by an undergraduate student curator.
Fourth-year art student Austin Danson, who submitted a painting to this year's Fine Art Show, said it was interesting having a student curator since it meant a peer was determining what was selected.
"It's good practice for the real world, because it is going to be our peers passing judgment on our work in the future," Danson said. "I make art for communication, so to have venues to show the art at is the end game."
This year, Berkowitz has also worked on a live musical component for the Fine Art Show, with third-year political science student and acoustic performer Zain Malik, UCLA-based band the AM and third-year music student and violinist Camille Miller all set to perform at the event.
"These shows are really important because the ones that go on in the art department are really exclusive," Berkowitz said. "This is something more broad, open and inviting."