Competition held to decorate Wooden Center with UCLA community art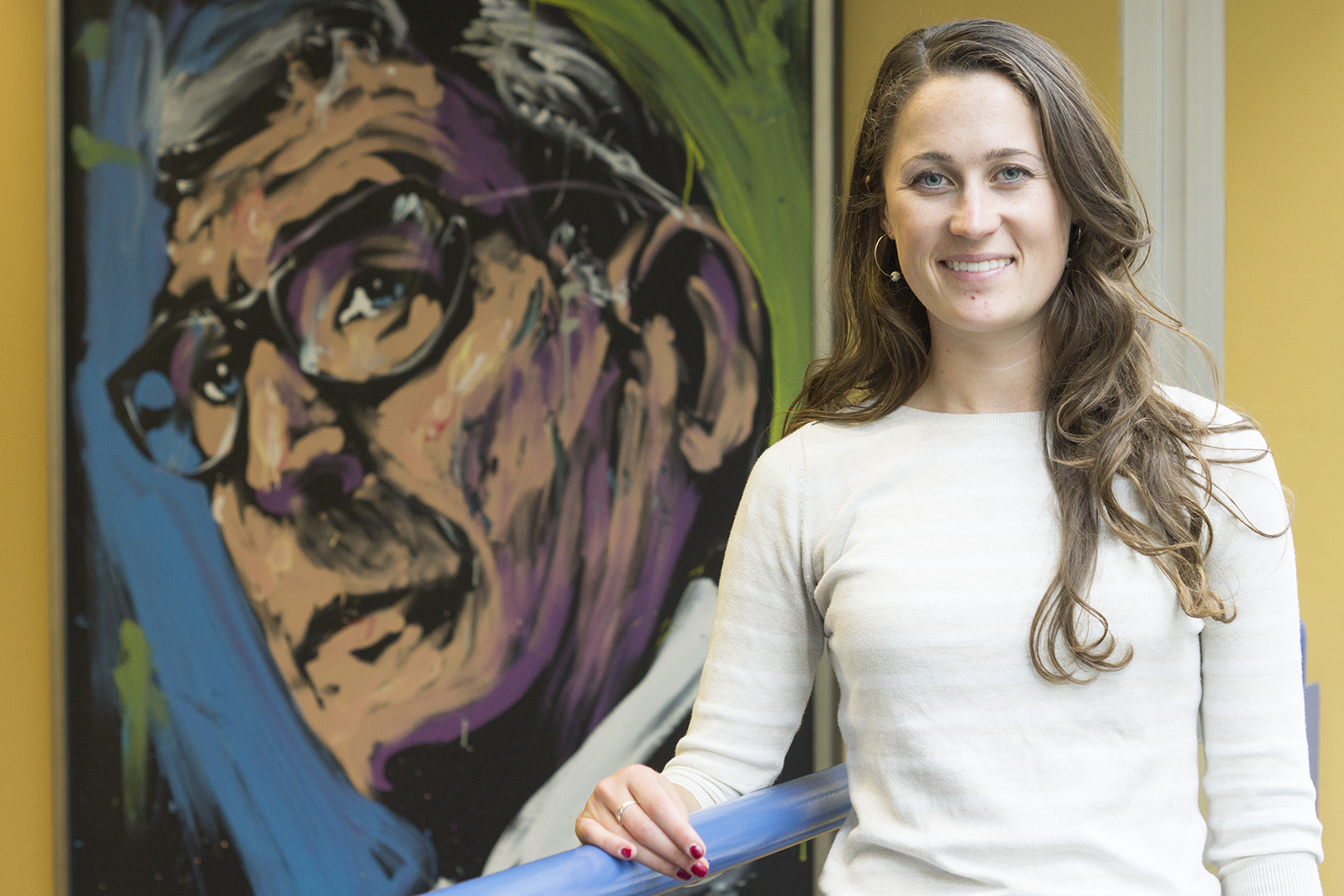 Fourth-year biology student Elizabeth Palmer created the John Wooden Center Art Commission competition with submissions open to the UCLA community due Friday. (Tamaryn Kong/Daily Bruin)
April 27, 2015 12:07 a.m.
After the art in the John Wooden Center was damaged by the campus-wide flood in July, Elizabeth Palmer spotted a way to engage the UCLA community.
The John Wooden Center Art Commission competition, created by Palmer, seeks to fill the wall space left empty after the flood damaged multiple works. Open to anyone in the UCLA community, whether students, alumni, faculty, staff or recreation members, Palmer said the submissions, due Friday via email, aim to reflect what it means to be a part of UCLA campus life.
"This is a way to bring the different perspectives of UCLA to one of the central hubs of campus," said Palmer, a fourth-year biology student and co-vice chair of the John Wooden Center Board of Governors.
A member of the Board of Governors since her first year, Palmer said she thought of implementing the competition as a way to update the look of the John Wooden Center. Palmer said she wants to reflect the various cultural aspects of campus life and recreation, from art and dance to the Marina Aquatic Center and the Sunset Canyon Recreation Center.
"What's great about that is that there is a lot of different interpretations and that's what we are hoping for, is having diverse perspectives," Palmer said.
Palmer said she sought out five judges from the Fowler Museum, the Hammer Museum, UCLA Residential Life's Arts and Engagement Programming, the Center for the Art of Performance at UCLA and the School of Arts and Architecture.
"I tried to find people who were embedded in the arts community of Los Angeles, particularly UCLA," Palmer said.
John Henson, a manager at the Center for the Art of Performance at UCLA and a judge, said he wants to encourage students, whether they are studying art or not, to submit their work.
"I don't like the idea of dividing the world into artists and non-artists," Henson said. "Everybody should find and have a creative outlet. I think that people discover talents they did not even know they had."
Palmer said all art will be judged via a set of criteria that includes originality, craftsmanship, elements of art, composition and themed content. While she recognizes that many contestants may be interested in submitting painting or photography, Palmer said that there are few limitations on what kind of media can be submitted.
Jenny Byrd, judge and assistant director of Programming and Arts Engagement with Residential Life, said she believes that placing art inside a gym will allow those contemplating a work of art while activating their muscles to exercise their whole person, mind and body.
"It will be a nice opportunity to have a passive dialogue about what the themes of recreation mean to us, how we are each experiencing inclusivity on campus and how we are all experiencing health and well-being on campus," Byrd said.
Byrd said she thinks expressive students have a way of capturing a sentiment that a lot of students may be feeling but may not know how to express themselves.
Judges will not only evaluate the winning submissions but can also provide professional feedback to any contestants if requested, Palmer said. The option to request feedback is available upon submission.
While artists can opt to have their artwork returned, Palmer, speaking as a current fourth-year, said the competition can be seen as an opportunity for contestants to leave something of their own behind at UCLA.
"Thousands of people will see it," Palmer said. "They will see your name and artwork hanging in an iconic building of UCLA."