Album Review: 'Cherry Bomb'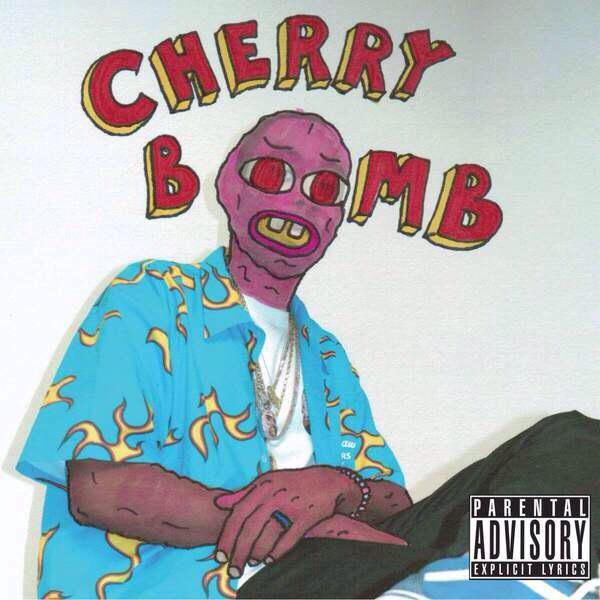 April 15, 2015 12:11 a.m.
"Cherry Bomb"
Tyler, The Creator
Odd Future LLC
3.5 out of 5 Paws
Tyler, The Creator doesn't like to follow the rules.
At least, he says as much in the bridge of "Deathcamp," the N.E.R.D.-inspired opener to his fourth full-length album, "Cherry Bomb."
Tyler raps, "I don't like to follow the rules/ and that's just who I am/ I hope you understand," echoing over a tinkling rhythm between bursts of reverberating guitar riffs and shouts.
If his listeners didn't already understand that Tyler's style is unlike that of most other rappers, they certainly will after listening to "Cherry Bomb." As Tyler tweeted the day of the album's rush release, the album is best when listened to in one complete, 54-minute burst.
The album transitions flawlessly between tracks, almost as if "Cherry Bomb" is meant to be a single, prolonged song. However, each song is characterized by its own distinct sound and theme. The album is tied together by recurring musical elements like high-pitched, melodic synths, the occasional far-away yell and a gravelly, sometimes unintelligible sound quality that points toward Tyler's preference for rough drafts.
While some of the lyrics may not be understandable, Tyler's creative message still comes through clearly. Despite his talk of wanting a Grammy or a No. 1 album, his unconventional style shows that he made this album for himself and his vision, and no one else's.
Tyler's vision commands artistic respect, blending a high-low aesthetic from bangers like the eponymous, bass-dropping "Cherry Bomb" to the jazz-heavy, cinematic "Find Your Wings," a three-minute long melody that barely features Tyler's rapping in favor of Kali Uchis' smooth vocals.
"We can go down to the rainbows/ Don't let your high keep your brain low," Uchis sings over an instrumental jazz background, emphasizing Tyler's self-image as an artist whose songs transcend beyond genre and beyond rap. While he doesn't always live up to his own ideals, his attempts speak miles toward his potential as an innovator.
Tyler's decision to leave the rough quality of the tracks works both for and against him. The texture of the music adds to its appeal while simultaneously making some songs, like "Cherry Bomb," grating on the ears and burying Tyler's lyrics.
On his previous album "Wolf," Tyler dealt with themes across the board from relationships to school shootings. Although some recurring themes such as suicide and his struggles dealing with fame still appear on "Cherry Bomb," overt deeper meanings are left for second or third listens, after the musical whirlwind at the forefront of the album has been digested.
Lyrics often seem like an afterthought or a percussive device on the album, with more focus placed on the production and tone of the songs. Still, he seems to know when to clean up tracks and highlight their rapping, especially in the Kanye West and Lil Wayne collaboration "Smuckers."
Tyler's music continues to mature, following the same upward path he began in "Wolf." Barring a few moments, many of the shock tactics that Tyler was criticized for on his 2011 album "Goblin" have thankfully been left behind in favor of a sound that is entirely Tyler's own, not Eminem's or anyone else's.
"The Brown Stains," featuring ScHoolboy Q and an infectious rhythm, the self-aware "Fucking Young/Perfect" and the Yeezy-Weezy collaboration present themselves as standouts at first listen. Although the album is strong throughout, it seems somewhat bottom-heavy, with these memorable tracks coming within the last five songs.
"Cherry Bomb" is the first album Tyler has made without features from any of his Odd Future co-members. Although Frank Ocean's mellow melodies are an asset to any album, the album doesn't suffer because of its lack of OFWGKTA verses. Tyler has his own identity outside of the famous rap collective he leads, with his distinct brand of nihilism and self-awareness.
Experimental and very much in a league of its own, "Cherry Bomb" leaves room for improvement in a way that almost contributes to its appeal, leaving listeners excited to see where Tyler will go. It isn't exactly commercial, and Tyler's rap skills aren't always at the level of his peers. As Tyler has said before, he isn't a rapper – he's an artist. And while that level of bragging leaves him with a high bar to live up to, Tyler has delivered an album that is made exceptional by its singular vision and execution.
In the album's third track "Pilot," Tyler raps, "I'm so far ahead … I'm in the future." With an album like this, it seems like he might just be correct.
– Kristy Pirone