UCLA Guitarists to perform cultural showcase of Spanish music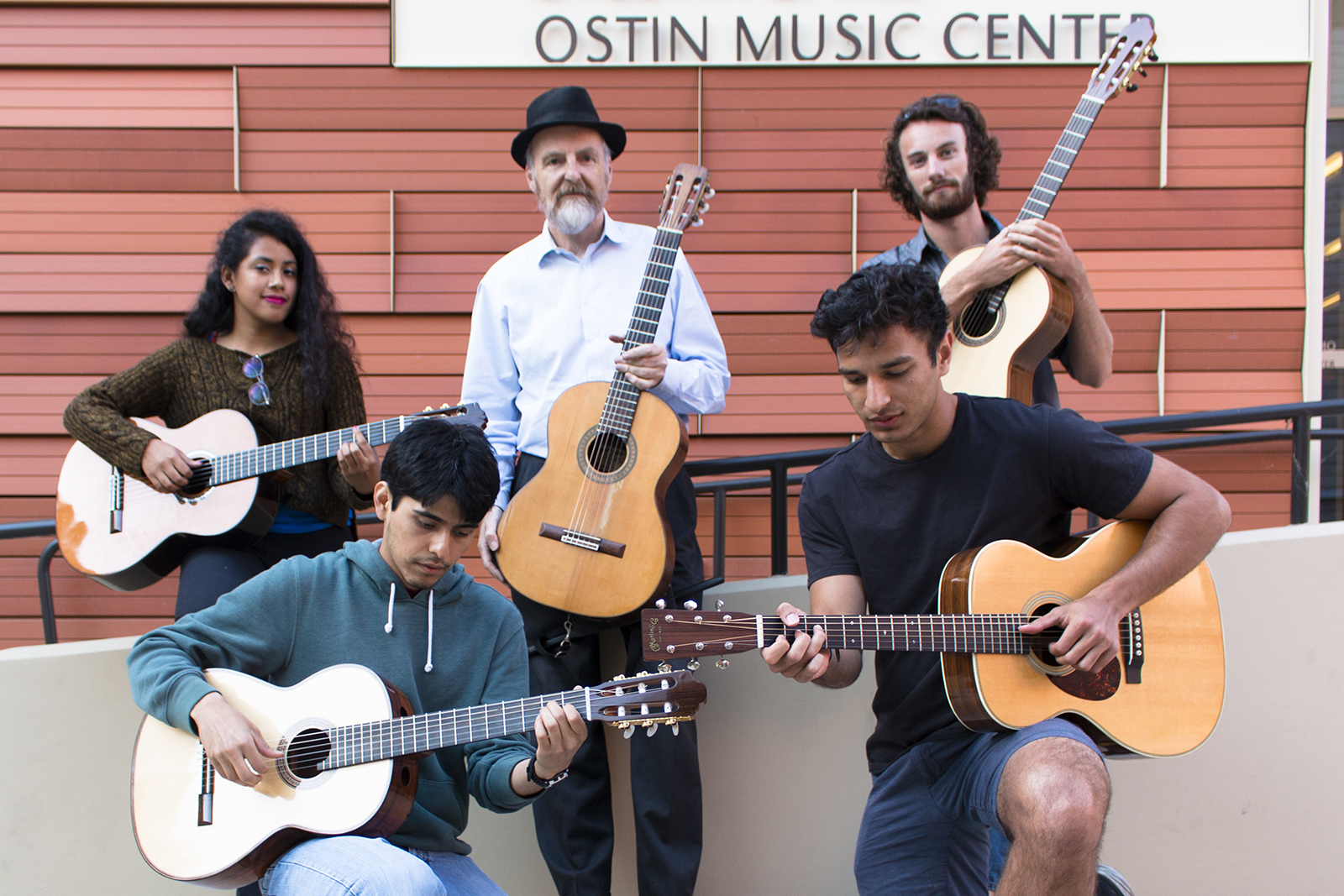 Peter Yates (center), an adjunct assistant professor of guitar, directed seven guitarists for a Spanish music performance at the Fowler Museum on Thursday, playing traditional and contemporary Spanish guitar pieces. The program accompanies the exhibit "Singular Spaces: From the Eccentric to the Extraordinary in Spanish Art Environments."
(Jessica Zhou/Daily Bruin)
In a circle of five guitarists, Hanna Yocute picks up her guitar and strums a few notes to the harmony of "Soleares," a flamenco piece, with the rest of the group.
After a few upbeat riffs in a harmonic minor key, the rest of the guitarists fall silent as Yocute launches into a solo, her fingers fluttering over the strings to a melody reminiscent of the twirling skirts of traditional Spanish flamenca dancers.
On Thursday, Yocute, a first-year music performance student, and six other guitarists will perform a program of Spanish music directed by Peter Yates, an adjunct assistant professor of guitar, as part of the Fowler Museum's Fowler Out Loud.
Featuring works by contemporary composers such as Manuel de Falla and Romantic composers such as Francisco Tarrega, the program precedes an exhibition titled "Singular Spaces: From the Eccentric to the Extraordinary in Spanish Art Environments," which will present pieces from self-taught artists, like Francisco González Gragera, hailing from Spain.
Yates said the performance material, such as a bolero performed by Yocute, coincides with the nonconformist theme of the exhibition.
The bolero, Yocute said, was originally composed for a full orchestra by French composer Joseph-Maurice Ravel. She said she learned an arrangement for solo guitar that integrated the different sounds of a full orchestra within a single instrument.
Yocute said she learned the bolero as a sophomore in high school and recently revisited the piece in an effort to learn it for the Fowler Out Loud performance.
After many years of not playing the piece, Yocute said she was surprised at how her attitude toward the bolero changed.
"When I was younger, it was all about just getting the notes down and that's it," Yocute said. "Now, I developed this sentiment and passion for the music, something that you can actually experiment with and make interesting experiences for the audience."
Composed of experienced players like Yocute, and more inexperienced players, the seven-member group formed when Yates said he asked students in his guitar class if they would like to play for the Fowler Out Loud program.
Juan Rivera, a third-year music education and music performance student, said matching musical styles with six other guitarists seemed like a challenge at first, but turned into an exciting prospect as the guitarists became comfortable.
Yates said coordinating seven guitars is easier than coordinating different instruments in a similarly-sized chamber group, as all the guitars play with the same sound and can interchange their parts according to skill and need.
"Usually, when you have a chamber group like this, people will be playing different instruments, and so you can't willy-nilly say, 'Hey, you take this and you take that,'" Yates said. "Since the guitar has a big range of three or more octaves, arrangements can be more fluid."
In addition to pieces composed by Spanish artists, Yates said the guitarists will perform other pieces, such as "New York Skyline" by Brazilian composer Heitor Villa-Lobos, that are influenced by Spanish music.
Yates said performing pieces from all over the world that share a tie to Spanish music adds a multicultural dimension to the program that would be lost otherwise. In addition, he said playing pieces from different eras reveals the history of Spain through its music and culture.
Rivera said one of the pieces, a suite titled "Castles of Spain" by Federico Moreno Torroba, unfolds like a musical road trip through Spain as the movements of the suite progress.
"(The suite) depicts the castles in various regions of Spain, and all those movements paint pictures of the composer's feelings when he saw those regions," Rivera said. "It's like an Impressionist painting."
Yocute said because each piece is an experience – whether it is the musical road trip in "Castles of Spain" or Yocute's bolero – for the performers, she hopes audience members internalize the players' passion and hard work in looking at the meaning behind the pieces.
"(Playing is) a unique experience for us, so we'd like to make (our listeners) feel what we feel," Yocute said. "We're trying to add that sentiment and passion to help the audience understand the meaning behind the music and why we play."