Alum's short film 'Exhale' to compete at Cannes Film Festival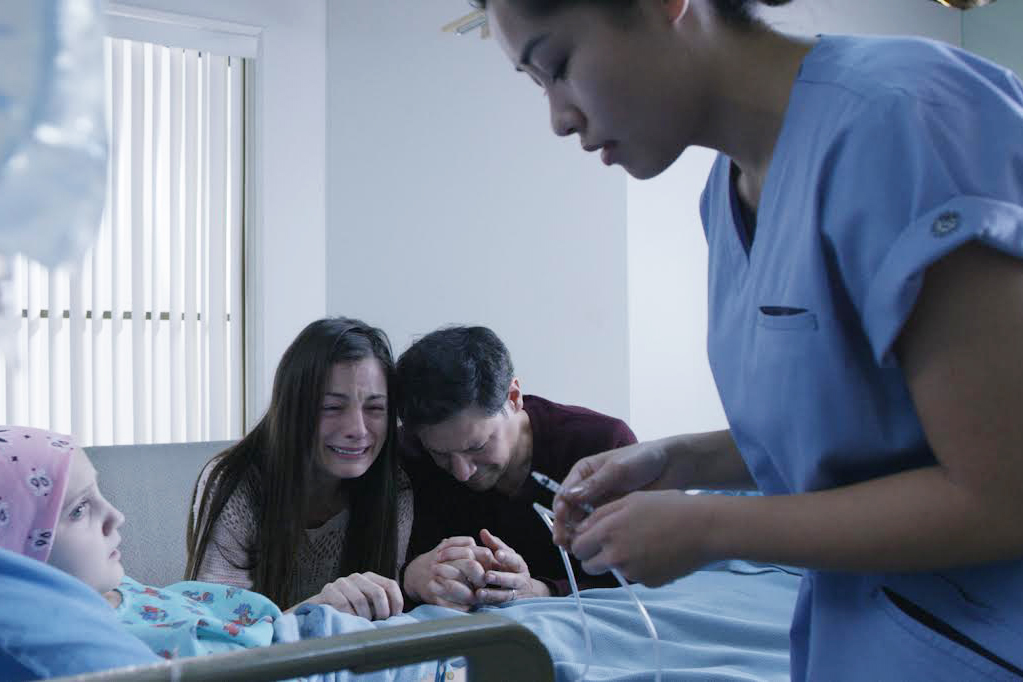 UCLA alumna Fabienne Maurer co-founded CUBED Productions, whose film "Exhale" was accepted to the Cannes Film Festival Short Film Competition.
(CUBED Productions)
Director Rock Chang looked over his shoulder as he filmed the last scene of "Exhale" and knew no other takes would be needed. Many of his crew members had tears in their eyes.
"This is kind of sadistic, I guess," Chang said, "But to be able to see the audience cry is an accomplishment for me, as director."
"Exhale" is the fourth film by Chang's production company, CUBED Productions, to be accepted to compete in the Cannes Film Festival Short Film Competition. The official selections for this year's Short Film Competition will be released on April 16.
The company developed the drama film based on a story UCLA alumna and co-founder Fabienne Maurer had heard from her friend, a nurse. One of the nurse's young patients, a 6-year-old girl with cancer, was taken off of life support when her parents could no longer afford treatment.
"The parents had to sell their house and were worried about their future and their second daughter's future," Maurer said. "Little by little the hospital even suggested … they pull the life-support machines."
The film centers around Dawn, a terminally ill young girl, who stays alive with help from life support and treatment. Played by Sarah Bazler, Dawn has been confined to a hospital room for most of her life, taking joy from interactions with her younger sister, Sophie. When her parents can no longer afford medical expenses, they consider the alternative.
When the mother, played by Maurer, and the father, played by CUBED Productions producer Bill Mendieta, tell Dawn about their decision, she begs them to let her live.
"I'm getting goosebumps thinking about it," Maurer said. "What does a 6-year-old know about life or death?"
The title, "Exhale," refers to a human's last breath, Chang said.
"(If) you pull off life support, you're going to see this little child gasping for breath," Chang said.
Several audience members have refused to believe that stories like Dawn's occur in reality, Maurer said. Mendieta was appalled when Chang and Maurer first introduced the story idea to him. He said he thought the story would be difficult to create because it was extremely sad. He also said he disagreed with the parents' idea of ending life support.
"The daughter wasn't unconscious in this case," Mendieta said. "I think (the parents' decision) was a mistake … and (they) didn't fight enough."
Chang said he told Mendieta that because the film's premise was able to create such a response in him, it was likely to inspire conversation.
He also said that, like Mendieta, many people have told him they hoped for a different ending while watching the film.
"I always tell them a miracle won't happen," Chang said. "It's not that simple."
While taking a conscious patient off of life support is illegal in Europe, it is legal in some U.S. states. In "Exhale," Chang said, the doctor character is symbolic of the way he views the American medical system.
"He's very aloof and business-like … He doesn't really have any emotional element in him," Chang said.
Maurer said, the creators of "Exhale" want to remind people to embrace life instead of thinking about death. She said Dawn's character is full of life and curiosity, accepting her condition without blame.
Mendieta said the bond between Dawn and Sophie creates a more positive side to the film. Chang said Sophie is an important character because she connects the film to its audience.
"We felt the best way to draw empathy from the audience was to introduce the close bond (between the sisters)," Chang said.
The cinematography in "Exhale" reflects its changing mood, Chang said. It begins with a warm tone, as the two sisters interact by Dawn's hospital bed. When her parents consider the decision to stop paying for her life support, it turns to a colder tone that emphasizes blue colors.
Robben Fenderson, the film's composer, said he incorporated the bittersweet mood of the film's premise into his score. He chose the piano as the score's core instrument, alternating between major chords, which are more uplifting, and minor chords, which are more somber.
For some of the scenes in "Exhale," however, Fenderson said audiences' minds are most likely busy enough without the added emotion that comes with music.
"My job is to serve the film, whether music is involved or not," Fenderson said. "Sometimes, emotions are already conveyed through what's happening on screen."
The film ends on a warm visual tone. Its final scene, which plays after the credits, focuses on Sophie, who Mendieta said represents the part of life that continues despite tragedy.
Mendieta said tragedy stories should have purpose beyond sadness, to add depth. He said combining hope with tragedy adds layers to the story, so that viewers will be able to learn different things each time they watch the film.
"Five minutes afterwards you can see people wiping tears," Maurer said. "It's only the next day when they can actually voice their feelings about it."
Mendieta also said he hopes the anger the film inspires will lead to more awareness and action in its audience.
"If people start talking about change in the system, so this kind of thing can't happen anymore, then we did our job." Mendieta said.