Bo Knows: Prospects bright for men's basketball after season of growth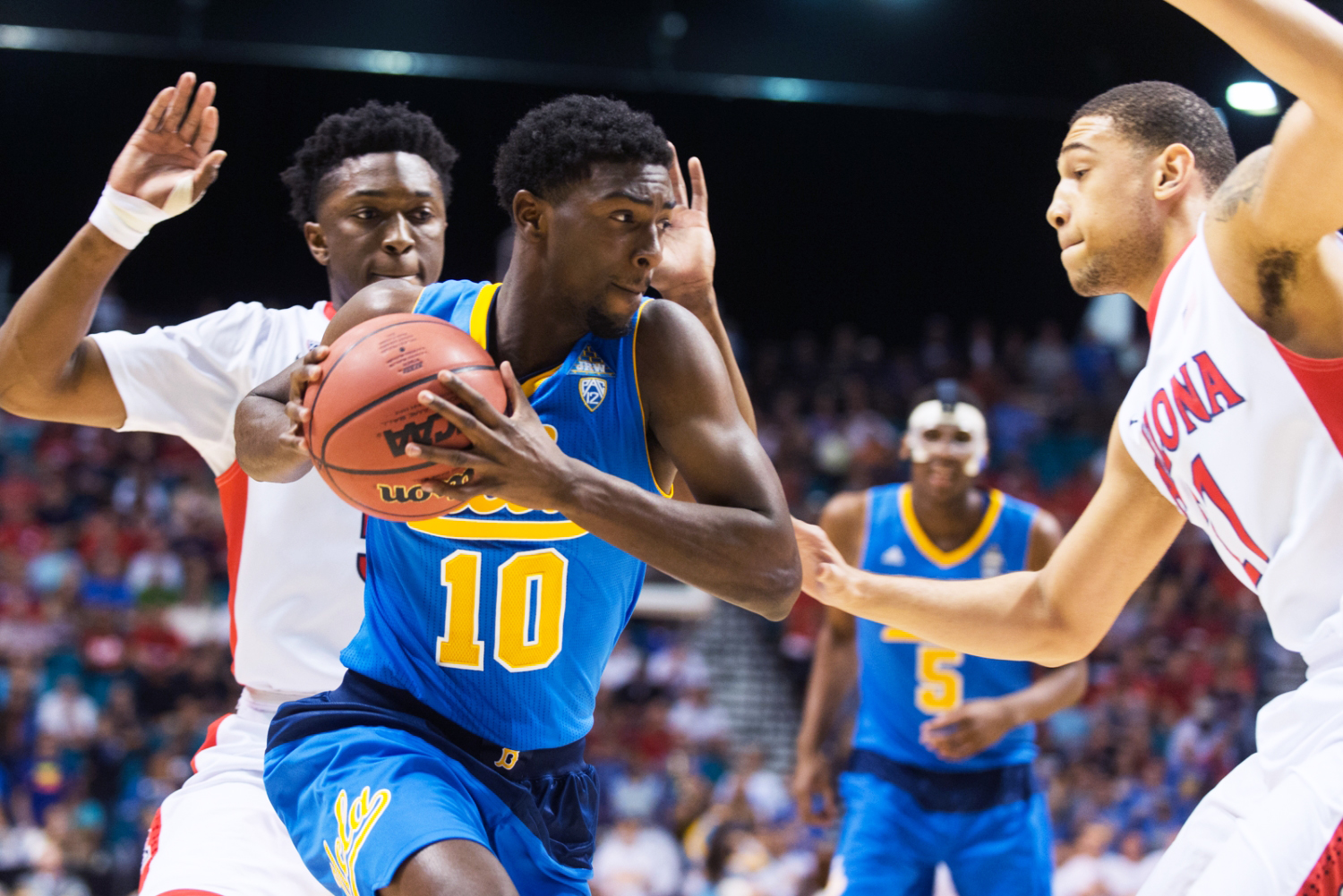 Sophomore guard Isaac Hamilton hadn't played a collegiate game before this season, but showed signs of growth as the year went on. After going through a rough 2-for-24 shooting drought in January, Hamilton exploded for a career-high 36 points against USC in the Pac-12 tournament. (Brandon Choe/Daily Bruin senior staff)
Losing in the NCAA Tournament always comes with a strange set of emotions.
There's the sorrow, of course, that pervades everything. The emptiness of a season's or career's end and the regret of missed opportunities.
But there is also some pride buried somewhere below the sadness. Positivity about the accomplishments of the season and the achievement of having made it this far.
And for UCLA this season, there is plenty of hope.
Through all the bumps, the struggles and the doubt, UCLA emerged from its 2014-2015 campaign with a bright future to look forward to next season. The challenges the Bruins faced this season have only prepared them better for next year.
Depth and inexperience were two of the main issues for UCLA this season. The Bruins had four new starters, and four players in their seven-man rotation had never played a college game before this year.
The evidence of that inexperience was sprinkled throughout many of UCLA's losses this year, but, by playing such extensive minutes, UCLA's young players got much more experience than many other freshmen around the country who are returning to school next year.
Over the course of the season, the growth of these players became evident as well. Sophomore guard Isaac Hamilton, playing his first college season after sitting out as a freshman, struggled mightily at times early in the season, shooting just 2-for-24 over a three-game stretch at one point. By season's end, however, he hit his stride, as evidenced by his 36-point explosion in the Pac-12 tournament.
Freshman center Thomas Welsh followed a similar path as Hamilton. Welsh seemed hesitant for the first half of the season, settling for jump shots and not looking confident when setting screens. As the season progressed he seemed to grow in confidence, battling in the paint more often and looking more assertive with his game.
Perhaps the biggest benefactor of UCLA's lack of depth was freshman forward Gyorgy Goloman. Goloman, who was originally supposed to redshirt this season, was forced into a large role in the rotation after sophomore forward Wanaah Bail was ruled academically ineligible. A wiry three-star high school recruit, Goloman was a pleasant surprise, flashing some potential with his 3-point shooting and passing abilities. The forward from Hungary proved he will be a useful player for years to come at UCLA.
Beyond just the playing time, the Bruins found themselves in a wide variety of situations this year that will help them when faced with similar scenarios in the future. They played several games against some of the nation's top teams, including: Arizona, Kentucky, North Carolina, Utah and Gonzaga. They were faced with close, down-to-the-wire games, beating Stanford by two points and losing to Cal and Arizona State by two points apiece.
And, most importantly, the Bruins got the opportunity to play in the NCAA Tournament, giving the young players three games of experience on college basketball's most important stage.
In terms of personnel, the loss of senior guard Norman Powell will be huge. Powell was UCLA's most consistent player all season and its unquestioned leader. His ability to finish in transition, play lockdown perimeter defense and create off the dribble in the halfcourt are skills no one else on the roster had to the same degree, and finding someone who can replicate them next season will be critical.
In addition to Powell, the Bruins may also lose another key piece in freshman forward Kevon Looney, who is projected to be a lottery pick in the 2015 NBA draft. Looney did leave the door open for a return to UCLA next season and said after Friday's loss to Gonzaga that he had not yet made a decision about his future, but, given his draft stock, having Looney on UCLA's roster next season would be a big surprise.
Yet even with the likely loss of arguably UCLA's two best players this season, the players UCLA will add could replace much of what the Bruins lose.
Freshman guard/forward Jonah Bolden, who was ruled ineligible for this season, will play next season and could replicate much of what Looney brought the Bruins. At 6-foot-10, Bolden brings the same combination of length, rebounding and perimeter skills that made Looney so valuable.
Bail will also return to the team, adding more depth and athleticism to the frontcourt.
Then there's the incoming freshman. Guards Aaron Holiday and Prince Ali are both described by scouting services as athletic and active defenders, helping fill Powell's void in that respect. Forward Alex Olesinski is described as a capable 3-point shooter, similar to the role that David and Travis Wear played during the 2013-2014 season.
Combine all that together, and there's a lot to look forward to for UCLA next season. The issues it faced this year – the lack of depth and the inexperience – will be fixed, and, with another year of development for the returning players, the Bruins may not find themselves filled with sorrow after next season's Sweet 16.