Bo Knows: Senior guard Norman Powell's contribution to team invaluable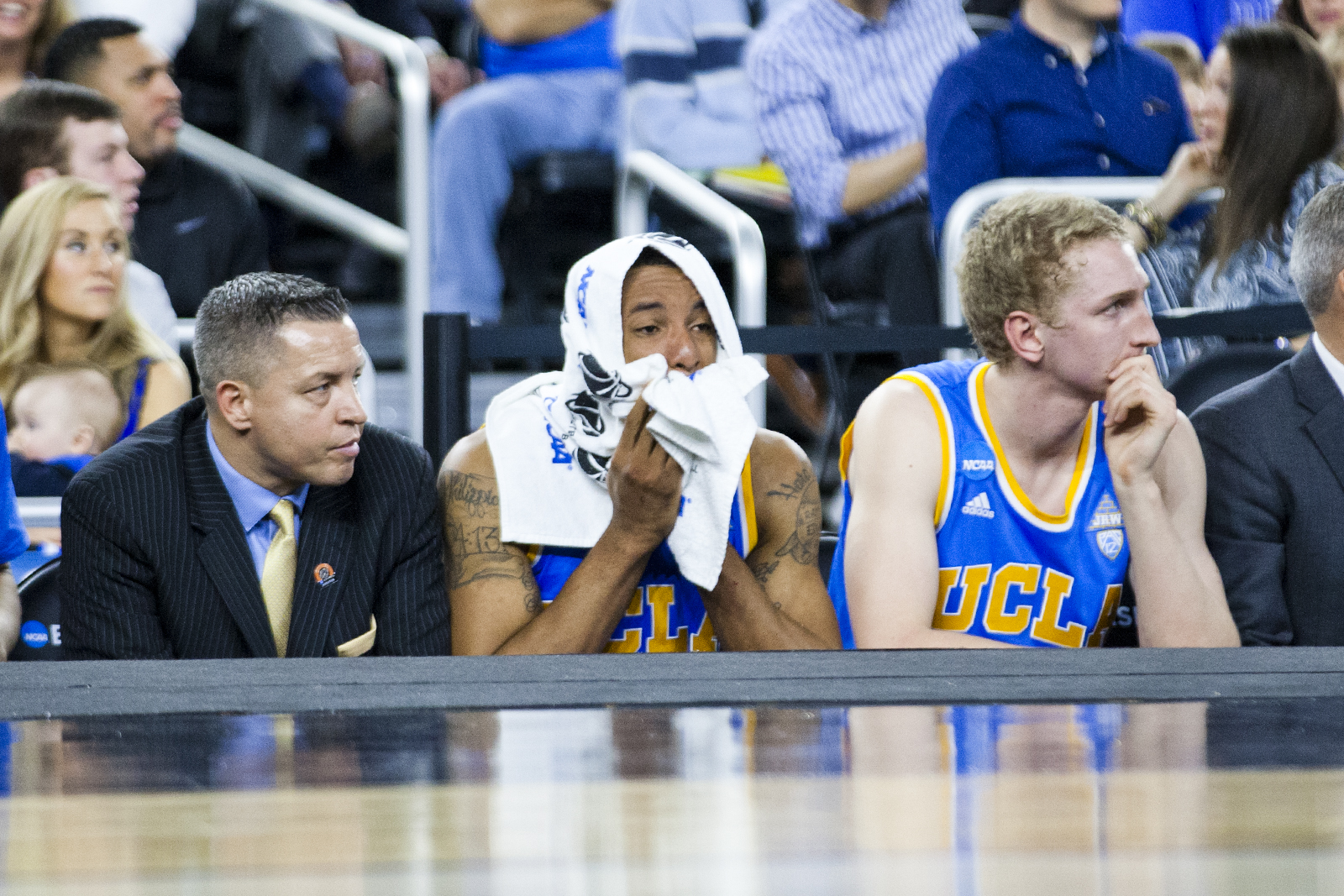 Senior guard Norman Powell watches the final seconds of the Sweet 16 game between UCLA and Gonzaga Friday night. The Bruins fell 74-62 to the Bulldogs despite a valiant effort from Powell, who tied for a team high with 16 points in his final collegiate game. (Katie Meyers/Daily Bruin senior staff
March 27, 2015 11:15 p.m.
HOUSTON — As the final seconds ticked off the clock at NRG Stadium Friday night, Norman Powell's face disappeared behind a towel.
Sitting on the bench for one last time as a Bruin, the senior guard shrouded his face behind the cloth as he tried to regain his composure.
By the time he left UCLA's locker room – 10 minutes after his team's 74-62 Sweet 16 loss to Gonzaga – it was clear he was fighting a losing battle. Tears welled in Powell's eyes, threatening to flood over the banks of his eyelids, his cheeks betraying the tears that had already run down them.
For the second straight year, UCLA made it to the Sweet 16 and for the second straight year, it lost.
The Bruins had a variety of heroes over the final weeks of their season as they battled into and through the tournament.
Sophomore guard Isaac Hamilton carried the Bruins to the Pac-12 tournament semifinals with 36 points. Sophomore guard Bryce Alford ensured UCLA clinched a second round win in NCAAs with his nine 3-pointers against Southern Methodist. Junior forward/center Tony Parker lifted the UCLA past the University of Alabama-Birmingham in the third round with 28 points and 12 rebounds.
But make no mistake. UCLA made it to the Sweet 16 because of Powell.
Not only did he lead the Bruins in scoring, he, quite simply, led the Bruins.
As the sole senior in the playing rotation, the burden of leadership fell squarely on Powell's back this season, and UCLA badly needed him to be up to the task. Every team has its hardships, but UCLA seemed faced with an abundance of adversity.
The Bruins lost all of last year's starters – save for Powell – a would-be transfer in Jon Octeus, as well as two forwards – sophomore Wanaah Bail and freshman Jonah Bolden – to ineligibility. In addition to that, there was a five-game losing streak which included a brutal blowout against Kentucky. Throughout the year, the Bruins constantly faced hurdles that Powell had to help guide them through.
And he did just that.
Following an 18-point loss at Oregon in January – putting UCLA at 3-4 in Pac-12 play – Powell was seen and heard yelling at his teammates in the locker room, upset with their lack of effort and demanding more from them.
They clearly listened. From that point on, UCLA went 12-5, its only losses coming to highly-ranked Arizona twice, to No. 2-seed Gonzaga once and to Cal and Arizona State by a combined four points.
With Powell leading the way, on the scoreboard and on the bench, UCLA flourished, and the team's late-season push was the reason it earned its controversial birth to the NCAA tournament.
"Great leader. He's been here all four years, he knows what it takes, he's been through the ups and downs – this season and prior," Hamilton said. "He's been positive, he's been real consistent with his play. He helped us win a lotta lotta ball games."
It was only natural, then, that Powell was the one keeping UCLA stride-for-stride with Gonzaga in the first half Friday. Powell exploded out of the gate, scoring the Bruins' first four points, and was the only Bruin able to score consistently all night as he attacked the Bulldogs off the dribble.
Powell finished the game tied for the team high in points with 16, but it just wasn't enough this time.
After giving everything he had, UCLA's season – and Powell's college career – was over. Given everything Powell has been through – this season and throughout his career – an emotional ending was inevitable.
After missing out on the tournament as a freshman, then getting bounced in the second round by Minnesota as a sophomore amid the drama of former coach Ben Howland's final year at UCLA, Powell elected to stay at UCLA when Steve Alford took over as coach, and was given a fresh start.
In Alford's up-tempo, free-flowing offensive system, Powell shined with his newfound freedom, increasing his scoring average from 6.1 points to 11.4 points per game in 2013-2014. After five of his teammates left for the draft, Powell chose to stay in Westwood and finally step into a starring role.
"I've always been the afterthought, I feel like, throughout my career – the second-tier guy," Powell said after Friday's loss. "To be able to lead this team, I thought I did a great job with that and I've proven myself to be a great leader and a great option to go to the whole season."
This season, Powell finally got the respect and recognition he deserved, his 16.4 points per game leading UCLA. And most importantly, he was able to do it on the game's biggest stage in March.
UCLA may not have won a championship this season, but given the hardships and doubt it weathered this season, reaching the Sweet 16 is an achievement worth celebrating.
And that's credit to Powell.
He took a UCLA team everyone had written off – one that lost nearly all of its key contributors from last season, one that was reeling following a humiliating loss on national television to the nation's top team, one that nobody thought deserved to even make the tournament – and carried it right back to the Sweet 16, where it was a year before.
Tears were in Powell's eyes as he ended his college career, but he left with his head held high. As it should be.