Bo Knows: UCLA's comeback win over SMU nothing short of miraculous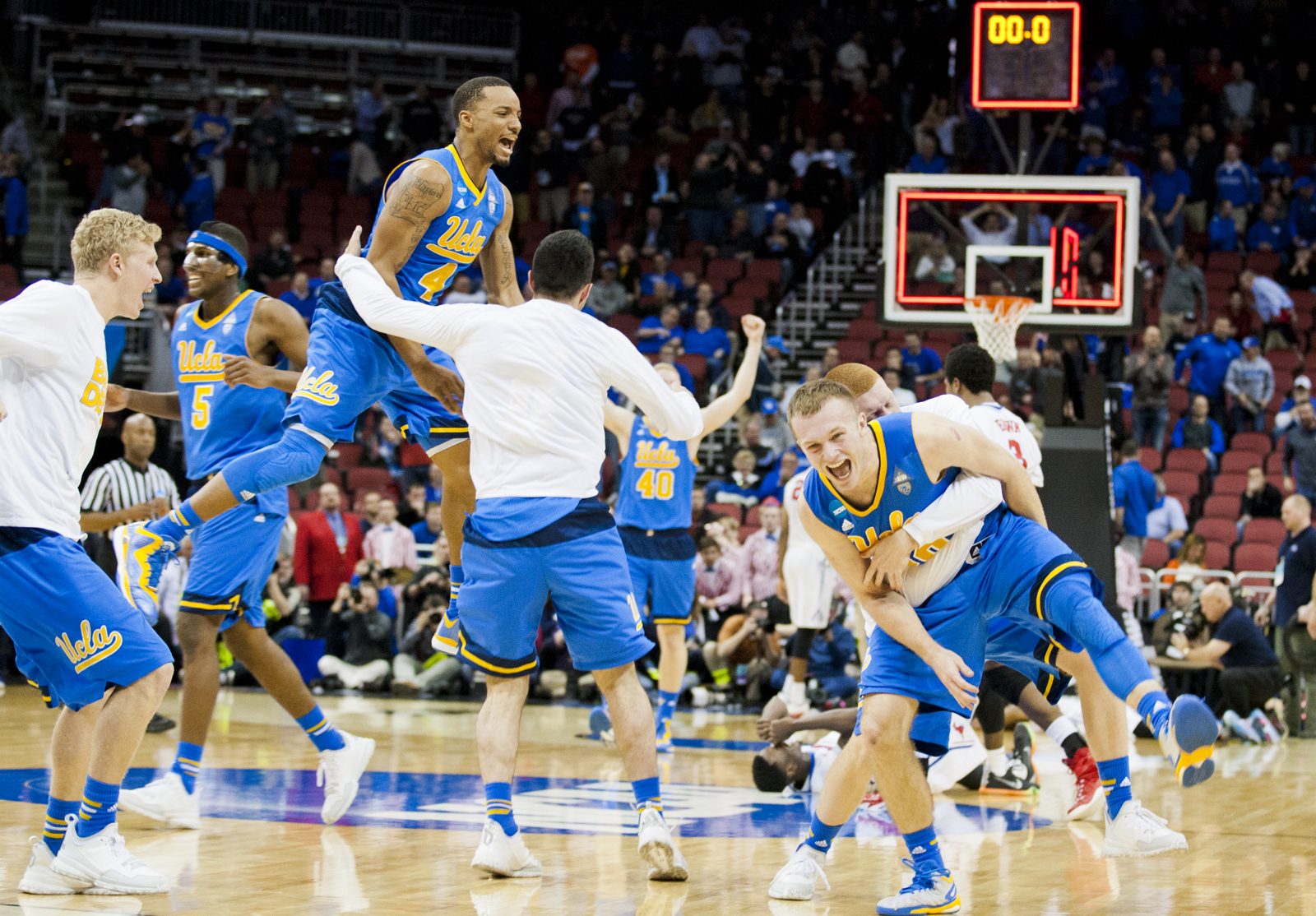 UCLA mounted an 8-0 scoring run in the final 1:06 to defeat Southern Methodist University in the second round of the NCAA Tournament Thursday. (Katie Meyers/Daily Bruin senior staff)
The basketball gods have a tender place in their hearts for UCLA.
It's the only logical explanation.
Because nothing about UCLA's illogical 60-59 comeback win over Southern Methodist University in the second round of the NCAA Tournament made much sense.
After UCLA's shocking inclusion in the NCAA Tournament field, the Bruins' comeback from being down seven in the final 70 seconds, SMU throwing the ball away to give the Bruins a chance to win in the final 20 seconds and, of course, the miraculous game-winning goaltended 3-pointer by sophomore guard Bryce Alford, obviously some supernatural powers have to be working in UCLA's favor.
How else could the Bruins have won on an air-balled 3-pointer?
"That's God right there," said sophomore guard Isaac Hamilton.
By all accounts, UCLA had no right to beat SMU. Just like many of UCLA's big games this year – against Oklahoma and twice against Arizona – the Bruins followed 30 minutes of strong play with a late-game collapse.
UCLA was held scoreless for 8:40 late in the second half, an even longer drought than it experienced against Kentucky earlier in the season. As SMU went on a 19-0 run, UCLA watched its 10-point lead fade to a nine-point deficit, and watched its chances at victory fade away.
That's when fate intervened. Alford – perhaps hotter Thursday than he's ever been – drained 3-pointer after 3-pointer, finishing nine of 11 from range as the Bruins crept back into the game. With 29 seconds left, UCLA trailed by just two, avoiding the same fate it had against Oklahoma and Arizona.
This time, there was no complete collapse, just a prolonged stumble.
"It was kind of déjà vu. It's been the same thing, and that's something that we've been trying and trying to learn on, and tonight was the first game that we really fought back after the team made that run," Alford said. "We could have easily folded, but with about four minutes left we came together as a team and we said, 'Hey, we're not out of this.'"
Then, a miracle.
Needing just to safely inbound the ball, wait to get fouled and then make free throws to secure the win, SMU simply gave the ball back to UCLA on a thrown-away pass. UCLA had the ball with less than 30 seconds to go and a chance to tie or take the lead.
What happened next was the second miracle.
Alford fired off a contested, off-balance 3-pointer that clearly was destined to miss wide right. Before it had the chance to do so, though, the illogical happened.
The hand of SMU center Yanick Moreira snatched the ball out of the air.
Goaltending. UCLA wins 60-59.
By all accounts, the Bruins' locker room should have been a morose scene, players lamenting yet another blown opportunity in a big game. Instead, it was filled with giddy incredulity.
How else to react to the impossible but with disbelief?
"To win it the way we won it, that's crazy," Alford said. "It's the craziest thing that's ever happened to me in the game of basketball."
After all, UCLA's game-winner was of the unheard-of sort.
A quick poll of the locker room showed none of the Bruins had ever seen a goaltended 3-pointer before, with the exception of junior forward/center Tony Parker, who said he actually was on the wrong side of such an incident last season.
"Luck was on our side today," said freshman forward Kevon Looney.
For UCLA, it's just some typical March magic.