Movie Review: 'Cinderella'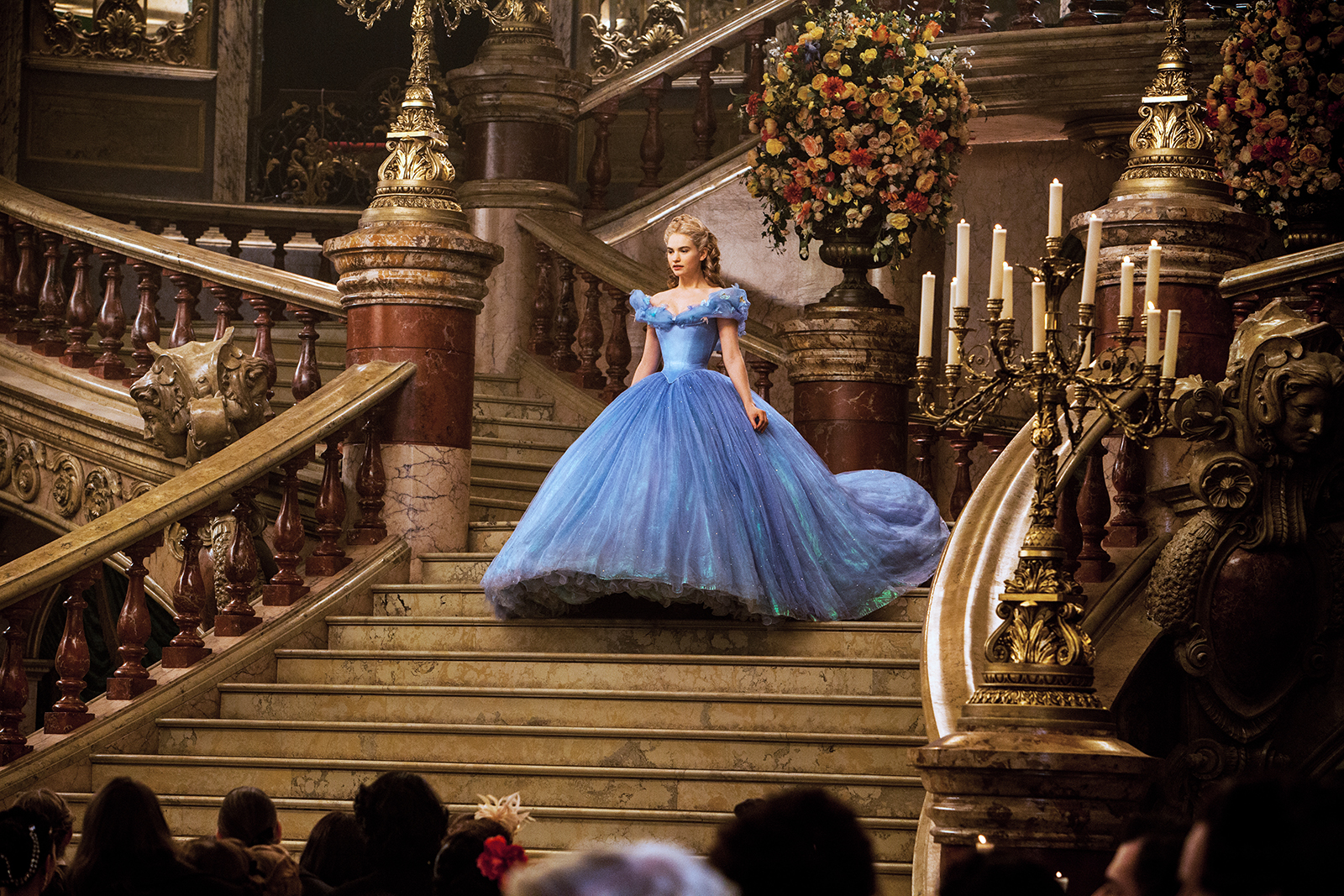 (Courtesy of Walt Disney Pictures)
"Cinderella"
Directed by Kenneth Branagh
Walt Disney Pictures
3.5 paws
Although Disney's live-action showcases have never been quite as cherished as its animated features, an exception may have been made with the revitalization of the story about a girl who lost her shoe.
Flourishing with color and dramatic exposition, "Cinderella" represents just one of a plethora of remakes since Disney's animated classic from 1950. But rather than adding twists to the story, it is a version that seeks to pay tribute to the definitive Disney storytelling techniques that are over half a century old. "Cinderella" in 2015 is a reminiscent work that utilizes more contemporary stylistic approaches in costume design and effects in order to create accessibility for its modern audience.
The film begins during young Ella's (Lily James) seemingly perfect childhood in the country. Even after her mother (Hayley Atwell) grows ill, Ella remains optimistic, by adhering closely to her mother's advice to "have courage and be kind" – the driving theme throughout the rest of the film.
After many years, Ella's father (Ben Chaplin) remarries to recent widow, Lady Tremaine (Cate Blanchett), introducing a jealous stepmother, two hilariously flamboyant stepsisters (Sophie McShera and Holliday Grainger) and the ever-grumpy Lucifer into Ella's life. But after Ella's father's death, the family is faced with financial ruin, and Lady Tremaine becomes the oppressive entity the legend prescribes, recasting Ella as Cinderella, a servant girl who sleeps by the hearth.
In a chance encounter, Cinderella meets Prince Charming (Richard Madden). Having become infatuated with the mysterious country girl, Charming holds a ball inviting all of the maidens in the kingdom to attend, thus setting up the circumstances for Ella to haphazardly lose her shoe and for the prince to pursue his hunt.
While the film does an overall excellent job in compiling a cast of lesser mainstream actors, Blanchett, McShera and Grainger as the step-family serve as the cast's major gems. Blanchett in particular portrays a stunning villain, emanating a highly intelligent aura of austerity and malice with every movement. Her daughters are equally as wicked, but also horrendously stupid, providing much of the comic relief throughout the film.
Madden and James, known for their roles in "Game of Thrones" and "Downton Abbey" respectively, have slipped into the stereotypical roles of prince and princess almost seamlessly; however, the chemistry between the two is somewhat lacking, in that their interactions come off as highly cliche and awkward, making what would be a heartfelt moment almost laughable.
As a whole, the film is laced with cliched dialogue throughout, highlighting its inability to provide anything relatively new in terms of its storyline. For a comprehensive guide to the plot, in fact, one need look no further than the trailer. "Cinderella," in essence, follows nearly the exact framework of its animated counterpart down to the little anthropomorphized mice; however, its contemporary format does make room for the film to address many plot holes that exist in the 1950 version.
Lady Tremaine's character, for example, takes on a highly manipulative and political role to assure financial security for herself and her daughters, creating a more substantial motive for stopping Ella from marrying the prince. Likewise, the film addresses why a prince would even be allowed to marry a commoner in the first place.
While this version of "Cinderella" no longer has a dominating musical component, and the talking animals are all but gone, it still utilizes many familiar scenes from the original and maintains an animation-esque style through its incredible aesthetic design, smoothly bridging the gap between reality and fantasy.
If anything, this version is a beautifully nostalgic rendition of "Cinderella," successfully recapturing the magic that was first felt 65 years ago.
– Maryrose Kulick