'Imagining the New World' explores early Native American and European music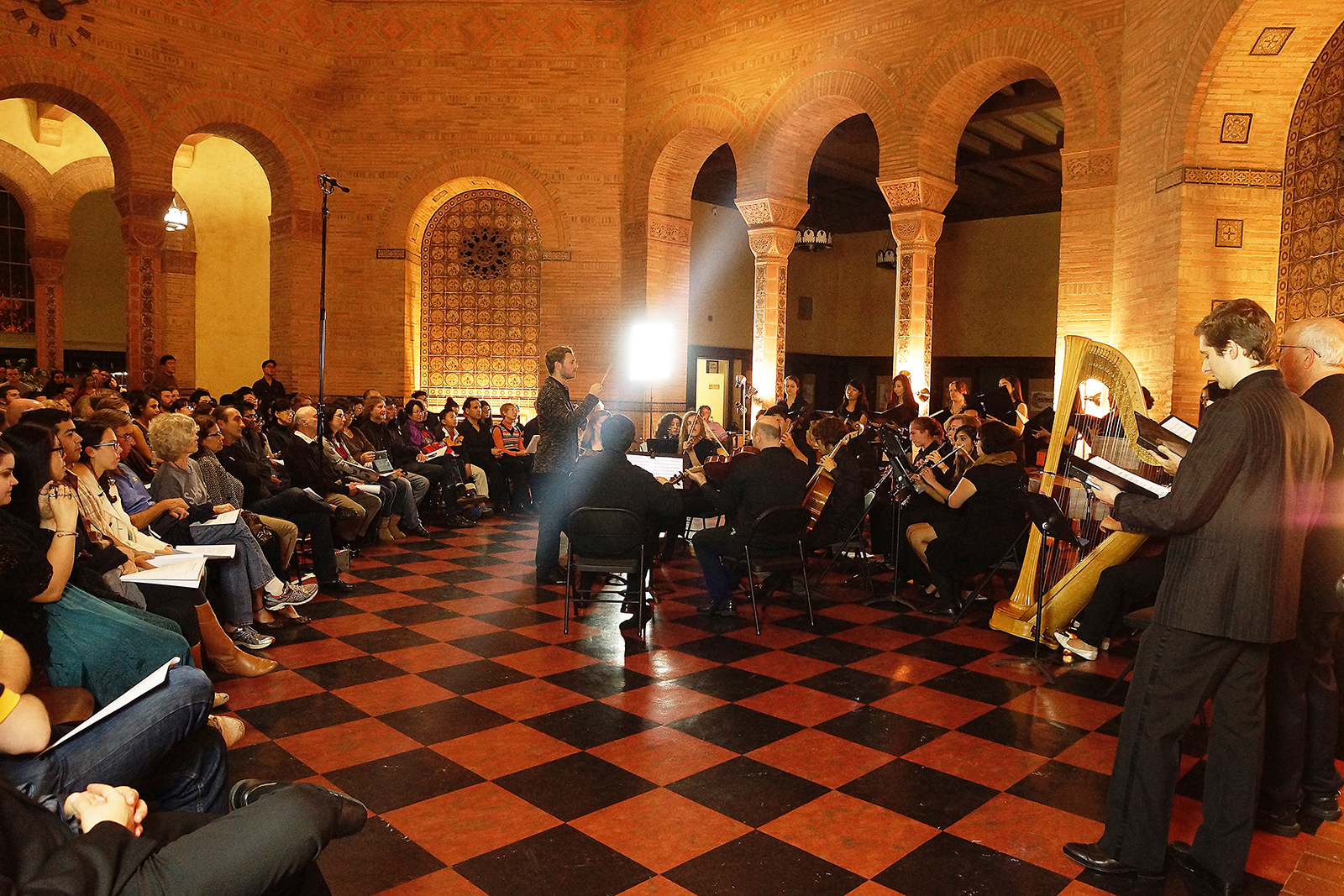 The UCLA Early Music ensemble will perform in "Imagining the New World," a concert that features music such as the first known European transcriptions of Native American song from the pre-1750s colonial era. (Courtesy of Henry Lim)
"Imagining the New World" Saturday, 8 p.m. Powell Library Rotunda FREE
The Powell Library Rotunda will echo with centuries worth of music from deceased Europeans and indigenous North and South Americans on Saturday.
There, the UCLA Early Music Ensemble will perform "Imagining the New World," a concert that focuses on the interactions between Native South and North Americans and Europeans during the colonial era.
"We are presenting a concert of beautiful music in order to springboard into conversations about the uncomfortable histories behind them," said Ryan Koons, an ethnomusicology graduate student and co-director of "Imagining the New World."
The performance will feature a series of musical excerpts ranging from European operas with Native American characters to the first-known European transcriptions of Native American song from the pre-1750s colonial era. The ensemble will not only sing these pieces in traditional colonial European languages, such as English, French and Spanish, but also the Native American languages of Guarani, Mi'kmaq and Quechua.
Koons said it can be difficult to perform pieces derived from Native American languages and tunes because certain Native American cultures, such as the Mishegawa, no longer exist. Still, he said, Native American music should not be ignored because it is a vital part of colonial history.
"Early music is a lot broader than people think," Koons said. "But this music is a vital part of that. I think denying this music weakens the music of the time, and it weakens the history."
Koons said that in order to represent Native American viewpoints concerning colonial music and history, there will be a written program accompanying the show. It will feature commentary from different perspectives, including UCLA scholars, professors and indigenous Americans.
Art history graduate student, Early Music Ensemble vocalist and native Californian Yve Chavez said some of the colonial history portrayed in "Imagining the New World" has roots in San Gabriel. The Alabado, a hymn introduced to native Californians by the Spanish in the early 1800s, will be performed at the show.
"The Alabado is one of many hymns that Native Americans would sing in church," Chavez said. "But it wasn't necessarily by choice."
Chavez, who researches colonial Latin American art, said these hymns were a tool that some Spanish friars used to indoctrinate Native Americans with Catholicism. These friars often forced Native American converts to sing songs like the Alabado multiple times a day. Disobedience by the Native Americans would sometimes result in corporal punishment, Chavez said.
Chavez is a descendant of the Tongva people, a group native to what is now Los Angeles county. Her ancestors helped build the San Gabriel Mission, which is a part of the Californian mission system. Chavez's advisor, art history professor Charlene Villaseñor Black, informed Chavez that the Alabado was a part of "Imagining the New World," which aligned with Chavez's dissertation topic on California missions and her heritage. Chavez will be performing the Alabado on Saturday as a member of the ensemble.
"I don't think UCLA has ever had a performance of this type of music," Chavez said. "It is significant that Koons is organizing this event. Indigenous music is definitely a topic that deserves more research."
Koons said that because early Native American music was transcribed by Europeans from memory, it is often skewed toward the European perspective.
"Koons' music is trying to draw our attention to the tension between accurately portraying the music of the time and caricaturing it," said Nick Georgopoulos, an education graduate student and ensemble violist.
Koons said he hopes "Imagining the New World" will enlighten his audience about Native North and South American and colonial interactions.
"I think that educating people about these subaltern, understudied and rarely heard Native American histories is important," Koons said. "As musicians involved in education, we must use our craft of creating this beautiful, exquisite and ephemeral stuff we call music to create positive change."