Lighting in a Bottle festival offers fresh, sustainable music alternative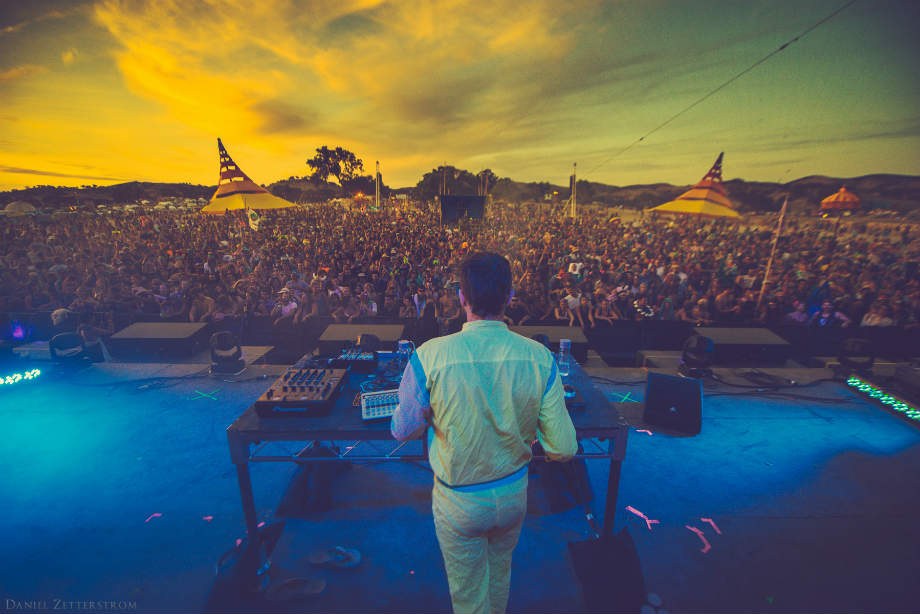 Lightning in a Bottle 2014 featured headliners Moby and Little Dragon. This year, the festival headliners will be SBTRKT, Tycho and ODEZA. (Courtesy of Watchara and Daniel Zetterstrom)
For a true live music enthusiast, out of every spring quarter arises the opportunity to step outside L.A.'s bustling venue scene, releasing oneself into the timeless aura of festival life.
When most picture that ideal festival experience, Sasquatch! Festival, Coachella Valley Music and Arts Festival or Outside Lands may come to mind. With electronic artists including SBTRKT, Kaskade and Odesza, and bands such as Alt-J, Tame Impala and Modest Mouse, Sasquatch and Coachella's lineup undoubtedly teem with excellence. As usual, the hype behind Outside Land's 2015 lineup rests on the distant horizon for expectant summer time festival-goers.
In contrast to most festivals' three-day weekend tradition, a five-day gem in the heart of California's central coast called Lightning in a Bottle, or LIB for short, sets the standard as one of the most environmentally conscious festivals nationwide.
Celebrating its 10th anniversary in 2015, LIB's reputation is built on advancing a more holistic festival experience featuring live art installations, yoga classes and motivational speakers along with a parallel lineup of world-class musicians.
Held during the latter part of spring quarter over Memorial Day weekend, Lightning in a Bottle hosts several of the same popular electronic acts as Coachella including SBTRKT, Tycho and Odesza.
Comparing lineups is a very subjective endeavor. Coachella provides an outstanding opportunity to catch classic '70s rock group Steely Dan and Led Zeppelin legend, Robert Plant, is set to take the stage at Sasquatch. LIB's fresh appeal is to the down-to-earth follower of underground electronic and indie music, ready to dance in youthfulness.
A major standout feature of LIB is its intricately detailed stage designs that will host world-class artists including French DJs Shiba San and FKJ (French Kiwi Juice) along with Australian DJs, Thomas Jack and KOAN Sound.
The inclusion of musicians directly into the festival sphere sets LIB apart from the massive crowds and distant stage presence at most large festivals. Under his artist pseudonym, ISO50, Scott Hansen of Tycho is the main artistic designer of physical aesthetics throughout LIB's festival area.
While Coachella headliners highlight renowned artists AC/DC, Jack White and Drake; Australian producer Flume's headlining slot at LIB invokes the expectation of an energizing live set. While electronic acts such as Kaskade, Kaytranada and Kygo give Coachella's lineup some meat, LIB brings RL Grime, AlunaGeorge, and Griz to the table.
Speaking of festival nourishment, LIB has for the past five years received the Outstanding Award from A Greener Festival for its healthy food vendors, free water stations, composting and recycling infrastructure and other green initiatives.
Instead of simply dealing with mountainous heaps of overflowing garbage, LIB festival organizers make the conscious effort to promote sustainable campsite practices. Additionally, the relatively smaller number of attendees at LIB allow for reasonable maintenance of a clean and healthy environment over the five-day period.
Lightning in a Bottle's new festival layout includes three festival sanctuaries – The Temple of Consciousness, The Village and The Learning Kitchen – that will host activities in addition to action onstage.
Currently listed for $260, LIB offers a more affordable ticket price especially considering its five-day spread, lineup and various extra-musical activities. Beyond music, plenty of live painters will actively create art throughout San Antonio Recreation Area.
This year's Lightning in a Bottle festival is an exciting opportunity to embark upon a unique camping experience powered by electrifying live performances, and a vibrant interactive community.
– Max McGee