Panera Bread to open location in Westwood Village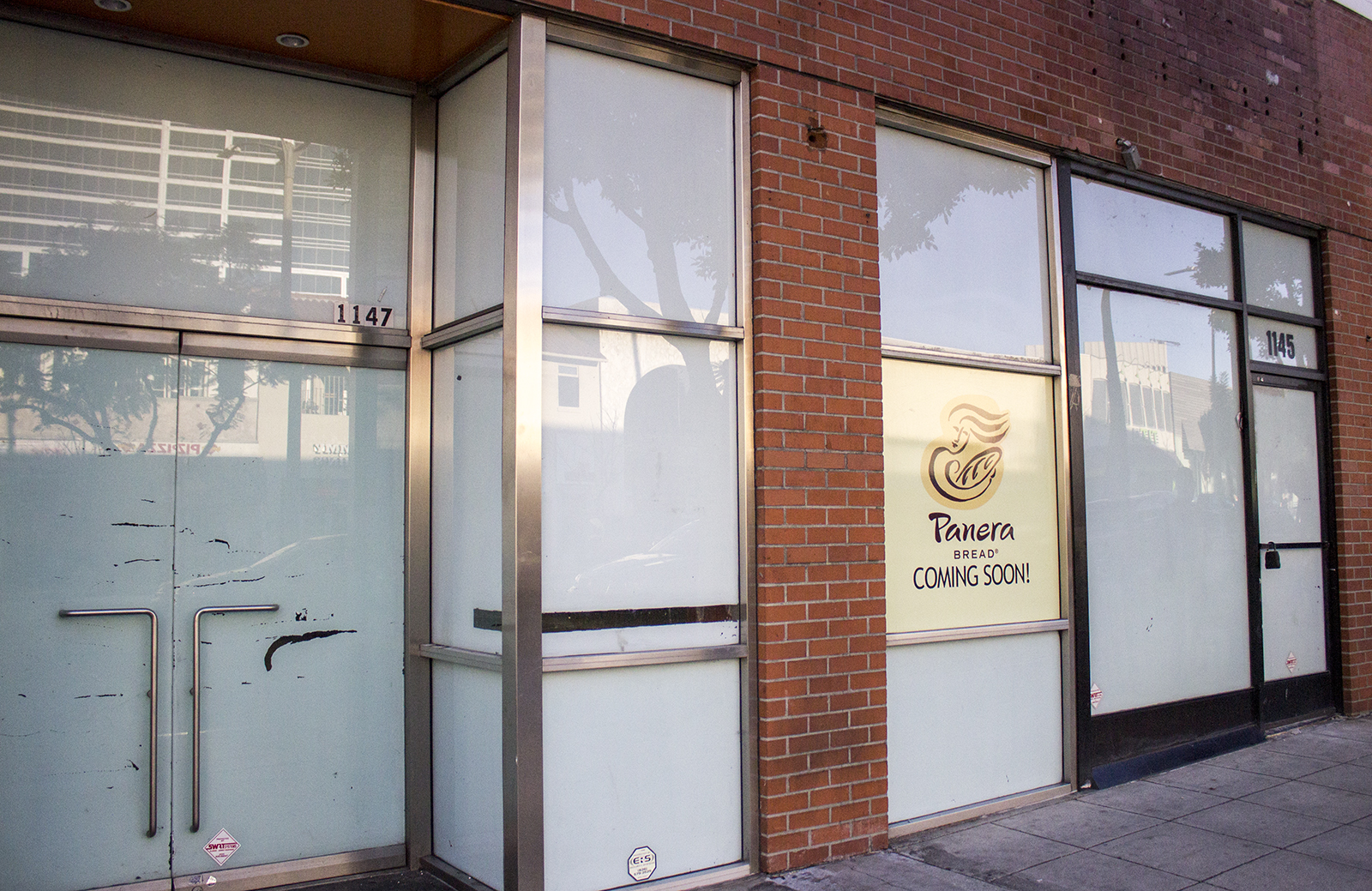 The new Westwood Panera Bread is under construction, and plans to open its doors as soon as May 1. (Alyssa Dorn/Daily Bruin)
The Westwood Village Specific Plan classifies restaurants into two, not three categories: fast food and sit-down. The plan limits how many of each kind of establishment there can be on each street, not each block.
Panera Bread plans to open a location in Westwood Village at the start of May, following a years-long battle to open the restaurant's doors.
The location on Westwood Boulevard has had a "Coming Soon" sign on its storefront windows since early 2013, but has postponed its opening because of complications with a Westwood land-use plan.
The Missouri-based chain restaurant, located between Ike's Place and Chilly Ribbons, specializes in sandwiches, soups and baked goods. After multiple emails and calls, Panera Bread could not be reached for comment for this article.
Panera signed a lease in 2012, and the Los Angeles City Planning Commission approved the restaurant's permit in May 2013, said Christopher Hameetman, who owns the building where Panera plans to open.
But because Steven Sann, chair of the Westwood Community Council, filed an appeal in June, Panera's permit was revoked.
Sann said he filed the appeal because the site where Panera Bread plans to open is designated to be for full-service, sit-down restaurants, according to the Westwood Village Specific Plan. The City of Los Angeles developed the plan, which designates land use in the Village, in 1989.
To qualify as a full-service restaurant, a business must offer sit-down table service with waiters, prepare and cook food to order and serve it on china and have patrons pay at the end of their meals.
Because Panera Bread customers typically order food at a separate counter and pay for it before they receive it, the restaurant did not meet the plan's criteria, Sann said.
The Westwood Village Specific Plan classifies restaurants into two categories, "fast food" and "sit-down," and places a limit on how many establishments of each category there can be on a street. While some of the plan's backers say it aims to improve Westwood's food selection, some business owners have said they think local interest groups use the plan as a tool to limit their ability to open and run restaurants in the area.
Hameetman said he is not sure how Panera has specifically adapted to meet the plan's standards.
Some of Panera's fans said they are elated that it is finally opening.
"I love Panera. Their sandwiches are amazing and I think it's great that it's coming to Westwood to serve UCLA," said Joslyn Garcia, a first-year mechanical engineering student. "Their breads and sweets are really good."
Shukri Mohamed, a first-year political science student, said she has never been to a Panera before, and she is excited to try it for the first time.
"It seems like a nice place to eat, and I'd like to try their bread bowls," she said.
The delay, however, has muffled some of the initial excitement of Panera's opening for some students.
Baylin Dickinson, a fourth-year sociology student, said she is not as excited about Panera Bread opening up as she was last year because other establishments have provided similar food.
Panera plans to move into a neighborhood with some similar businesses, such as Noah's Bagels and Corner Bakery Cafe.

Noah's has a location a block away from the future Panera Bread location and Corner Bakery has a location two blocks north. Neither Noah's nor Corner Bakery representatives commented for this story.
Some students think Panera's distance from campus is a big drawback, especially when there are some other establishments that offer similar food.
"I'm not too excited about Panera opening up because there are so many other options in Westwood that are closer to campus. But if Panera opened up on campus, I would definitely visit," said Ani Khrimyan, a fourth-year sociology student.
The new Panera will be about 4,400 square feet and will be able to seat about 110 patrons with room for another 40 people standing and waiting to be seated or to order take-out, Hameetman said.