'The Vagina Monologues' aim to provide empowerment through art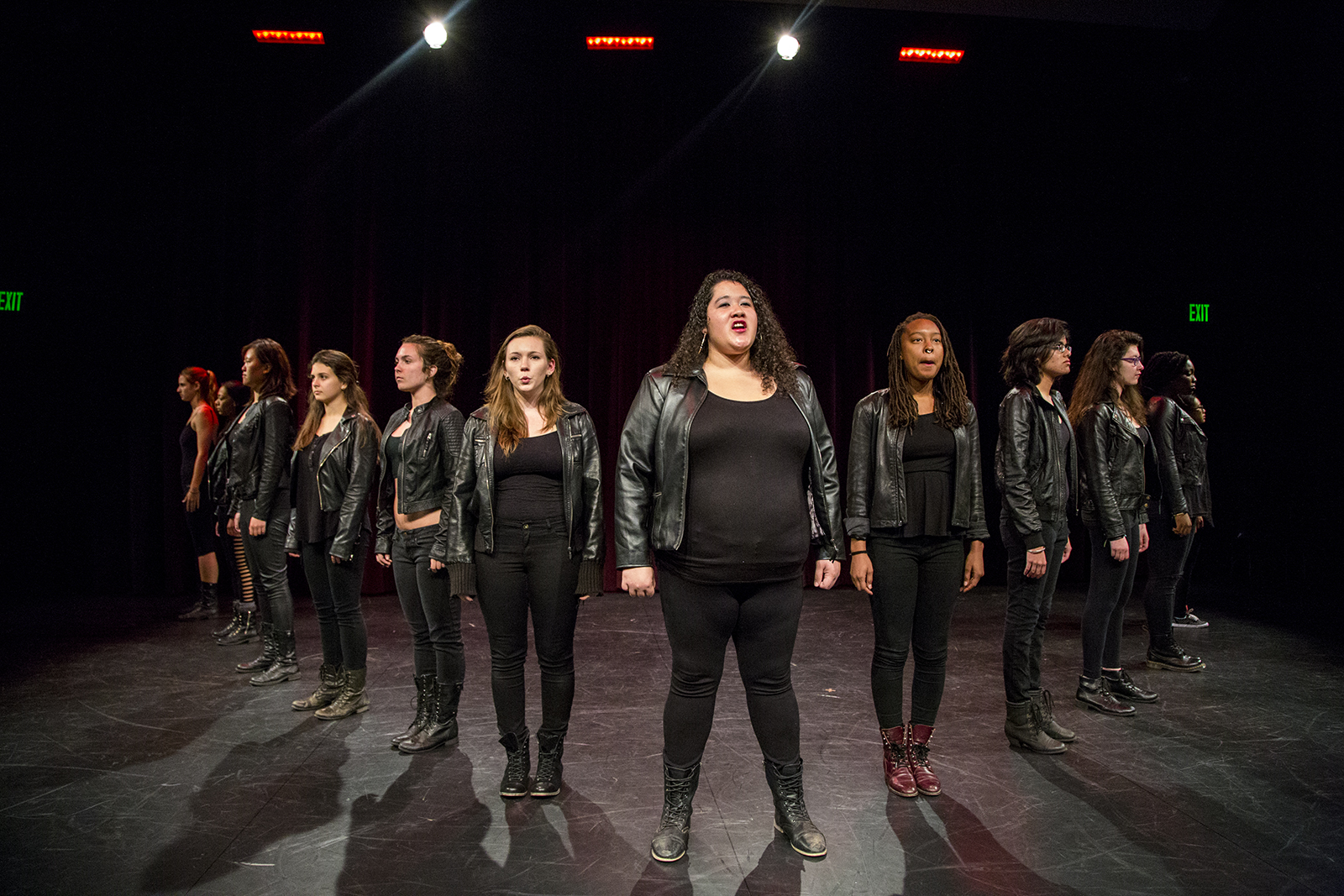 The cast of "The Vagina Monologues" practices a group scene during its dress rehearsal in preparation for the upcoming performance on Thursday. (Owen Emerson/Daily Bruin)
By
Daily Bruin Staff
Feb. 19, 2015 1:12 a.m.
They call themselves the "Vagina Warriors" – a group of UCLA students who gather in the Residential Life office on Wednesday nights.
The meetings are for UCLA's fifth annual production of "The Vagina Monologues," which will run Thursday to Saturday in the Northwest Campus Auditorium on the Hill.
Organized by UCLA Residential Life and the Social Awareness Network for Activism through Art, the show traditionally coincides with the annual V-Day campaign celebration, an organized response against violence toward women.
Originally written by Eve Ensler, an American activist, performer and playwright, "The Vagina Monologues" was born out of real life experiences, both pleasant and horrific, told by more than 200 women across races and social backgrounds.
This year's beneficiary of the UCLA-produced play is Peace Over Violence, a child abuse and youth violence prevention organization. T-shirts and buttons with the play's logo will be sold on the days of performances, and all of the proceeds will go toward the nonprofit organization.
Carly Calbreath, a fourth-year geography student and Residential Life organizer, said the perception of female issues has changed significantly since the original play was released in 1996.
"I think a part of it is general women's willingness to be open about issues of their bodies, and willingness to feel at home in their own bodies and really feel in possession of their bodies," Calbreath said.
Laura Savage, a second-year sociology student and production director of "The Vagina Monologues," said the time span of the production process provides motivation. The planning process for this year's production began as soon as the previous show was over. The first official meeting for this year's performance was held last spring, and the casting process started in December.
"When you only have February to have a V-Day, it is critical to reach your audience and get into their interiors rather than their brains," Savage said.
The rule of the play, Savage said, is that the script cannot be changed and cannot be tweaked for a particular campus. However, because "The Vagina Monologues" is still fairly new to UCLA, the production crew experiments with programming ideas and constantly tries to figure out what will most interest the college community. As a part of the 2015 production, the crew participated in the Hill's co-programmed open mic event, with the theme called "Be Yours," instead of "Be Mine," to empower women to be in touch with their bodies.
"Despite the script rule, the play is still different every time," Savage said. "The thing about art is that it allows everybody who witnesses it to take something different away, which you don't get with a lot of other mediums."
As a director of the play, Savage concentrates mainly on context and delivery, rather than on straightforward acting, and said the casting depends a lot on who comes out to audition.
"We are very lucky to have our really diverse cast that's representing a lot of majors at UCLA and a lot of races and ethnicities, but as far as the show goes, that is all you can do," Savage said.
Performer and first-year political science student Sesha Brown said she believes the actresses are able to bring something fresh to the play.
"My monologue, titled 'Because He Liked to Look at It,' shows the good side of relationships," Brown said. "But it is not the most emotional one, so I try to make it more interesting with my voice."
Cast member Shayna Maci Warner, a first-year world arts and cultures/dance student, said she is proud of her ability to empower women through participating in the show.
"Knowing that these stories and monologues are composed from interviews and real women's experiences, who went though such trauma as domestic abuse and genital mutilation but were still able to give these interviews, is incredibly inspiring," Warner said.
Savage said "The Vagina Monologues" uses the power of sharing art to give people an opportunity to ask questions and put themselves in other spaces.
"People can hear facts about genital mutilation and sexual assault and have a number numbness," Savage said. "But when you translate it into art, there is something that connects all of the souls in the room."