Student musician Mr. Moon to release first single "Darling"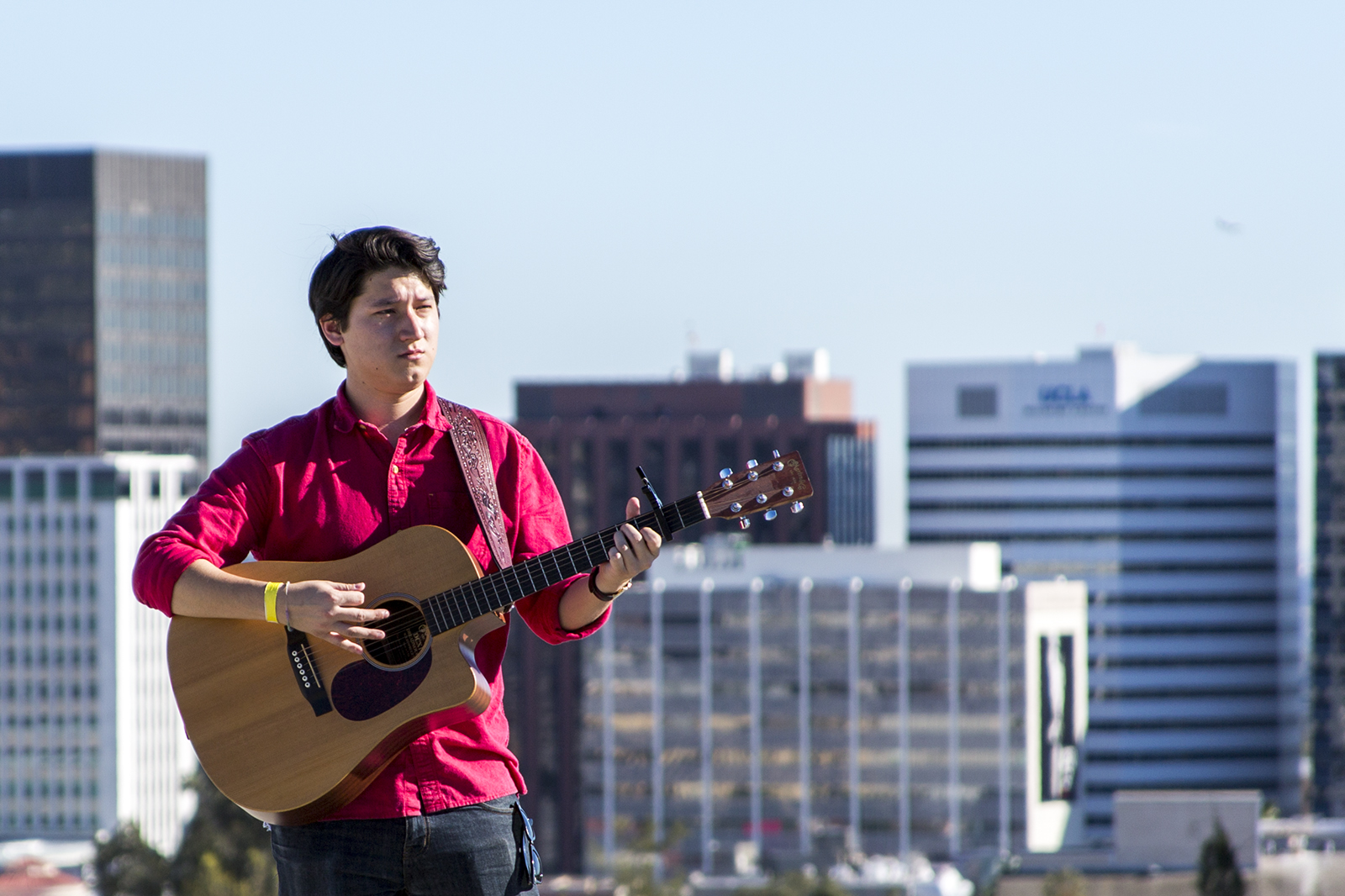 Michael de Virgilio, a third-year psychobiology student, will release his first single "Darling" Tuesday under the name Mr. Moon.
(Keila Mayberry/Daily Bruin)
Sixteen years ago, Michael de Virgilio met Brandon Hafetz, the new kid in kindergarten, in Manhattan Beach. Now, they are working together to release an EP, "Darling."
Under the moniker Mr. Moon, third-year psychobiology student de Virgilio is releasing his first single, also called "Darling," on Tuesday. The EP is produced under Hafetz's production company's record label, Fitz Ross Records.
In seventh grade, Hafetz, – currently a music production and engineering student at Berklee College of Music – de Virgilio and friends formed an alternative rock band called Eden's Bliss.
Hafetz and de Virgilio, who would spend their weekends venturing to music stores and playing music at each other's houses, solidified their musical relationship while attending Mira Costa High School in Manhattan Beach.
De Virgilio formed his solo act when Eden's Bliss was put on hiatus because Hafetz moved to Boston to attend Berklee.
Eden's Bliss came together again last year to record the four songs de Virgilio wrote and composed for the EP. They recorded them in the home studios of Hafetz and Brianna Conroy, another artist from Fitz Ross Records.
Although Eden's Bliss recorded the EP together, de Virgilio wrote the music and lyrics himself, which he said take a melancholic view on life and love.
"The way I gauge whether I want to keep writing something is if it evokes a feeling of nostalgia," de Virgilio said. "Sometimes when I'm just, you know, messing around, I'll find something that takes me back or makes me want to write about the past."
De Virgilio wrote the single "Darling" as an unrequited love story based on his own experiences.
He performed "Darling" at UCLA last year with fellow guitar player Cory McClintic, a third-year aerospace engineering student. McClintic contributed a second guitar melody to de Virgilio's song when they performed at Southside Showcase in De Neve Auditorium on April 16.
De Virgilio and McClintic began to practice and perform music together in November 2013, both trying to balance it with their school work.
"We practice once a week in an apartment, so it's hard to get everyone together … It's pretty hard to balance it," de Virgilio said.
Although his passion lies in writing music, de Virgilio said balancing it with pre-med life can be challenging.
"That would be awesome if I could just be a musician for a living," de Virgilio said. "I really want to be a doctor and I figure if I'm a doctor, I can do both. But if you're a musician, you can't be a doctor on the side."
Regardless of de Virgilio's pursuit of medicine and Hafetz's sole pursuit of music, they continued their friendship and musical relationship while producing the EP.
Despite the distance between Los Angeles and Boston, de Virgilio and Hafetz worked on the songs for a couple of months, fine-tuning the sounds and other aspects of the EP.
"It's hard when we're not in the same place to finish this stuff, and he's obviously a (pre-medical) student these days, so we're living very different lives," Hafetz said.
Hafetz said his record label pre-produced and produced "Darling" along with de Virgilio by choosing four songs to feature.
"We kind of put our band back together to record it. It was pretty much Eden's Bliss but with Michael in the foreground," Hafetz said. "Me and (de Virgilio) wrote a lot of music together, and this was all Michael. It was just really cool to see him step up and take it over."
De Virgilio also recorded an acoustic version of his single "Darling" for Fitz Ross Productions' video series, "Spare Room Session," over the summer.
Despite the time and commitment it took to finish the EP, which they plan to release in May, de Virgilio and Hafetz said they are excited for its release, a product of 16 years of friendship and musical evolution.
"It'll be cool to have this out there so we'll have it and people can experience (the music)." Hafetz said. "We all worked really hard on it and it's been a long time coming."