Sounds of LA: Daddy Kev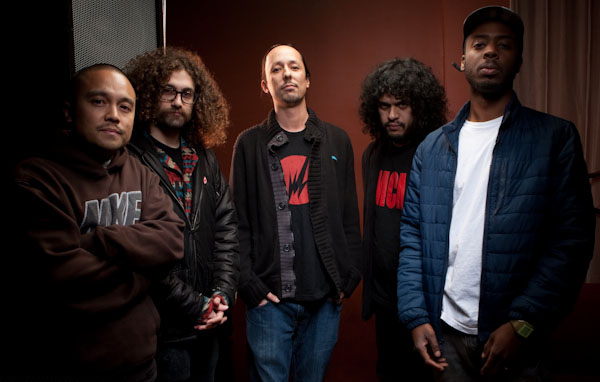 Kevin Marques Moo (center), known by his stage name Daddy Kev, is a co-founder of the Airliner's Low End Theory in Lincoln Heights. Daddy Kev will be performing his experimental beat music Wednesday at the Los Angeles night club. (Courtesy of Paul Dimalanta)
Every year, new artists emerge, ready to be Los Angeles' next great musical discovery, making their rounds through small club tours across the city. Inspired by the hippie enclaves of Topanga, the backyard punk scene of East Los Angeles or the coastal grunge of Venice Beach, each act has its own distinct sound. This week, A&E; columnist Kristy Pirone discusses Daddy Kev, a gifted producer and one of the most influential figures in Los Angeles' beat music scene.
EDM is a dirty word for some in the Los Angeles beat scene.
Kevin Marques Moo, better known as prolific producer Daddy Kev, isn't as afraid of that word as some of the patrons of his highly influential club night Low End Theory. But that doesn't mean he agrees with the comparison between EDM and its hip-hop infused cousin, beat music.
"When it comes to aesthetic, we're the polar opposite of (EDM)," Daddy Kev said. "What we do is supposed to be more challenging. What (beat music) is supposed to be, in our greatest ambition, is the cutting edge."
Daddy Kev will be performing Wednesday at the Airliner's Low End Theory in Lincoln Heights. Low End Theory is a weekly music event where beat music artists and experimental hip-hop acts perform. Along with The Gaslamp Killer, DJ Nobody, DJ D-Styles and Nocando, Daddy Kev is one of Low End Theory's resident artists, as well as its co-founder.
Beat music is an experimental genre that Daddy Kev described as hip-hop rhythms with electronic textures, meant to challenge the musical standard. It's also one of Los Angeles' first electronic music movements, birthed in the late '90s.
Beat music has gained popularity internationally with the rise of artists like Flying Lotus, Nosaj Thing and The Gaslamp Killer, all Los Angeles-based musicians who have paid their dues at Low End Theory.
Daddy Kev's music is unlike EDM or any electronic music I've heard before, with songs such as "Rhythm" which features frequent collaborator rapper AWOL One. In "Rhythm," Daddy Kev uses flute sounds, piano and percussion to weave his intricate, rhythmic tracks. These instrumental components are used where synths or big bass sounds would be heard in popular electronic music.
The result is an impressive, well-crafted sound that evokes a feeling of respect for the intricate artistry that one can be hard-pressed to find in the more mainstream personalities of electronic music.
For every gorgeous-sounding Flume track in the world of EDM, there's a song like Calvin Harris' "Summer," that is certainly entertaining, but seems to lack much thought beyond the six or seven lines of repeated lyrics and the cookie-cutter synth hook that makes it so easily digestible.
While EDM is an umbrella term that encompasses many electronic genres from trance to dubstep, much of the more popular EDM heard on the radio and in popular media lacks the subtlety of beat music. Beat music seems to be more focused on the song as a whole, like Daddy Kev's song "Lick Me I'm Famous" that doesn't lead up to any large drop, but combines with its hip-hop and rap elements to create a cohesive sound.
Before founding Low End Theory in 2006, Daddy Kev was born and raised in the Harbor City neighborhood of Los Angeles. Growing up, Daddy Kev was influenced by the Uncle Jamm's Army electro-beat events in the 1980s, a movement born from a series of house parties in Harbor City, and Compton hip-hop group N.W.A, who recorded at a studio in Torrance, down the street from Daddy Kev's former home.
"Los Angeles is one of the biggest influences on my music," Daddy Kev said. "It's everything from the music that has been made here to the artists that live here to the weather and the sunshine. It all plays a part."
Daddy Kev's sound, and beat music in general, came from an appreciation of hip-hop music seen in much of the music coming from the beat scene, mixing aspects of hip-hop with electronic elements.
Daddy Kev said that since the early '90s and beyond, the electronic music presentations in Los Angeles were based on music forms that had originated elsewhere, from Chicago's house music to Detroit's techno to Europe's acid house movement.
"I was going to clubs and trying to make music at that time," Daddy Kev said. "At least from my vantage point, the birth of the beat scene was one of our first legitimately unique sounds that L.A. was bringing to the table."
While EDM and beat music may seem similar at first glance, the pair are drastically different. Comparing the two is like comparing country and indie folk. EDM and beat music may both use electronics, but at their core they are two separate art forms.
"EDM has become, in certain people's mind, the mainstream," Daddy Kev said. "And of course, we're doing stuff generally closer to the fringe than to the middle. And that's right where I want to be."